All in the family: Prices relishing time on court together
March 23, 2021 by Collin Mitchell, Arizona State University
---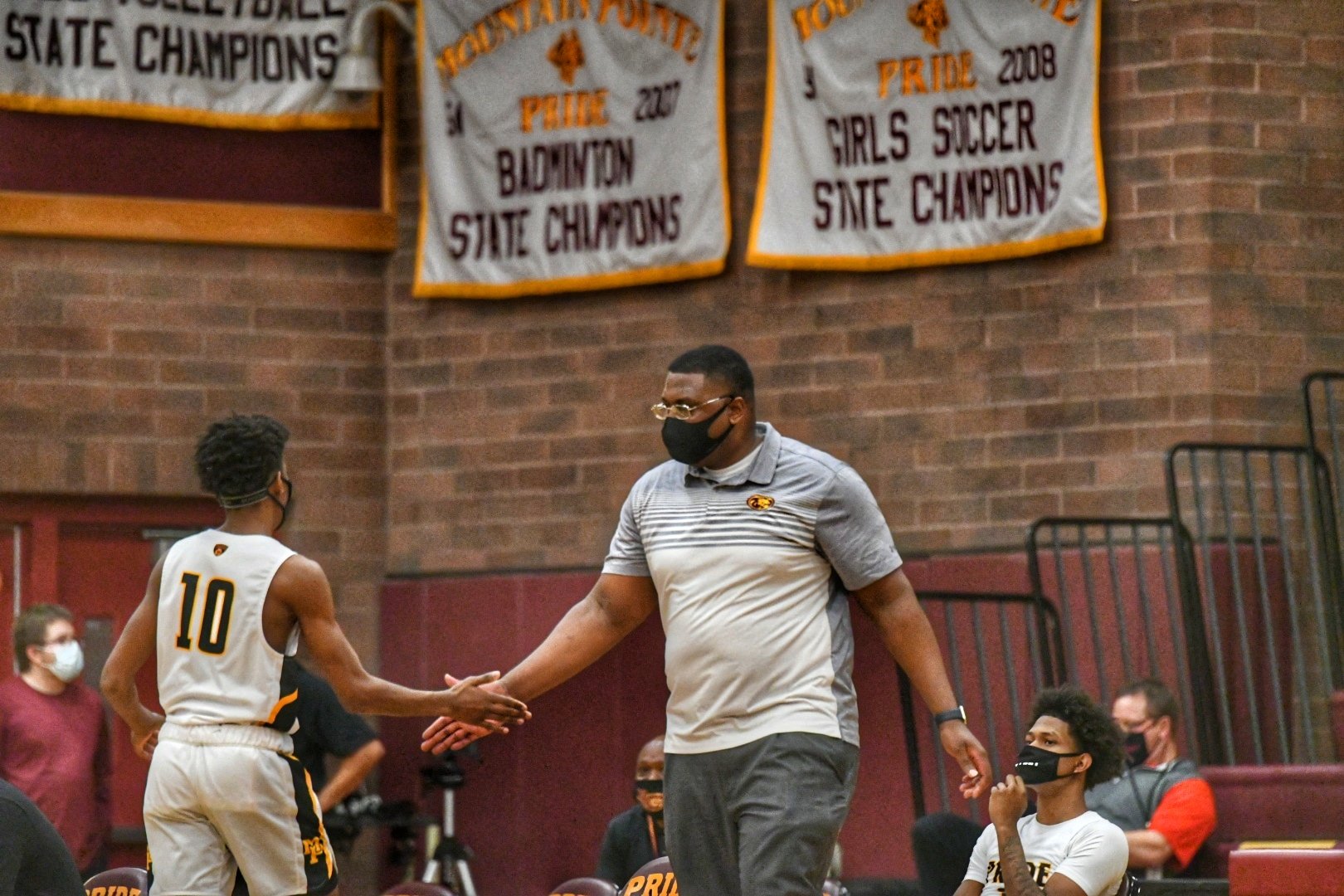 Collin Mitchell is an ASU Cronkite School of Journalism student assigned to cover Mountain Pointe for AZPreps365.com.
Mountain Pointe boys basketball players have consistently used the word "family" to describe their team because of their close-knit bond. This took on a whole new meaning for head coach Kaimarr Price this season.
In his second season as head coach, Price welcomed his nephews, Jayven and Aiden Price, on the team.
Not only was Kaimarr happy to have the opportunity to coach his family members, but also because he knew they would be playing under a coach that cares just as much about character development as player development.
"It's a blessing," said Kaimarr. "Knowing that they have a coach that will coach them hard, coach them fair and care about their well-being on and off the court – it means everything."
Jayven, a sophomore point guard who played on both the freshman and junior varsity teams for the Pride last year, has played basketball as long as he can remember.
Cousin Aiden, who is also a sophomore guard, is a fresh face to the game. This season is only his second year on the hardwood; previously, he was strictly playing football before deciding to become a two-sport athlete to play under his uncle.
"My whole life [Uncle Price] has been trying to get me to play basketball," said Aiden. "My freshman year he became head coach of the varsity team, I thought to myself, why not give it a try?"
Jayven and Aiden have appeared off the bench in 14 and 17 games, respectively, helping Mountain Pointe facilitate a 15-6 record.
Even though Aiden hasn't played on the hardwood competitively as long as Jayven, there is still a deep connection between the two.
"We absolutely have an undeniable connection on the court," said Jayven. "We know what we're going to do, and where we're going to be on the court."
Playing sports with family members typically brings an increased level of competitiveness.
"We'll probably play three games of 21 every time we are together," said Aiden. "We are always competitive in one-on-one."
Coaching family members at the high school level can be jumping into unfamiliar waters. Separating uncle from coach requires a balance.
"It's tough sometimes because you see them now as 16-18-year-old kids so you want to coach them hard," said Kaimarr. "When they get on themselves a little too hard you can see the 8-year-old face again and want to just be there to comfort them."
The experience of having a family member as a coach is something that many don't get to experience.
"A great coach, a father figure, it's amazing to have him around us," said Aiden. "He does a very good job at what he does."
---