Notes from the North: Prescott soccer programs, Sedona girls hoops face agony of defeat
March 24, 2021 by George Werner, AZPreps365
---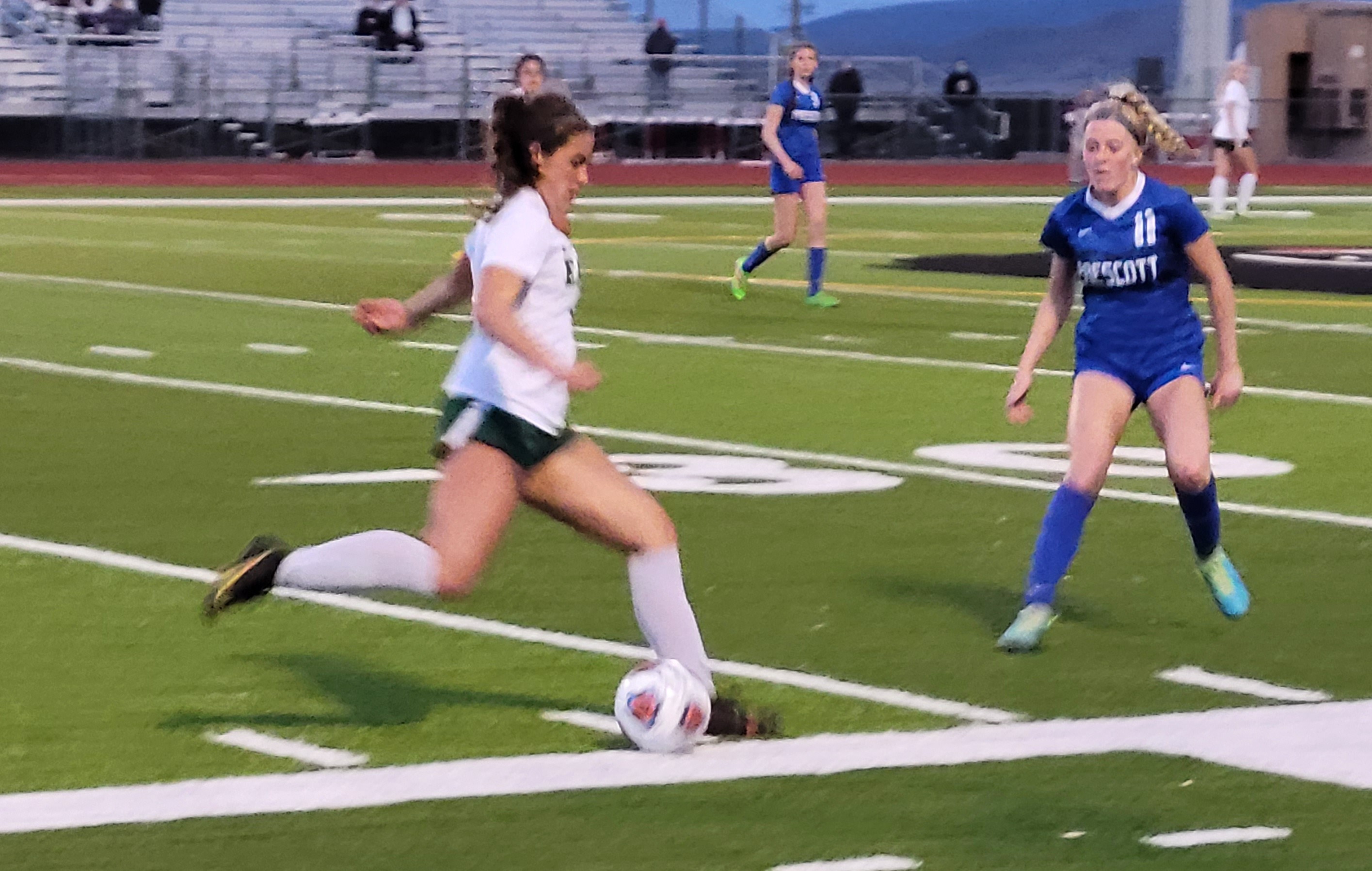 Welcome back to Notes from the North: Championship wrap-up!
Getting over that final-game hump is going to be the focus of several programs this off-season, including the boys and girls soccer teams at Prescott High School.
The operative strategy for both 4A Conference contenders seems to be figuring out how to defeat Salpointe Catholic High School, which took home two more title trophies, including a shutout of the Badger girls in their first loss of any kind this season Saturday, March 20.
"Salpointe has beaten us a couple times in the semifinals of state going back two, three years," Prescott head coach Paul Campuzano said after his girls' semifinal victory over Flagstaff in double overtime which advanced them to the championship game against the Lancers. "So I'd like to get a shot at them."
He got his shot, but the loss marked the third time in the past four seasons the Badgers were eliminated by the Lancers, all via shutout.
"These girls really, really put in the work the last three years," Campuzano added. "They never, ever quit. They're a tough team; they're a mean team, when they need to be."
Although the Prescott defense held tough for more than an hour of game time against the undefeated four-time state champion, Lancers junior Trinity Morales made the ultimate difference, feeding freshman Anjeli DesRosier for a goal with 25 minutes to play in the second half before following up with one of her own 15 minutes later.
The 2-0 loss was just the third game all season in which Prescott had allowed more than a goal. The other two--a season-opening overtime win at Mohave High School, in Bullhead City, and a Feb. 13 defeat of eighth-ranked Seton Catholic Prep--were lessened in importance by the fact the Badgers exploded for five goals in each of those games.
"When I came in here three years ago, we had that first year," Campuzano said. "I said that second year, we need to be better."
They did get better, and the good news is that most of the Badgers' key players--including forward Kari Kasun, who played the entire postseason with an injured right shoulder--return for a senior season and a final shot at the 4A state girls championship.
"With the team we have, and the grit we have, we can take on anyone," Kasun said. "I've been on varsity since freshman year, and we just have not been able to get past the hump of semifinals.
"Last year, we played pretty, but this year, when we need to play rough, we can play rough."
They also overwhelmed Flagstaff using an extra forward in the overtime sessions. Perhaps that extra offense, combined with the newfound rough edge, will be enough next season for the Badgers to get over that final hump against Salpointe.
However, typically in the postseason, goals go down, and defense tightens. This was the case for the Prescott boys soccer team, which still is seeking a second chance at a championship after a 2-1 loss in the 4A title game to Salpointe two seasons ago. No. 3 seed Walden Grove High School prevented that opportunity this season, shutting out the Badgers, 1-0, in their March 17 semifinal...
Losing rebound, steals, assists battles dooms Sedona Red Rock
Losing to Salpointe is frustrating, but a typical test of many teams across the seasons, particularly in the winter sports.
But losing a second 2A girls basketball title in four seasons, particularly the way Sedona Red Rock High School did March 20, had to be excruciating for head coach Kirk Westervelt.
As thoroughly documented here, the Scorpions held an 11-point lead over top seed Pima going into halftime. Although the Roughriders' second-half defense pushed the game into overtime, Westervelt's daughter, Helen, hit a running hook shot with 8.1 seconds left to give the Scorpions the 48-47 lead.
Emphasis on the .1 second on the clock. With just that much remaining, Roughriders guard Aubrie Sherwood hit a "once in a lifetime shot...an NBA-range bank shot buzzer-beater," as Westervelt called it, by Roughriders guard Aubrie Sherwood.
"I feel sorry for the girls but, overall, happy for the program," Westervelt said after the two-point loss, which he blamed on losing four key statistical battles to Pima, including rebounds, steals and assists. "We only beat them in turnovers. Not a great recipe to win a championship game.
"Hopefully we can get that elusive championship trophy next year."
Westervelt had 15, Nyah Valdez hit four three-pointers and Stephanie Medel added a double-double with 12 points and 10 rebounds for the Scorpions, who seek to play defending 3A state champion Page next season...
Winslow wrestling runner-up in girls wrestling; wrestling notes
Congratulations go out to Winslow High School's girls wrestling program, which tied Liberty High School for runner-up at the girls state championships March 7 on the strength of two individual state champions.
Junior Leah Kalk pinned Leah Gertis, from state team champ Basha High School, to win the 182-pound title in just over a minute.
Not to be outdone, Bulldogs sophomore Charry Benecke needed just 37 seconds to take home the 220-pound title with her pin of Maricopa High School senior Ryleigh Westerfield...
Less than two weeks later, Winslow junior Gage Thomas was the state runner-up at 195 pounds to pace the boys program to seventh place at the Division IV state championships at Poston Butte High School.
The top finisher among all Northern Arizona wrestling programs, though, was St. Johns, which finished just six points out of second place in Division IV. Junior James Thomas capped an undefeated season at 170 pounds with an 8-2 decision over Santa Cruz Valley senior Hunter Ogle, while seniors Ren Crosby and Slade Nevins finished their Redskins careers in third place at 152 and 195 pounds, respectively. Crosby edged Arizona Lutheran Academy senior Cole Gutierrez, 5-4, while Nevins allowed one point less in his decision of Northwest Christian senior Julian Carpenter...
But for undefeated Mogollon High School junior Cael Porter, the Redskins might have had another state champion at 132 pounds. But Porter continued his dominance through the postseason, not allowing a single point to any of his three opponents, including Redskins junior Wesley Scarbrough, who fell, 10-0, to Porter in the title match.
Brother Malaki Porter was almost as dominant, finishing his junior season with just one loss and shutting out Northwest Christian senior Tanner Wisely, 6-0, for the 145-pound title--pinning all his other postseason opponents along the way, including Winslow junior Micah Johnson and Round Valley High School senior Kade Hogle.
The Mustangs finished fifth overall on the strength of the Porter family, which produced three individual state champions, including another undefeated wrestler, junior Fisher Porter. Cael Porter's cousin won the 182-pound title in a 5-4 decision over Thatcher senior Brayden Oliver...
Northland wrestlers won in similar abundance at the Division III state championships at Poston Butte High School, with Mingus the highest-finishing team in fourth place.
The Marauders finished less than three points out of the top three thanks to three individual champions, including back-to-back state champ Brody Townsend at 106 pounds. Fellow sophomore Kai Miller took the title at 126 pounds, while Conrad Brady finished his Marauders wrestling career with back-to-back titles as well, becoming the 170-pound winner for head coach Klint McKean's program...
The northland stacked the second five teams at the Division III tournament March 18, as Snowflake topped the list in sixth place, thanks to top-three finishes by brothers Troy and Terrell Kinlicheenie in the 120- and 126-pound weight classes.
Coconino High School finished right behind the Lobos on the strength of 138-pound state champ Cooper French, while Chino Valley senior Colby Evens took his second straight title--this time at 120 pounds--to lead the Cougars to an eighth-place finish.
Show Low was right behind, though, courtesy of senior Cole Housley, who finished his career as the 113-pound state champion, while Bradshaw Mountain High School rounded out the top 10 after 170-pound Kaleb Hill needed less than three minutes to pin Sahuarita's Julian Prieto for third place. Injury forced Hill's junior teammate, Nick Foshee, into fourth place at 182 pounds, a weight class ultimately captured by Payson junior Travis Christianson…
Next time
Track results from the Marauder Early Qualifier at Mingus Union High School, Prescott carries the boys volleyball torch for all of Northern Arizona, the Yeti of Basis Flagstaff give tennis a go in Division III sectional play with Northland Prep, Kingman, Page and Sedona Red Rock high schools, Lee Williams and Lake Havasu high schools are perfect through their first five girls tennis matches, and Blue Ridge, Holbrook, Show Low and other Division III high school spring golf teams prepare for the White Mountain Invitational in April...
The unbeaten Flagstaff baseball and softball teams already have the jump on the rest of the 4A Grand Canyon Region after doubleheader road sweeps of Mohave. Baseball has outscored its first four opponents 53-7, while softball has beaten up on its first three victims 48-12.
The same can be said for Sedona Red Rock's baseball team. The Scorpions blasted 2A Central Region opponents Desert Heights Prep Academy and North Pointe Prep by a combined 48-2 score...
Finally, after a year's absence, both baseball and softball are back on the Whiteriver Apache Reservation at Alchesay High School. Unfortunately, the Falcons have already run head-first into unbeaten Snowflake High School. The baseball team fell 10-0 and the softball team 20-1 at the Lobos in the away portion of their first in a weekly series of home-and-away matchups with each of their 3A East Region opponents. I'll be there to watch both teams when they play at 6 p.m. Wednesday, April 21, at Payson.
---