Padres ride big first inning to 12-6 win over ALA-QC
March 26, 2021 by Henry Greenstein, Arizona State University
---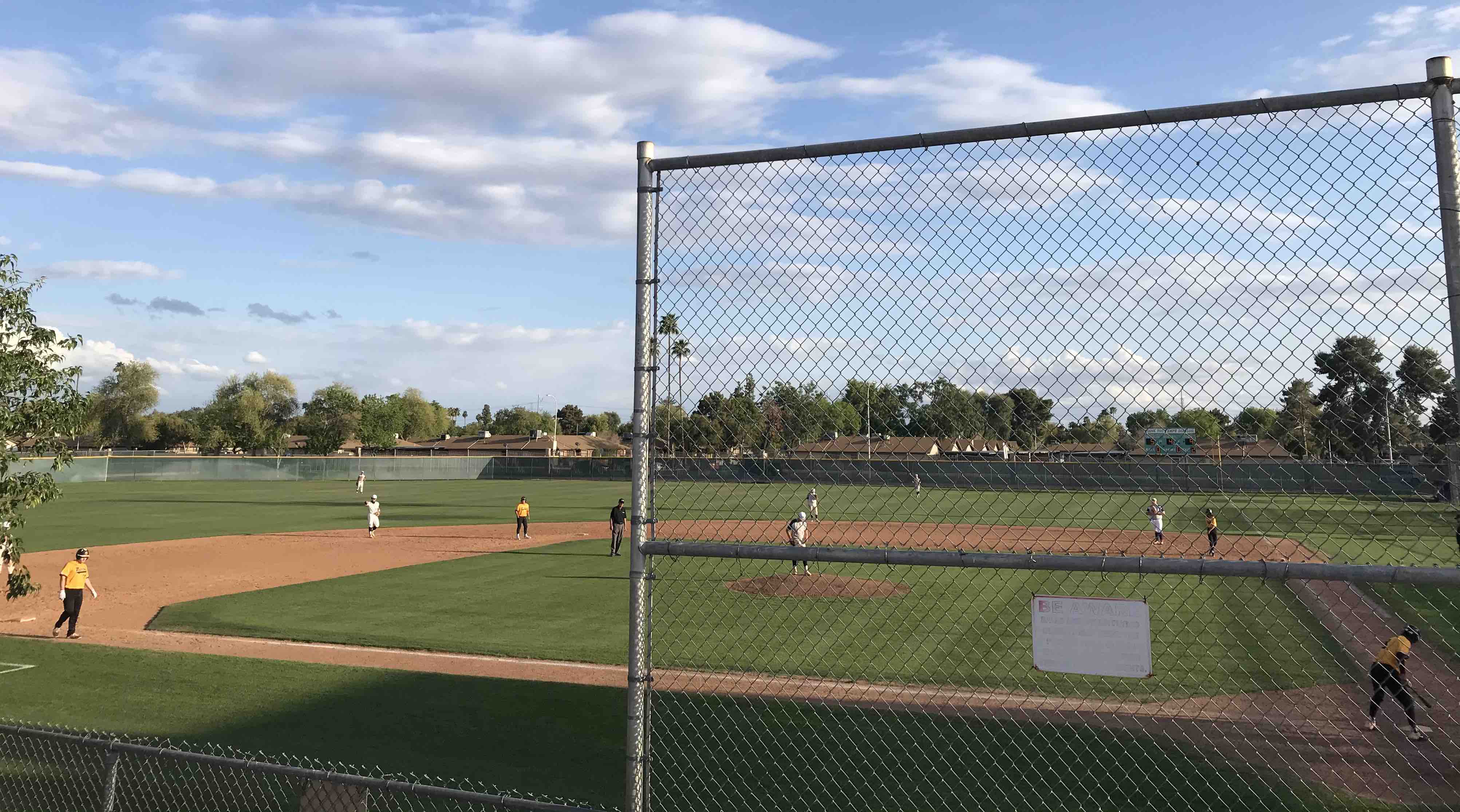 Henry Greenstein is an ASU Cronkite School of Journalism student assigned to cover Marcos de Niza High School for AZPreps365.com
The Marcos de Niza Padres and American Leadership Academy - Queen Creek (ALA-QC) Patriots met again Friday night in Tempe, after their Tuesday matchup in Queen Creek was close, low-scoring and ended in a Patriots win.
In Friday's first inning, the Padres ensured that their rematch would share none of those qualities.
The Padres (3-1) began the game with six consecutive hits, Patriots starter Haden Brown recorded just one out, and Marcos built an 8-1 lead after one inning. It was enough to carry the Padres to a 12-6 victory over ALA-QC (2-2), their first 4A Desert Sky win of the season.
"It just finally came together," Padres coach Matt Courtney said. "We've been battling and battling, and finally it just clicked."
Courtney noted that the team had been working on their batting approaches since Tuesday's loss, and it showed at the plate on Friday. Senior third baseman Alex Denham went 3-for-4 with a walk and two RBIs, plus two stolen bases. Catcher Gage Olson launched a three-run home run off Brown in the first inning.
Senior Zachery Paiz began the game at first base and went 2-for-3 with a walk and an RBI, while also emerging as the winning pitcher, allowing two runs over five innings with six strikeouts.
"I work on my craft quite a bit," Paiz said, "and I try to get everybody else to do the same on the team, as a captain and a leader."
Dallas Vacaneri started the game for Marcos, and ALA-QC actually struck first on an RBI single from junior catcher Danny Arnson in the top of the first inning. But Vacaneri struck out Brown to prevent any additional damage, and by the time he next returned to the mound, 14 of his team's batters had come and gone. In total, the 8-1 first inning lasted 43 minutes.
The Patriots recorded a total of four runs across the second and third innings to eat away at the deficit, led by their most effective hitters on the day, outfielder Ty Lilly (3-for-4 with a double and an RBI) and first baseman Jonathan Veerremans (2-for-4 with two doubles and two RBIs). It seemed like a comeback might be in the offing, especially after Jacob Provonsha pitched a pair of shutout innings.
Provonsha was two outs into the fourth inning when momentum swung back in Marcos' favor. Daniel Rodriguez hit a hard grounder that was aimed right at ALA-QC's second baseman but a little too hot for him to handle, which kept the inning alive and allowed Rafael Armenta to score. The Padres promptly loaded the bases and, with a pair of singles, drove in three more runs to make it 12-5.
"We were just a little shaky in the field," Patriots coach John Kuntz said. "I think we were trying to press a little bit. Even though we were making plays, they still weren't making the right decisions at the right time."
Veerremans drove in the game's final run with a bases-loaded fielder's choice in the seventh inning, a play that might actually have been more notable for Denham's lunging save to prevent the ball from going into the gap between third base and shortstop.
ALA-QC will try to bounce back against Saguaro (2-3) Tuesday at 3:45 p.m. in Queen Creek.
Marcos will travel to Combs (2-3) Tuesday at 3:45 for an out-of-region game in San Tan Valley.
---