Eagles strike late, defeat Lions, 5-4
March 27, 2021 by Kenneth Manoj, Arizona State University
---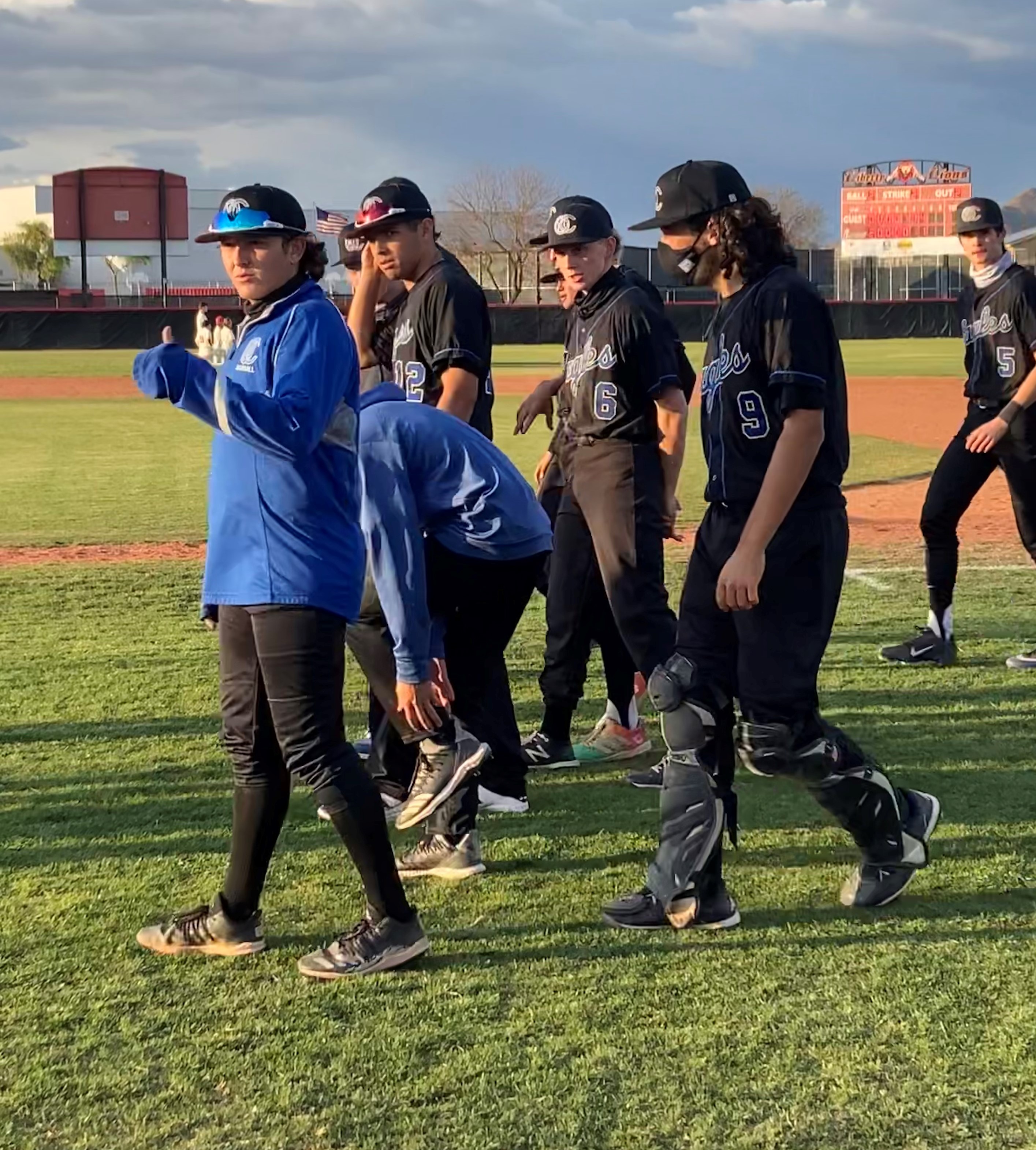 Kenneth Manoj is an ASU Cronkite School of Journalism student assigned to cover Liberty High School for AZPreps365.com
Following up on their walk-off win at home on Tuesday, Sandra Day O'Conner spoiled the home opener for Liberty, defeating the Lions, 5-4, on the back of another seventh-inning rally.
The Lions pounced on an early mistake to take the lead in the first inning. With two runners in scoring position and two outs, Liberty third basemen Kaden Scheifelbien lifted a pop fly ball between second and first, but Sandra Day O'Connor's first basemen could not make the catch, allowing two runs to score.
The score remained 2-0 heading into the fifth inning. Liberty starting pitcher Patrick Steitz had pitched four shutout innings while allowing three hits and one walk while striking out four batters.
With a slim lead, Liberty coach Chris Raymond turned the game over to his bullpen. Nevertheless, the Eagles tacked on their first run in the fifth with an RBI single from catcher Preston Lucas.
Eagles starting pitcher James Webster recovered well from the early stumble and ripped through the next four innings without a scratch.
In the sixth inning, the Lions once again capitalized on an Eagles mistake. Pinch-runner Darin Barrows advanced to second on a wild pitch from. Eagles coach Jeff Baumgartner decided that was the night for Webster, and turned it over to relief pitcher Traig Oughton.
Following a strikeout and a walk, Barrows stole third before scoring on a wild pitch to make it a 3-1 ball game after six.
Heading into the final inning, Oughton looked set to complete a three-inning save for Liberty.
But an error allowed the first batter to reach base and a follow-up single by Aiden Sullivan forced Raymond to warm up his bullpen. Oughton struck out the next batter before handing the save opportunity off to senior Tyler Bribiescas.
With runners on first and second and one out in the seventh, Bribiescas walked his first batter to load the bases. The Eagles then scored off a wild pitch, before Bribiescas walked a second straight batter to load the bases again.
Raymond replaced Bribiescas with relief pitcher Trevor Toland to close out the game. But the Eagles' third basemen and co-captain Barrett Skaugard had other plans, blasting a two-run single to right field.
The Eagles scored another run off a wild pitch before the inning was over, which proved to be the game-winner, as the Lions scratched a run across in their attempts to pull off a rally of their own.
Baumgartner praised his team's resilience under pressure and emphasized the importance of "weathering the storm."
"The tendency with high school kids is you don't weather the storm, and all of a sudden it's a crooked number and we're chasing four or five, that might be insurmountable," Baumgartner said. "[if] we're chasing two, we can find a way to chip away."
Skaugard also spoke to the relentless spirit of the Eagles' clubhouse.
"We're just never done, that is one thing that we always do here at O'Connor and we just found that it's never over [until] it's over," Skaugard said.
For Liberty, Raymond looked to put the game into greater perspective for his team. Not just for their season, but for their psyche as a team.
"It's just baseball. You got to pick yourself up," Raymond said. "It doesn't get any easier."
The Eagles (5-1) will host Boulder Creek (1-4) at 3:45 p.m. Tuesday.
The Lions (2-2) will play at Mountain Ridge (4-1) at 3:45 p.m. Tuesday.
---