Benjamin Franklin shuts down Titans baseball
March 27, 2021 by Caleb Gottry, Chandler Preparatory Academy
---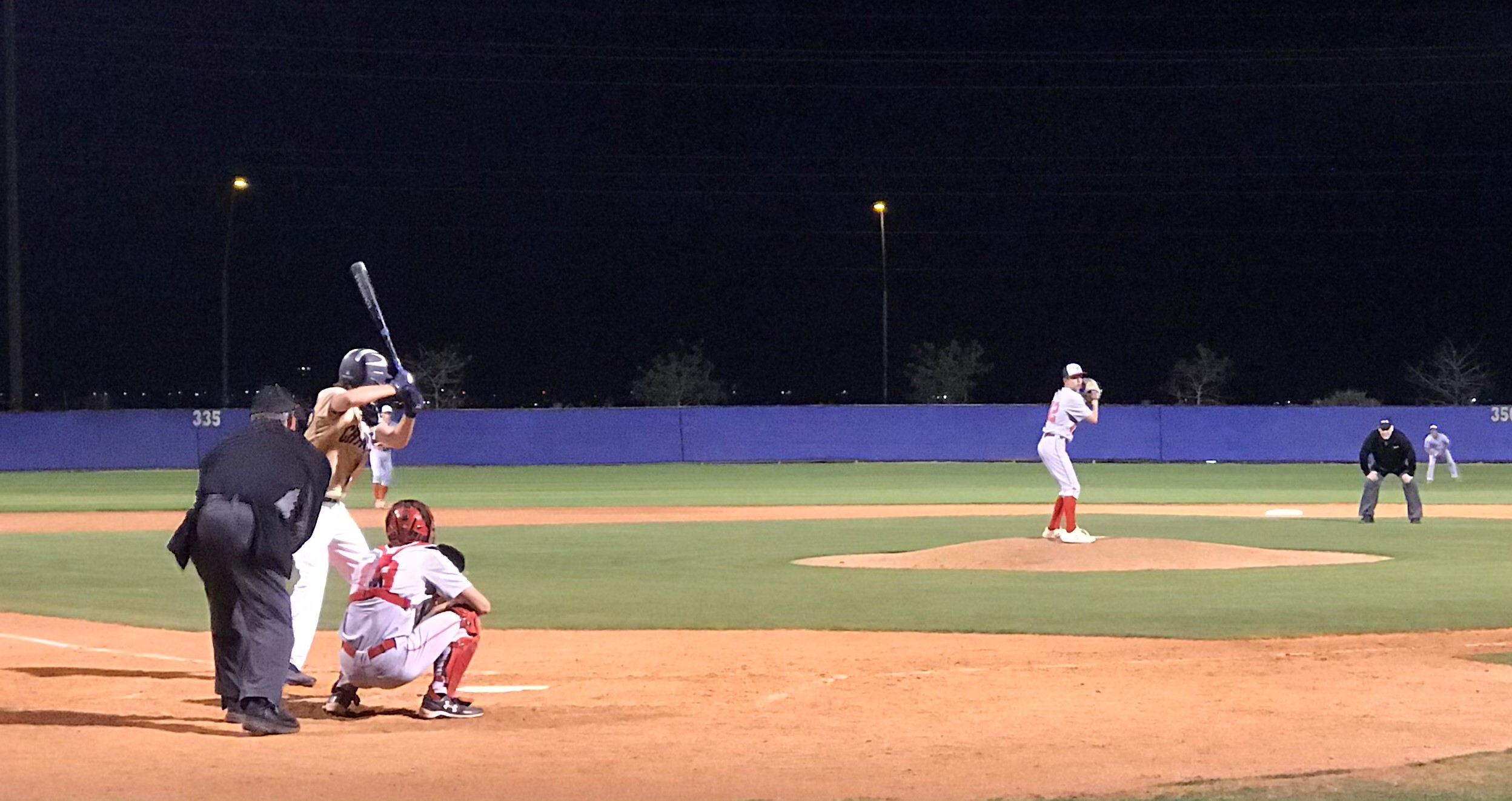 Caleb Gottry attends Chandler Preparatory Academy and is a member of the AIA's Student SID program.
On Thursday, March 25th, the 2A Chandler Prep Titans visited the 3A Benjamin Franklin Chargers, played a rough five innings that ended with a final score of 10-0, and learned that they have work to do before they compete at this level in state. For only being the second game of the season, it certainly was a difficult one, but Coach Martin Vilaboy used it as a marker for the team to work towards later in the season:
"We got cleaned up. We think we can beat a team like this. We have to be able to beat a team like this to achieve our goal this year, which is to kind of go deep in state, so we have to play better than that to beat teams like this and we know we have to have less walks; we have to have less errors; we have to make more plays. So, we have work to do to get there, but we're pretty confident that we are going to get there and we can get there and we're looking forward to getting better."
The Titans infield, with senior Juan Pietri at first, did an excellent job throwing baserunners out off of infield grounders as well as catching every pop-up in play. Benjamin Franklin's hard hitters, however, made solid contact with the ball several times for long flat fly balls that caught the wind nicely for a total of three triples, two homeruns, four singles, and a walk-off double in the bottom of the fifth due to the AIA Mercy Rule.
Junior pitcher Crew Cascaes relieved senior pitcher Daniel Peake in the third inning after six runs in the first two innings. The third inning was scoreless and Cascaes struck out a total of three batters in the fourth and fifth innings. In the three innings he pitched, Cascaes got two strikes on the Chargers ten different times.
The Titans put up 11 runs against the Arizona Lutheran Coyotes in their first home game, but pitcher for the Chargers, junior Grant Lindblom, caused some trouble for Chandler Prep's batting lineup with six strikeouts, no walks, and a smoking fast ball. The Titans sent the ball into the outfield once and put the ball in play several times throughout the game often on the first or second pitch, but only Cascaes and senior catcher Reese Vilaboy were able to reach base. Despite the swing of performance between game one and two, Coach Vilaboy thinks the Titan hitting team has the potential to grow to be one of their strongest assets:
"We have yet to figure out what the strongest part is after just a couple games. I think we're going to be a good hitting team. This was a good pitcher today that we ran into, but I do think hitting is going to be a strength."
The Chandler Prep Titans play their next home game against the Arete Prep Chargers on March 30th at the Snedigar Sports Complex at 5:00pm. Titan Up.
---