Welcome back: Tolleson District teams take field for 1st time in 2020-21
March 29, 2021 by Jose Garcia, AZPreps365
---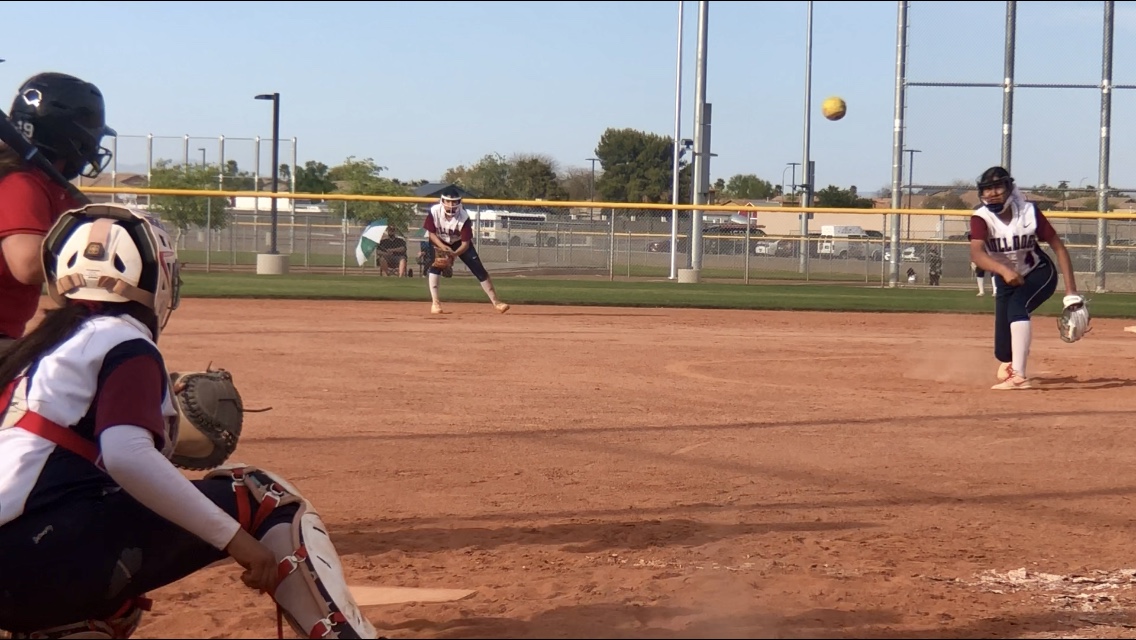 Sierra Linda's Dominique Soto didn't get upset after getting tagged out in a second inning rundown.
Instead, she and her coach, Diana De Jesus, who was standing in the third base box, just laughed it off as they walked off West Point's infield.
The joy on the faces of Sierra Linda as well as West Point's softball players returned.
The one year anniversary of a day Arizona Interscholastic Association's spring season programs want to forget arrives on Tuesday. The pandemic forced the AIA to cancel the rest of the 2020 spring sports calendar last March.
On Monday, Sierra Linda and West Point were more interested in playing their first game of the 2021 campaign. Monday also marked the first time Tolleson Union High School District teams competed in this school year.
COVID-19 is still present and hit the Tolleson Union District staff and families hard. But for more than two hours, playing a game they love served as a much welcomed distraction for Sierra Linda and West Point players.
"It was great to be out there," Sierra Linda's starting pitcher Rubianis Guzman said. "It was a distraction to be out here with people who like the sport I do and are here to have fun. We laughed off (the mistakes) because if we get mad there's no point to it. If you just laugh it off, you are just, 'OK. Next one. I got this. I'm going to be fine.' I have my teammates. They are there to help me out."
Juggling online instruction while having to babysit her siblings when her parents work hasn't been easy for Guzman, she said.
After shaking off the rust from a nearly one-year high school absence, the hard throwing Guzman flashed her share of smiles while striking out 11 in her team's 16-0 win. Despite the loss, West Point also had plenty of reasons to celebrate.
There were a lot of firsts for the new school in Avondale. West Point played its very first varsity softball game Monday and did so without any seniors on the roster.
Junior Jana Ousterhout recorded the school's first varsity hit when she legged out a squibbler in the fifth inning. Sophomore Alondra Ruiz registered West Point's first strikeout when she struck out the game's first batter.
"I know what we can work on to improve to make ourselves way better," Ruiz's battery mate, Alexis Rosalez, said. "I plan to help this team as much as I can."
Once the opening varsity game jitters left, West Point left fielder Genesis Bello and freshman right fielder Alyssa Cerpa made a couple of highlight reel catches.
West Point had about two and a half weeks to prepare for its season opener.
"They were extremely happy to be able to come out here and play," West Point coach Manuel Vizzerra said. "Of course they were a little nervous. But they were excited to be out on the field. And I don't think there is any other place they'd want to be at right now."
Vizzerra also was feeling grateful to be on the field with his team.
The West Point teacher spent six weeks away from school while battling COVID-19 along with his dad.
Last year, Sierra Linda only completed one regular season game before its season was cut short. The "heartbreaking" news hit hard, especially for the seniors, De Jesus said.
This season, Sierra Linda, West Point and every spring program in the Tolleson District will just play against their district schools. In its first game back, Sierra Linda didn't waste its chances Monday to file memories that can help young athletes cope with the real world issues they face.
Cleanup hitter Nayeli Montijo hit Sierra Linda's first homer of 2021, which went off West Point's new scoreboard in left field. And Soto had two extra base hits and walked three times.
"It felt so good to be able to see the girls out there try their best," De Jesus said.
---