Gilbert is off to a 5-0 start
March 31, 2021 by Jose Garcia, AZPreps365
---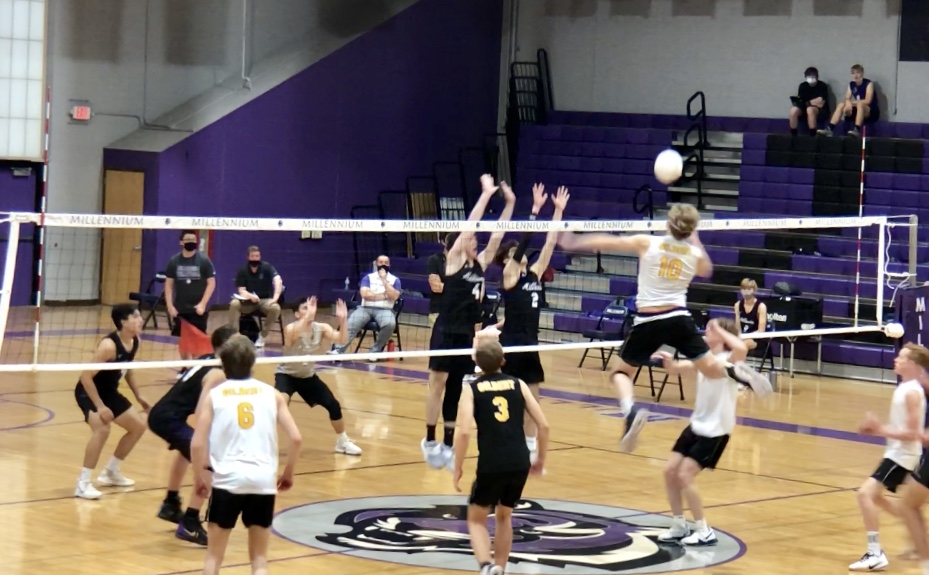 Gilbert-Millennium match highlights: https://www.youtube.com/watch?v=vSf4MOIFjsc
Joe Hesse is in his 24th season coaching at Gilbert, but he can still throw a darn good fastball with a volleyball.
The veteran volleyball coach zipped the ball to Gilbert junior Reed Shuey so Shuey could serve during the early moments of the second game in Gilbert's road match Wednesday. Hesse's players and fans got a kick out of the lighthearted moment.
Hesse's volleyball players also took a cue from their coach and did quick work of Millennium, 25-20, 25-19, 25-14, to improve to 5-0. Gilbert hasn't dropped a set so far this season.
"We are a piece or two away from making it serious," Hesse said. "Hopefully we can coach them up."
Gilbert is aiming for a postseason run in the 5A Conference.
The pieces that are in place are capable of fulfilling that for the team.
At 6-foot-7, Trenton Moser is a threat on the outside and back row.
"The Moser kid can win matches," Hesse said.
There's also the quick swing of senior Ethan Gilmore on the outside.
But probably the best athlete, Hesse said, is setter Beau Whatcott, who is still developing. Against the somewhat inexperienced Millennium Tigers, Gilbert got off to a slow start in Game 1, when it trailed 17-12.
Millennium (4-2) is home to one of the best all-around players in the state, Nathan Avitia, who will play at the University of Charleston next season. The senior setter is for the first time in his high school career hitting and didn't appear out of place on the outside.
"It's fun," said Avitia about hitting. "It's fun. It's definitely different."
Gilbert began to take control of the match after trailing 17-12.
That's when Brett Coley's serving and Gilbert's blocking sparked a 13-3 run to end the first game.
"(We) are a little green, but they continue to get better each game," said Millennium's coach Shawn Brannick, a Chicago native who started the boys program at Millennium. "Gilbert is a heck of a team."
Millennium and Gilbert begin region play next week, with Gilbert opening against another 5A favorite, Casteel.
It'll be the first of two meetings this season for the 5A San Tan Region teams.
"We'll see how that goes," said Hesse about Casteel.
---