Highland falls to Sandra Day O'Connor in nail-biter
April 1, 2021 by Catie Cheshire, Arizona State University
---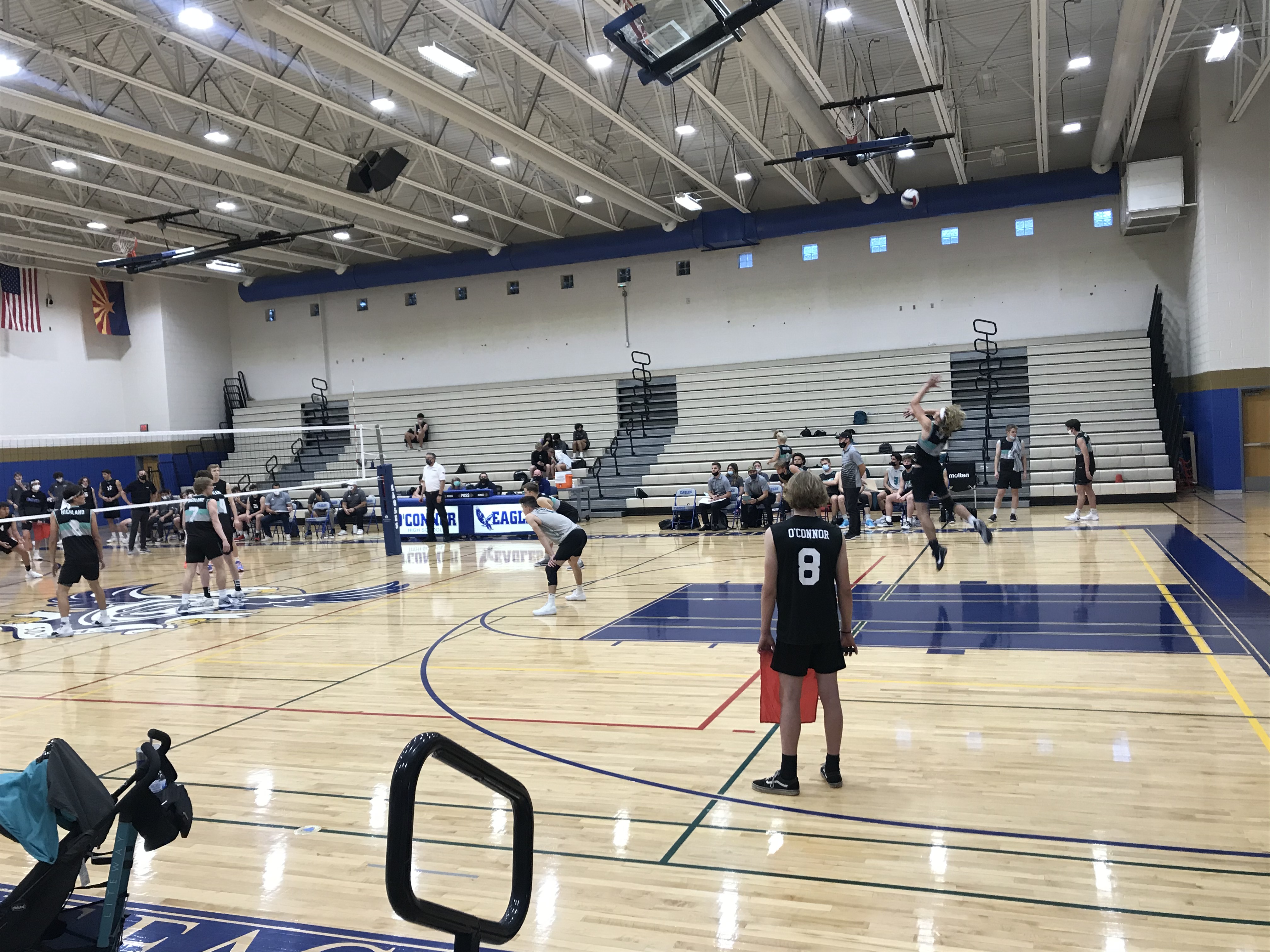 Catie Cheshire is an ASU Cronkite School of Journalism student assigned to cover Highland for AZPreps365.com.
In a battle of the birds for the ages, Thursday's boys volleyball game between the Highland Hawks and the Sandra Day O'Connor Eagles featured ample action in the air and both teams clawing at each other to the very end when the five-set game ended with an 18-16 Eagles victory.
The player who caught the most air was Sandra Day O'Connor junior Zach Rama, who ended the night with a stunning 29 kills, including five in the fifth set.
The fifth set also saw Highland players flying all over the court in an attempt to defend against Rama's onslaught. Drew Enos, who was Highland's libero for part of the night, had back-to-back digs to prevent Rama from scoring. One dig missed the target, sending freshman Jase Adams to the ground as he dove to keep the ball in play.
A tip from Preston Johnson ended the rally, putting Highland up 3-2.
The rest of the game followed suit with the score close and the intensity high.
Middle blocker Louden Heldt hit back-to-back kills for Sandra Day O'Connor.
Porter Caskey responded with a resounding block for Highland, making the score 8-6.
Highland went on a small tear, earning the set's largest lead with a 12-8 advantage after kills from Jase Adams and Jaren Brown.
Sandra Day O'Connor coach Troy Dueling called a timeout.
The Eagles emerged from the timeout with vigor, evening the score at 12 with a decisive kill from Rama. The teams exchanged point after point. It was 14-14, then 15-15, then 16-16 before Sandra Day O'Connor emerged victorious thanks to a service ace from junior Kai Gesino.
When the ball hit the ground, the already roaring gym erupted. Players on both benches embraced their teammates and both coaches felt pride.
Highland coach Jeff Grover said this type of game is what he expects in the postseason, so he described it as "perfect" despite the loss.
"I'm happy to play some tough competition and it helps us prepare for the future," he said.
Dueling echoed Grover's statement. His goal for the season is for the Eagles to win a state championship and he named Highland as one of the schools he expects to be in the mix.
"They're a very good team; very well coached; very scrappy," he said. "They're going to force you to have to extend yourself beyond what you're used to."
Playing another tough team made this game the high point of the Eagles' season so far, according to Dueling.
"We needed this," he said. "We needed to build a little resiliency, a little toughness."
Trevor Pope, the setter for Sandra Day O'Connor, said the Eagles' discipline is what helped them win because they didn't take a single play off. Pope, who has played volleyball since eighth grade and is now a senior, said this team has the best chemistry he's experienced.
He said that chemistry was another element to their win.
"I saw heart," Pope said. "I saw them wanting to win and fighting for it."
On the other side of the net, Highland setter Nate Gurr said he thought Sandra Day O'Connor's consistency is what helped them win.
"They didn't really go through a hill of emotions," Gurr said. "They stayed super steady throughout the whole thing."
Grover credited Sandra Day O'Connor for staying tough and said he hopes to add more consistency in future matches, agreeing with Gurr.
"When we're at our best it's consistent and we had a little bit of fluctuation there in set two and set three. They got away from us," Grover said.
After winning the first set 25-23, Highland lost the next two by margins of 25-15 and 25-13.
Pope said the Eagles talked about having better blocking between the first and second sets which paid off as they improved from having one block in the first set to eight in the second.
Grover made some adjustments to the Hawks lineup after the third set, making Kaleo Grover the libero and adding Hayden Winegar into the setting mix with Gurr.
Grover's decision paid off quickly as Highland opened the fourth game with two straight kills that started with passes from Kaleo.
Highland was back in it, needing to win the set to have any hope of emerging victorious for the evening.
Rama and Brown exchanged kills, combining for five in a row to make the score 6-6.
The whole set followed that patten. Back and forth. A two-point lead for Highland here. A two-point lead for Sandra Day O'Connor there.
Highland finally forced a fifth game by winning 25-22 on Brown's sixth kill of the game.
Despite their eventual defeat, Gurr saw many positives for Highland, including their resiliency between matches that helped them push the match to its limit.
"This doesn't set us back at all," he said. "We learned a ton between each set."
Highland (4-2) will host Mountain Pointe (4-1) at 5:30 p.m. Tuesday.
Sandra Day O'Connor (5-1) will play at Desert Ridge (1-3) at 5 p.m. Wednesday.
---