Veritas Prep snaps 4-game losing streak with win over NFL Yet
April 1, 2021 by Andrea Aguilera, Arizona State University
---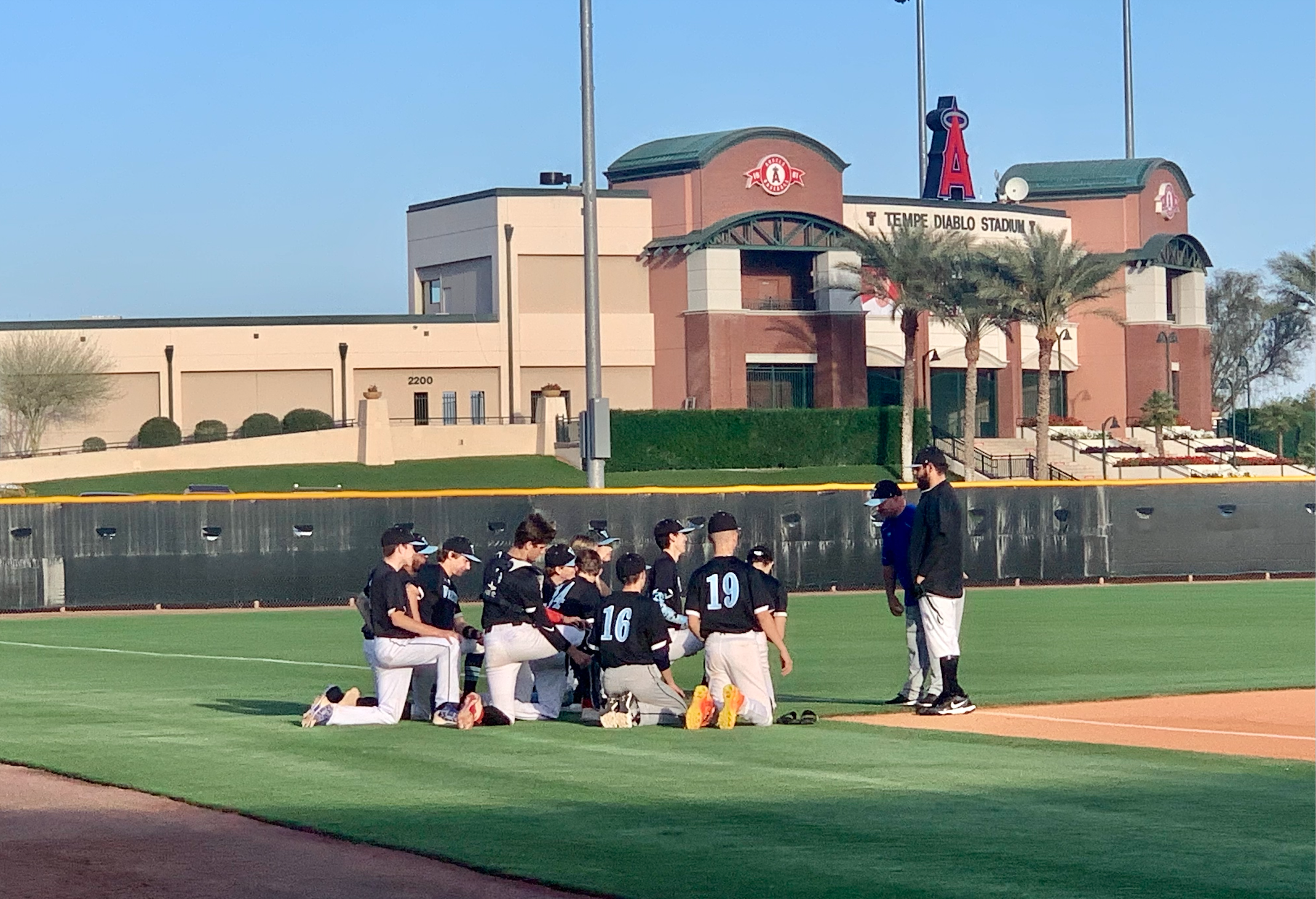 Andrea Aguilera is an ASU Cronkite School of Journalism student assigned to Veritas Preparatory Academy for AZPreps365.com
The Veritas Prep Falcons arrived Thursday at Tempe Diablo Stadium in search for their first win of the season. Exceptional pitching, aggressive baserunning and successful at-bats lifted the Falcons to a 22-2 win over the NFL Yet Eagles.
Falcons starting pitcher Ian Townsend was key to the game and dominated the NFL Yet lineup, throwing just 35 pitches through three innings.
The NFL Yet Eagles had difficulty making contactand struggled to make key defensive plays, which the Falcons used to their advantage to score 11 runs in both of their innings played.
The two runs scored by the Eagles came at the top of the third inning on a pickoff attempt error.
The game was called after two hours in the middle of the third inning due to the big deficit faced by the Eagles.
Having previously struggled with pitching as a team, Veritas Prep coach Shawn Hawk credited Townsend for his improvement in this game, being the second game he's started this season and third game pitched overall.
"He was commanding his strike zone," Hawk said. "This is his second start, so he's doing really well."
Townsend said focusing on his pitching technique helped him find the strike zone.
"Focusing on when to let go of the ball and how far I should put my hand out is how I got better," Townsend said.
Starting catcher Isabella Gulbranson also stood out not only as the only girl on both teams, but with her incredible blocking skills and batting for one hit, one RBI, and two walks.
Thursday's win was big for the Falcons, who were shut down in their last two games.
"This win is huge, it's our first," Hawk said. "The smiles on their faces says it all."
The Veritas Prep team is composed of a relatively young players who have never played before, and players who are multi-sport athletes.
Most of the players on the team play year-round in at least one other sport, such as football, soccer, and basketball.
"We have a really young team, a lot of first-time pitchers," Hawk said.
Hawk wants to focus on improving different aspects of their offense and defense while minimizing errors.
"We're trying to put the ball in play," Hawk said. "Our biggest thing right now is starting pitching and hitting for contact."
The Falcons will play at 3 p.m. Friday at Victory Lane Complex where they will face Anthem Prep (3-2).
---