Mountain Ridge, O'Connor renew rivalry
April 6, 2021 by Jose Garcia, AZPreps365
---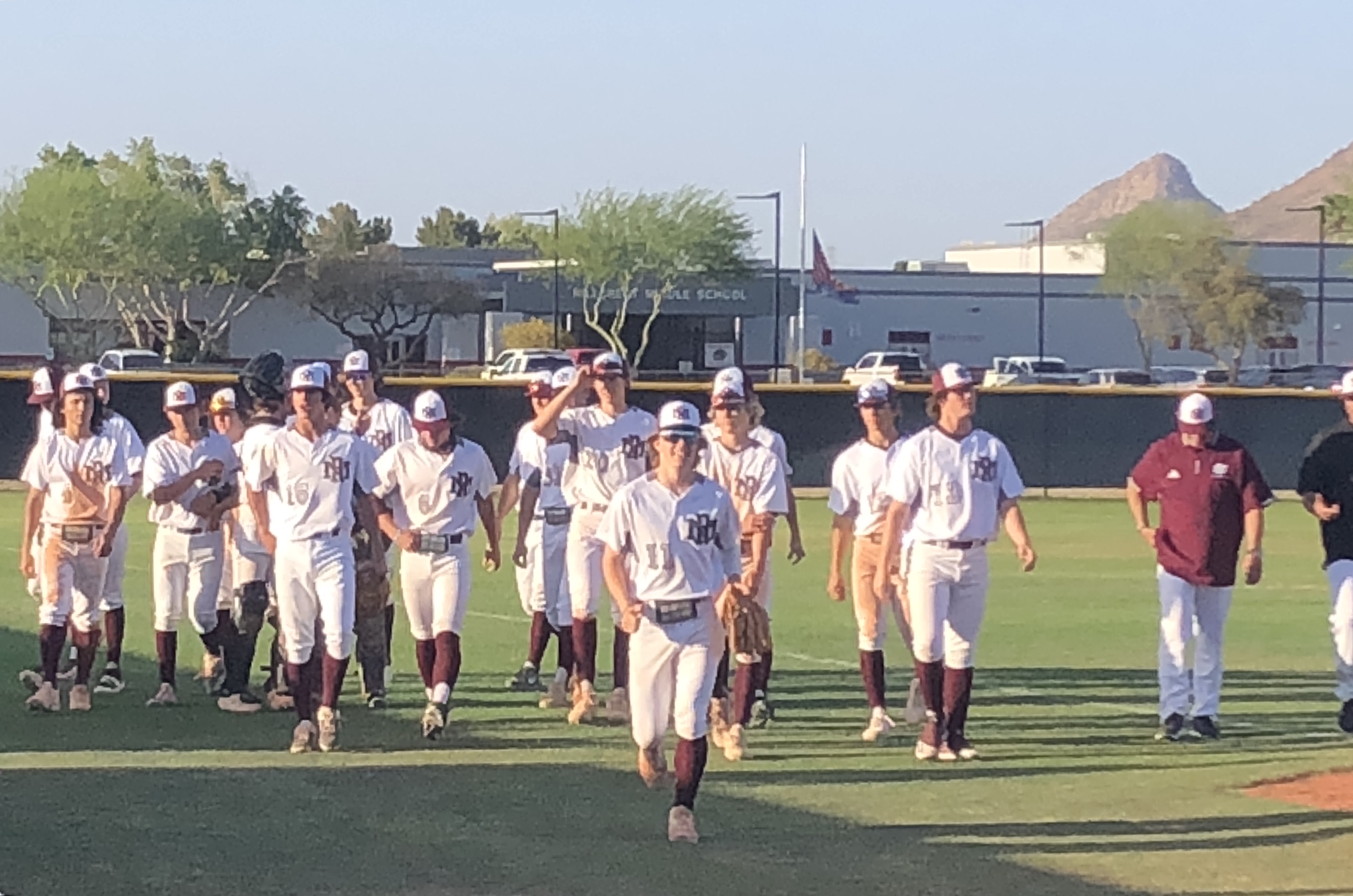 Mountain Ridge's Jake Alwine snagged the sharply hit grounder to his corner, threw to first base for the final out and celebrated with his long locks all on his face.
The Sandra Day O'Connor-Mountain Ridge baseball rivalry was back on.
Tuesday's reunion, after more than a year hiatus, was meaningful, which always seems to be the case when these two programs reconnect. University of Texas at Arlington commit Gray Bailey and Arizona State-bound Barrett Skaugrud took the hill to see whose team remained atop their region.
When it was over, the 6A Desert Valley Region had three teams tied for first after Mountain Ridge left its field with a 6-2 win. Mountain Ridge, O'Connor and Chaparral are each 4-1 in region.
Bailey pitched 5 1/3 innings of two-hit ball and was backed by sophomore Cooper Neville's two, two RBI hits. Neville is one of a handful of new and talented position players starting this year for Mountain Ridge.
One of the last times Bailey saw O'Connor's Skaugrud on the mound was when they were freshmen.
In that memorable outing, Skaugrud tossed a complete game to help his program clinch its first state crown. That game, however, wasn't on Bailey's mind, he said.
The senior was in the dugout when O'Connor won its championship at Tempe Diablo Stadium, but Mountain Ridge was the team celebrating Tuesday.
"It was a good team win all together," said Bailey, who exited in the sixth inning to a well-deserved round of applause from the home fans. "I'm very proud and happy."
An error in the outfield in the bottom of the third permitted Mountain Ridge to place its first two runners in scoring position.
Neville then made O'Connor pay with a two-strike single he smacked to left. In the bottom of the fifth, with runners once again on third and second, Neville this time jumped on Skaugrud's first offering for his second two-run hit, a double to right center.
"It was a heck of a time to show up for my team this time in a big game," said Neville, who bats second in the lineup.
Skaugrud, who is battling a hip flexor injury, was replaced on the mound after Neville's fifth inning hit.
Skaugrud stayed in the game at third base and drove in his team's first run. But reliever Matthew Martinez shut O'Connor down the rest of the way.
Junior AJ Singer and senior Josh Martinez each also had two hits for Mountain Ridge.
"We'll remind them real quickly that this is a rivalry," said O'Connor's veteran leader, coach Jeff Baumgartner, about his boys.
On Friday, Mountain Ridge (7-2 overall) and O'Connor (7-2 overall) will lock horns once again.
Note
Former Mountain Ridge head coach Lance Billingsley returned to the dugout this season and is assisting current head coach Artie Cox.
Billingsley, who won at least 19 games or more from 2013-17, stepped away to help take care of his mother, Marian, before she passed away.
"My dad has been living with me for about three years," Billingsley said. "It's hard. My parents were married for 58 years. It's hard.
"I just love the game. It took me about five weeks before I even knew most of the players' names. It's been an adjustment, but the nice thing is that I don't know any of the kids. I didn't coach any of them. They weren't in the program with me. And I don't know any of the parents. So I get to coach with a clean slate."
We'll have more on Billingsley's return on Saturday during the azpreps365 Saturday Morning Show on 1580 The Fanatic from 8-10 a.m.
The winning pitcher, Gray Bailey, will be one of the guests on the show.
---