All eyes are on Mesa senior captain Steven Cervantes Jr.
April 7, 2021 by Alyssa Polczynski, Arizona State University
---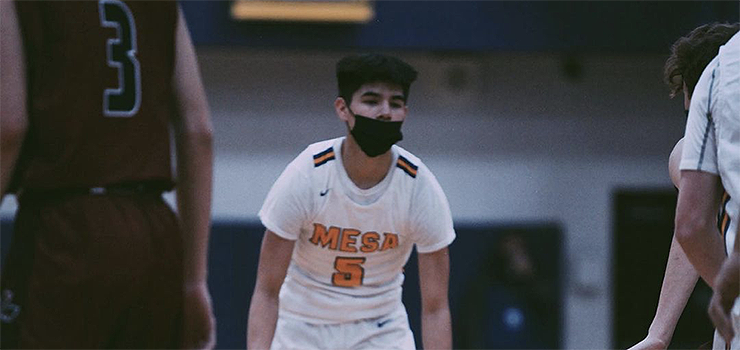 Alyssa Polczynski is an ASU Cronkite School of Journalism student assigned to cover Mesa High School for AZPreps365.com
Making a name for yourself in sports is no simple task. It is about putting in valiant effort, perseverance and driving yourself to exceed the limits you thought you couldn't bypass. That is exactly what Steven Cervantes Jr., Mesa high boys basketball captain, is doing.
Cervantes Jr. developed his love for basketball at a young age.
"I've been playing basketball for as long as I can remember," Cervantes Jr. said. "Ever since I was a kid, I always had a basketball in my hand or around the game."
During his time at Mesa, Cervantes Jr. has been recognized as a player to watch. During the 2019-20 season, he was one of Arizona's top 3-point shooters. According to scorebook keeper JD Humburg, Cervantes Jr. hit "40 percent from beyond the arc and averaged 17.6 points, 3.3 rebounds, 2.9 assists and 1.3 steals per game."
Cervantes Jr. exceeded those numbers this year and was voted East Valley Region Player of the Year, region Offensive Player of the Year and selected to the All-Conference 1st Team.
"Tremendous work ethic," coach Scott Stansberry said. "Always in the gym getting shots up or working on his game. Goes to the gym in the evenings to work on his body. Just constantly doing anything to get better."
When Cervantes Jr. is not playing the sport, you'll find him cheering on the Denver Broncos or embarking in other activities.
"Outside of basketball, I love hanging out with my friends, skateboarding and practicing the electric guitar," Cervantes said. "I don't skateboard much anymore due to the fact I can get injured, but it's definitely a side hobby I enjoy doing."
Growing up, he dabbled in playing other sports, showcasing his strong athletic abilities.
"My second sport was football," Cervantes Jr. said. "I played everything … soccer, baseball and even ran track and field."
Throughout the years, Cervantes Jr. has had a wide range of support, the biggest coming from his father, Steve Cervantes Sr.
"[Cervantes Sr.] has pushed me and pushed me through my whole life and has been there every step of the way," Cervantes Jr. said. "Not only has he pushed me to do great things, but he's overcome his own obstacles growing up and it shows what being a man and a father is about: Dedication and hard work."
You can find Cervantes' father in the stands, cheering on his son and the team at every game.
"[Cervantes Jr.] has a lot of confidence in his skill and abilities," Steve Cervantes Sr. said. "When others doubted, he never wavered. He continues to improve and will continue making everyone around him better. I could not be prouder."
Those around Cervantes Jr. have nothing but positive comments to describe his personality, work ethic and how he carries himself. His friends see him as "outgoing, caring and goofy," while many of his teammates look to him as an inspiration.
"He has earned some accolades and I know other players look up to him for that," Stansberry said. "He was instrumental in us having a turnaround season."
Committed to Glendale Community College, Cervantes Jr. will be majoring in communications and plans to continue his basketball career.
"The transition to college should be an interesting one considering COVID-19," Cervantes Jr. said. "I will be making the most out of my college experience."
Following a 16-2 season, Cervantes Jr. is proud of what his team accomplished and continues to finish his senior year with an uplifting mindset.
"Whatever Steven does in life, I know he will succeed because of his mindset and work ethic," Stansberry said. "He has earned everything he has gotten and that will carry over in life for him."
---