Gilbert dominates Desert Mountain in run-rule win
April 8, 2021 by Shawn DePaz, Arizona State University
---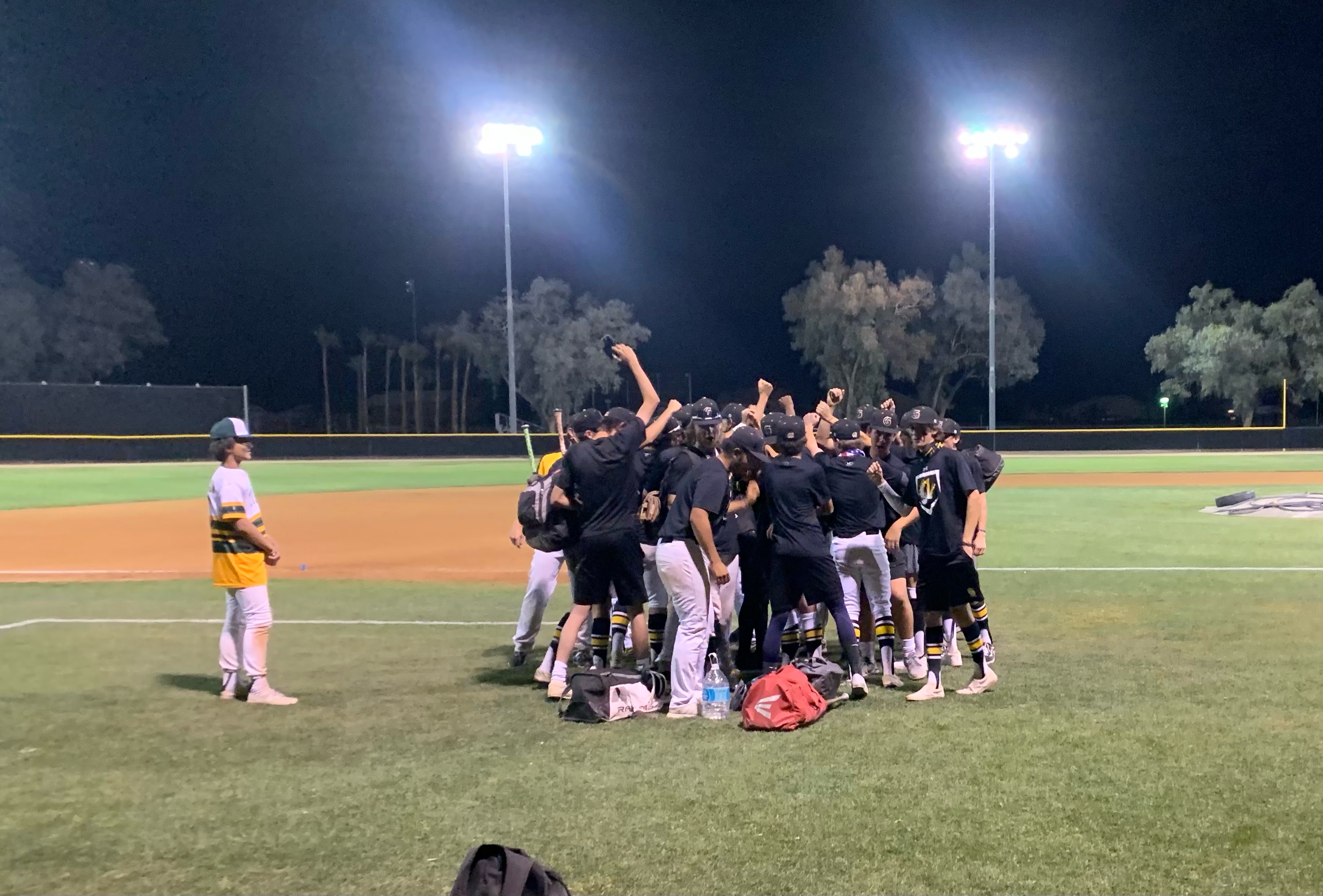 Shawn DePaz is an ASU Cronkite School of Journalism student assigned to cover Gilbert High School for AZPreps365.com
The Gilbert baseball team was nearly perfect in every facet of their game Wednesday night when they hosted Desert Mountain. It took the Tigers only five innings to defeat the Wolves 13-3, invoking the 10-run mercy rule.
The star of the game for the Tigers (5-4) was starting pitcher Isaiah Maes. The junior pitched all five innings, limiting Desert Mountain (8-2) to only three runs and five hits.
Maes rebounded nicely after allowing a run in the first inning. Desert Mountain's other two runs he allowed came off a two-run homer in the third inning by the Wolves' starting pitcher, Luke Moeller.
Gilbert coach Matt Gutierrez praised Maes for responding well to the early adversity.
"He just kept doing what he needed to do," Gutierrez said. "I thought he showed the other pitchers on our staff, 'this is how you pitch, this is how you react, this is the body language you should have if you want to be good.'"
Maes said that his preparedness is what allowed him to be successful.
"I went through their stats and I read their hitters and I knew what to throw," Maes said. "So, I just felt confident the whole game throwing against them. "
Maes received a boost from Gilbert's offense, which wasted no time getting work. After the Tigers' first two batters of the game reached base, senior Jay Evans hit a three-run home run to left field to give Gilbert a 3-1 lead.
Maes expressed his appreciation for the cushion that his offense provided.
"It was amazing," Maes said. "I was on a cloud pitching up there, so it felt good."
Junior Drew Goodman and senior Zach Feeder each had two-run singles in what was ultimately a six-run third inning for the Tigers. Gilbert baserunners consistently managed to move themselves into scoring position, combining for four stolen bases in the inning.
The Gilbert defense also had a number of spectacular plays that prevented the Wolves from gaining any momentum. One such instance came in the top of the fourth inning when Tigers left fielder Jaxon Wilcoxson made two catches to end the inning, including a diving catch to rob Desert Mountain of an extra-base hit.
Desert Mountain coach Ryan Dyer acknowledged that his team was fatigued due to their recent run of games. The Wolves have played five times in the last 10 days.
"We're tired," Dyer said. "We've been playing a lot of emotional, tight ball games lately and tonight it showed."
The Desert Mountain coach still gave the Tigers plenty of credit.
"[Gilbert] just came to play tonight," Dyer said. "They're a well-coached team. They've got a lot of momentum going and they've been playing well lately."
Many, including Gutierrez, consider the Wolves to be one of the best teams in Arizona, giving this dominant win added significance for the Tigers. He said that this sort of win can be big for his team's confidence.
"You gotta have confidence to begin with," Gutierrez said, "but you just kind of prove to yourself that you can play with anybody.
Gilbert's will host Casteel (5-3) at 3:45 p.m. Friday. Desert Mountain will also return to action at 3:45 p.m. Friday, traveling to Arcadia (2-8).
---