Veritas Prep continues to excel on soccer pitch
April 9, 2021 by Andrea Aguilera, Arizona State University
---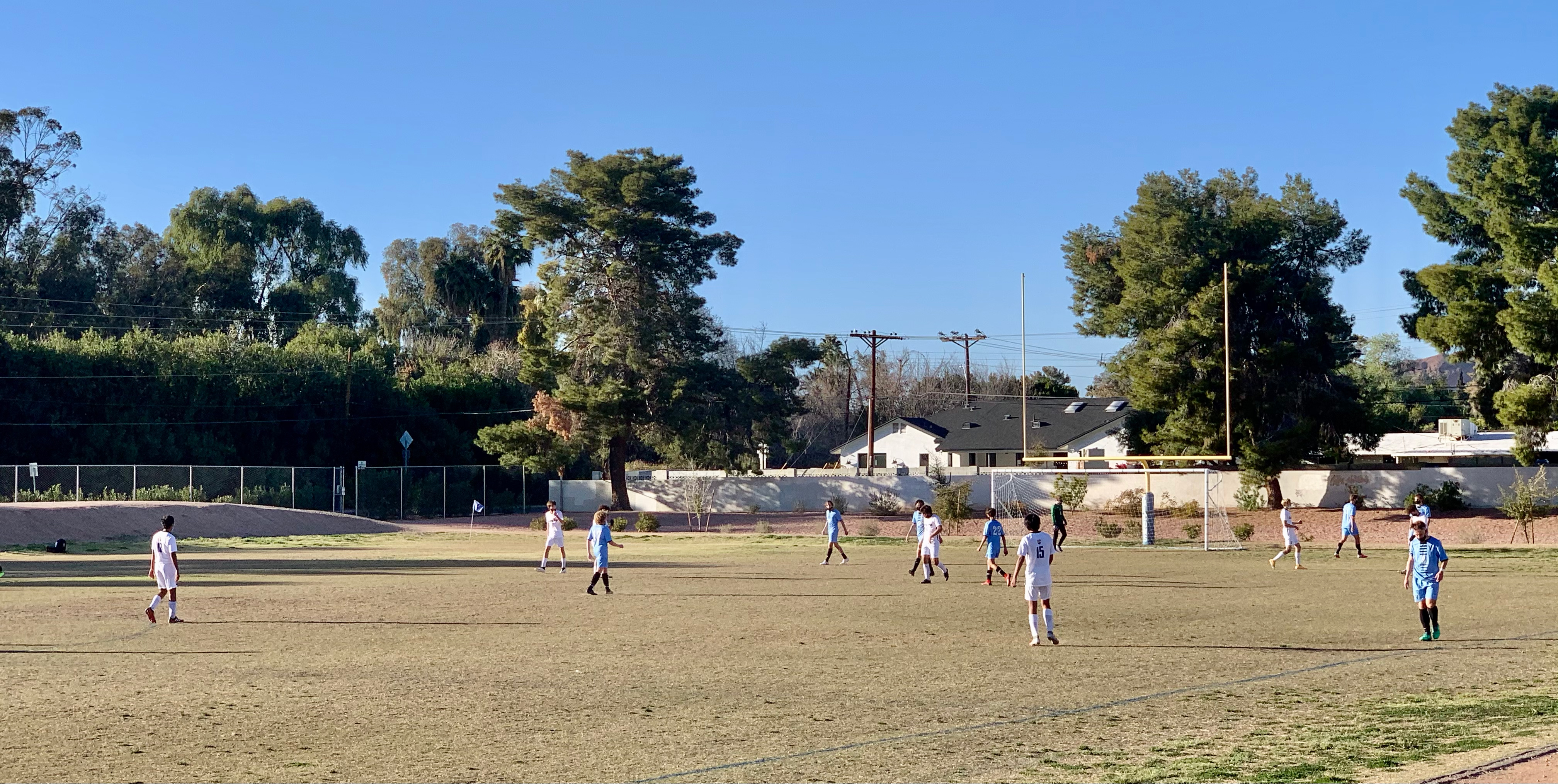 Andrea Aguilera is an ASU Cronkite School of Journalism student assigned to cover Veritas Preparatory Academy for AZPreps365.com.
Building player confidence, a winning mentality and tactical training are the secrets to the Veritas boys soccer program's newfound success.
When head coach Richard Cardenas and assistant coach Mark Briggs came to Veritas Prep Academy to coach the boys soccer, the team had never won a state championship before. The team had also never had players go and play in college.
Cardenas joined the Veritas Prep soccer team in 2019. He was previously the Veritas middle school coach, which won consecutive championships under his instruction.
Cardenas knew most of the players on the prep team because he had coached them in middle school, which made the transition easier.
Once he decided to coach the preparatory team, he asked Briggs, who has club coaching experience, to join him as the assistant coach.
When Cardenas and Briggs first got to the team, they found a lot of talent in players that wasn't being fully exposed, and they decided to change the program's philosophy.
"You have to build their (players) confidence," Cardenas said. "Really getting them to believe in themselves."
According to Cardenas, he doesn't look for elite club players, but a good personality and team players.
"The first question I ask them at the beginning of the year is: what are you doing to make everybody else on this team better?" Cardenas said.
Cardenas said he enjoys being a small school competing against big schools. He sees it as a good challenge for the Veritas athletes, which helps them get better.
The new program seeks to help players promote themselves for college by preparing them before their senior year and putting videos together to hopefully get a playing offer or scholarship at the college level.
Cardenas said Briggs has been critical in helping him find success for the team.
The team got to the semifinals the first year under the new coaching duo.
The year after that, in 2020, the team won the first state championship in the school's history and had their first two players go play soccer in college.
Four of their starting players graduated in 2020, making it a new challenge for the 2021 season.
"It was fun to blend this team together," said Briggs, referring to the different set of athletes (club and non club players, freshman versus seniors) that the team built.
This year, although they didn't win the state championship, the Falcons found success again with a 9-3 record. They lost, 6-3, in the state semifinals to American Leadership Academy - Gilbert North, which went on to win the state title.
"When you're a state champion, you have a target on your back," Briggs said. "Everybody comes with their A-game to play against you."
The team will be graduating eight seniors at the end of this school year, with three of them having signed to play in college.
And so the coaching duo has the challenge of starting all over again.
"That's my favorite part of coaching," Cardenas said. "Every year, it's a new set of chess pieces that you have to put out on the chess board, and you have to maneuver them."
According to Briggs, you can't lose that many great players and not expect there to be some drop off, but he believes it will be up to their coaching.
"How well can we develop these guys as a team and play together to overcome that challenge?" Briggs said. "That's where coaching makes a difference in high school soccer."
Both coaches agree that building confidence in their players is crucial for the team's success.
"That's where we add value as coaches, helping kids believe in themselves and have a positive mental attitude, respect for each other, for the game itself, and for the other team," Briggs said.
"You don't lose eight seniors without it hurting, but I'm pretty happy about the future," Briggs said. "I really like working with the whole group of kids and I love working with Coach Cardenas as well."
---