#5 Gilbert boys VB deals #6 Higley 1st region loss
April 14, 2021 by Les Willsey, AZPreps365
---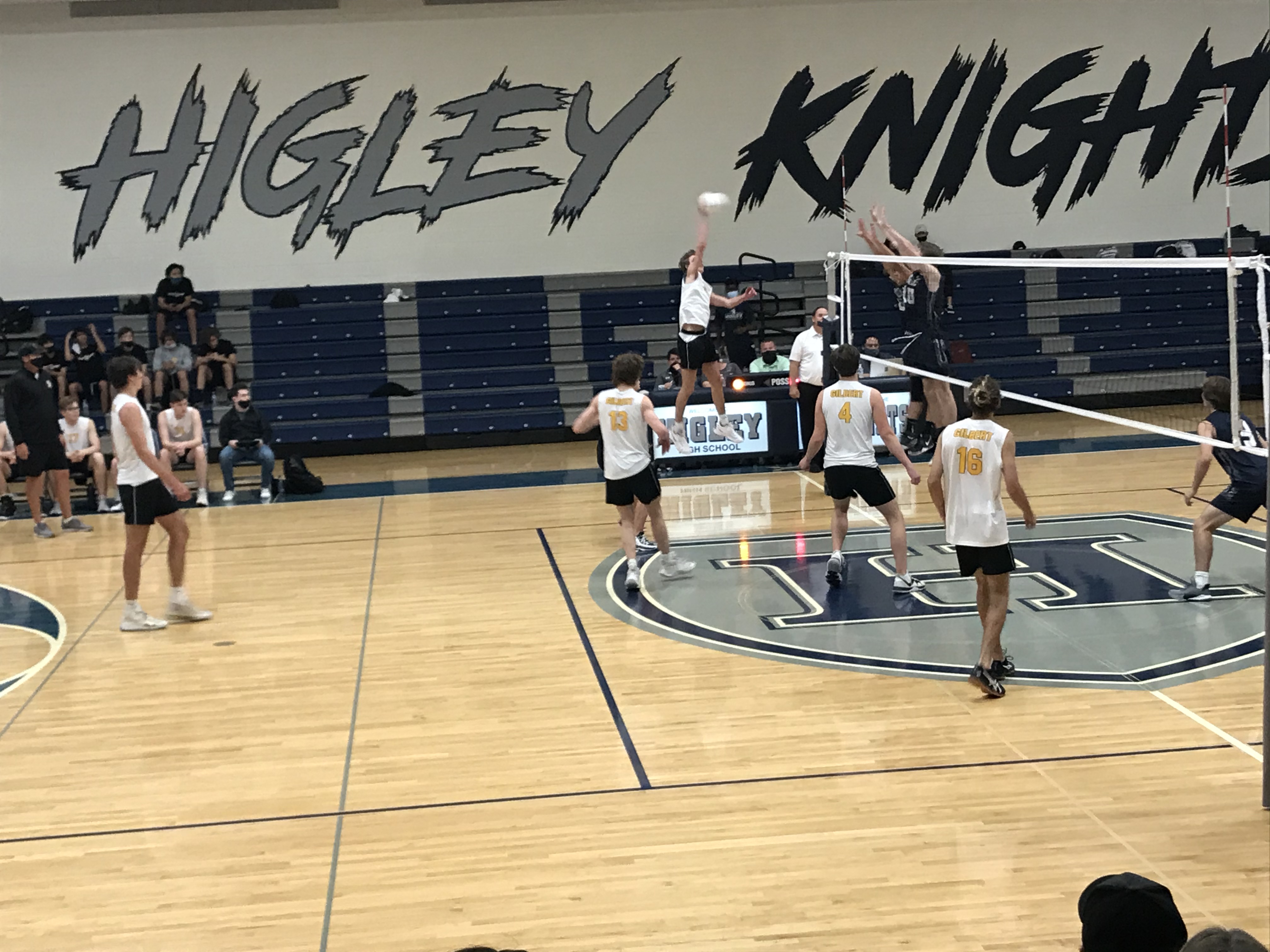 #5 Gilbert High's boys volleyball team got the jump on San Tan Region foe #6 Higley on Wednesday night taking the first set with ease and completing a sweep with a pair of two-point wins in a matchup of 5A top-10 teams at Higley High. Scores were 25-15, 25-23 and 28-26.
The San Tan region has plenty of swagger as the regular season is a bit more than half finished. Region-leader Casteel is ranked No. 2 in Wednesday's power rankings with Gilbert, Higley and Williams Field (#8) not far behind. Casteel leads the region at (9-1, 3-0) with Gilbert (9-1, 3-1) and Higley (8-2, 3-1) tied for second.
Gilbert has breezed through nine of its 10 matches, sweeping every opponent it's defeated and losing via sweep to Casteel earlier this month. The Tigers received their toughest challenge in winning a match on Wednesday.
"We needed a game like that," Gilbert coach Joe Hesse said. "We had to battle the last two sets and ran into some adversity."
Hesse was not enamored by his team's serving (16 errors, five for Higley) and felt Higley bettered his team in blocking, which has been a Tigers' strength often this season.
Gilbert's attack featured the usual leaders in junior Trent Moser (17 kills), senior Ethan Gilmore (8 kills) and Reed Shuey (5 kills). The Tigers racked up 36 kills. Higley finished with 23 kills, struggling particularly in the opening set. Attack leaders unofficially for Higley were senior Branson Heywood (9 kills) and junior Tyler Melia (5 kills).
Higley improved in the final two sets, but couldn't notch the critical point at the end of each. The Knights trailed nearly the entire second set but took a 23-22 lead. Gilbert called time and tallied three successive points (Higley lift, Higley hitting error and an ace by Moser) for the win.
Set No. 3 was the closest with neither team leading by more than three and 14 ties. Gilbert had three set points and Higley one. The final tie at 26 was broken with a kill by Gilbert middle Riley King and like the second-set finish, an ace from Moser.
It's more region play for both teams, who play Thursday for the third consecutive night. Gilbert hosts Williams Field and Higley visits Casteel.
---