Brody Richter to lead Veritas Prep during his senior year
April 20, 2021 by Andrea Aguilera, Arizona State University
---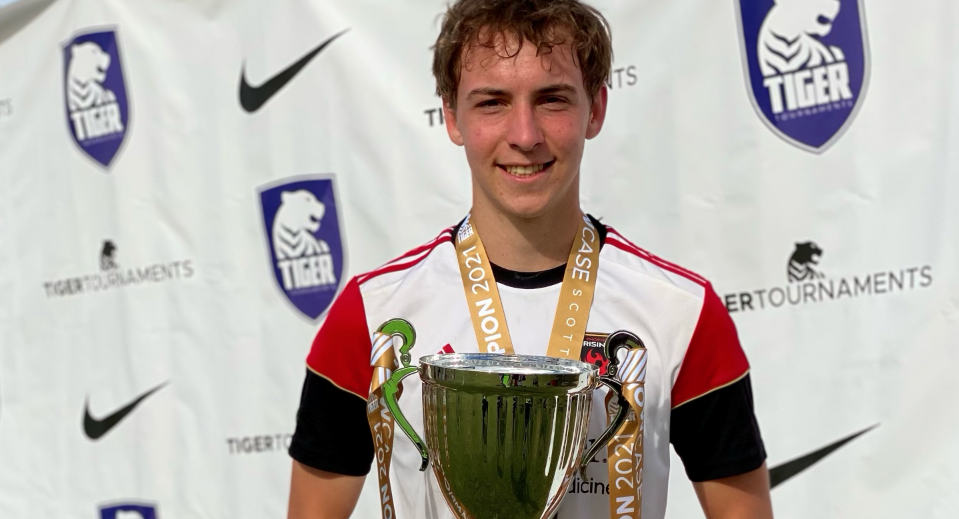 Andrea Aguilera is an ASU Cronkite School of Journalism student assigned to cover Veritas Preparatory Academy for AZPreps365.com
After growing with the Veritas Middle School and Veritas Prep soccer teams, Brody Richter, an all-region first-team defender, is ready to lead the Falcons during his senior year.
"I would like to be a good captain, a good leader to the rest of the team," Richter said.
Richter has been played for coach Richard Cardenas since joining the Veritas Middle School soccer program.
"He's been a good coach, a good person, and a good friend," Richter said of Cardenas.
Under the all-region coach of the year, the Falcons have reached the playoffs every year during Richter's years at Veritas Prep, with their first state championship coming last year.
This year, the team fell short during a double-overtime loss in the semifinals.
"It was definitely heartbreaking," Richter said. "Especially since all the people I've been playing with are graduating."
Richter will play a big role in leading the developing players next year who don't have as much experience.
"Now that he's going to be a senior, he comes with all that experience he's had in high school, all of the fitness, it's all gonna come together for him next year really well," Cardenas said. "I'm just super excited to see how that all works."
Richter, who's been playing soccer for about 12 years, specializes in throw-ins as set pieces.
Cardenas said Richter's ability to throw in from the sidelines into the goal is what causes chaos for the opposing teams.
"That's one of the critical things he brings to us," Cardenas said. "Basically, any throw-in on their side of the field is a set play for us."
According to Cardenas, Richter is not only physically good, but mentally. He is a focused player with high expectations for himself and for the team.
"Brody is really good at helping me insist that they (players) stay focused and get the right amount of work done at every practice," Cardenas said.
Cardenas said Richter's leadership and ability to manage other team members is what makes him unique.
According to Cardenas, Richter has earned his spot as a captain.
"Nobody works harder than Brody," Cardenas said.
"I don't like to be outdone by anyone, so I work harder and harder to match the top person and then be above the top person on that team," Richter said.
But according to Richter's father, Marc, Brody is bright in every aspect.
"He's the smartest kid ever," Marc Richter said. "He has a good attitude and everybody loves Brody."
After graduating in 2022, Richter hopes to play at a Division I college.
---