Perry fends off Chandler challenge in 4-set win
April 20, 2021 by Les Willsey, AZPreps365
---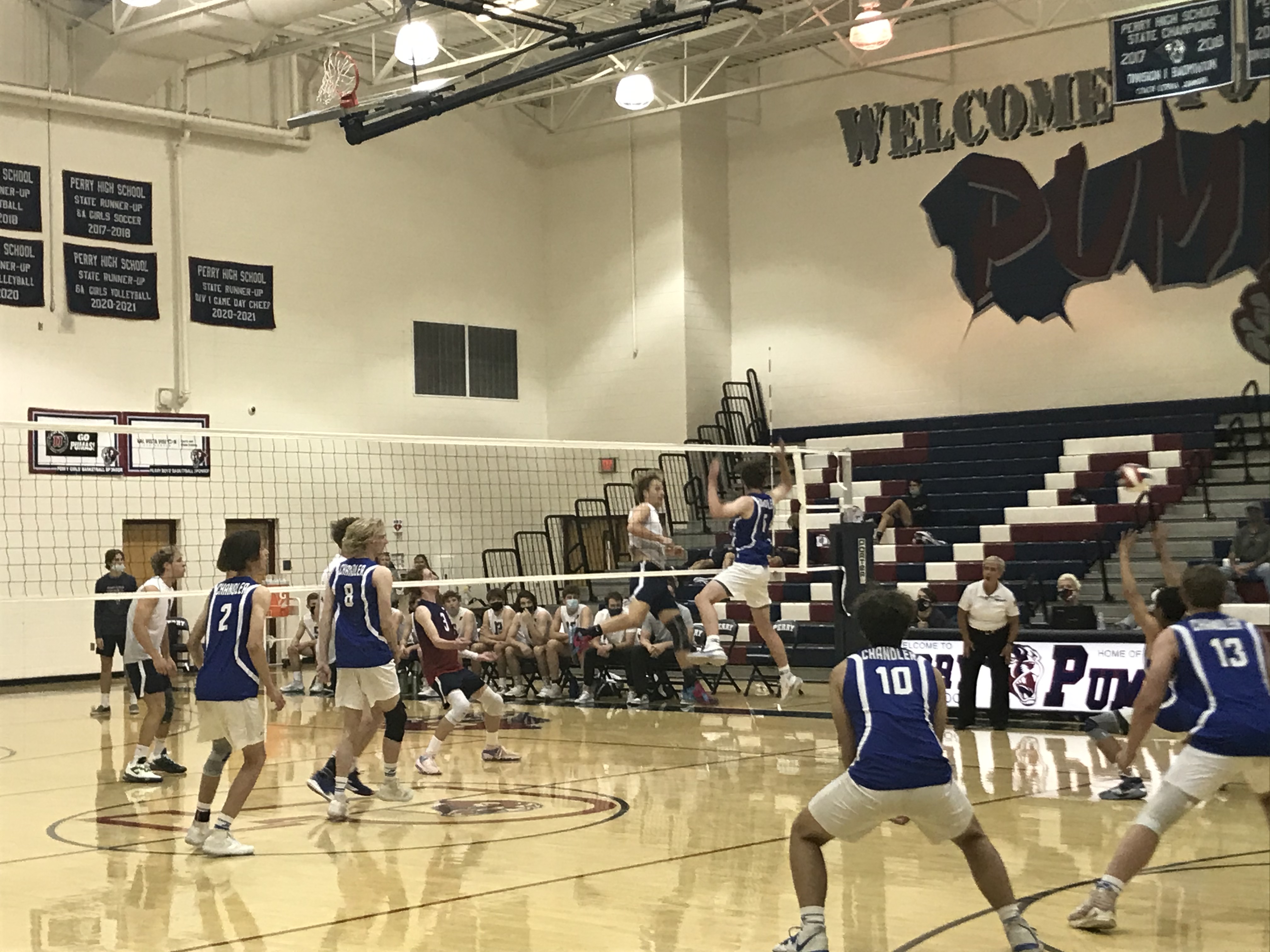 The notion of Perry boys volleyball as invincible has some truth to it. The Pumas won their 10th match without a loss Tuesday night with a four-set victory - 25-17, 22-25, 25-15, 25-13 - over 6A Premier Region and visiting rival Chandler High.
Perry, currently No. 1 in 6A power-rankings and the only unbeaten team in the conference, has defeated No. 2 Sandra Day O'Connor, No. 3 Brophy and No. 4 Highland. No. 8 Chandler is the fifth top-10 team to fall to the Pumas with No. 10 Hamilton the other.
The invincibility question has merit - Perry has seven sweeps and three 3-1 triumphs. But it's not reality if one listens to coach Pumas' coach Ryan Tolman talk about it.
"I think there are times players think they are invincible," Tolman said. "Chandler blocked well. We had a hard time figuring it out. Losing a set (second) wasn't the worst thing. It got us to refocus. This is a rivalry so you want to win and play well. But we've had matches, sweeps, where if a game goes the other way it's a different story. Games that are 25-22, 25-23 usually can go either way. and we've had a few."
Perry (10-0 overall, 4-0 region) recovered nicely after watching Chandler (5-6, 1-3) even the match 1-1. The Pumas trailed 9-8 in the third set and that's when Perry found its mojo. A 7-0 run left Chandler sputtering. Canyon Smith served six of the points and two aces. Camden Neimann had two kills in the run and Perry finished the set in a breeze.
Perry pulled away at about the same juncture in the fourth set. An 8-8 tie was broken by Dalan Smith kill. The closest Chandler got to the lead in the fourth set after Perry went ahead to stay was 9-11. Ten of Perry's last 14 points were kills (8) or aces (2).
"Perry is very good," Chandler coach Bobby Robson said. "Set 2 was the most put together set we've played this season. We've been up and down. We have a young setter and young hitters. I think we thought we were great after winning the second set. That's not what we should have been thinking. This is a game of executing the same skills over and over."
Kill stats for Perry, which had eight players contribute at least two kills: hitters Dalan Smith (20), Canyon Smith (11) and Riggs Ellsworth (3); middles Camden Niemann (9), Cooper Sander, in his first Perry match after sitting out a year, (5) and Ty Baumgarth (4). Perry setter Gehrig Tolman was busy distributing (52 assists) and managed two kills. Unofficial kill leaders for Chandler: hitters Drew Steele (10), Wyatt Brown (7) and middle Gunner Rodarte (7).
This is a three-match week for Perry. Perry hosts Basha on Wednesday and visits Brophy on Thursday. Chandler is home to Brophy on Wednesday.
---