Bigger than Campo Verde
April 20, 2021 by Paige Cook, Arizona State University
---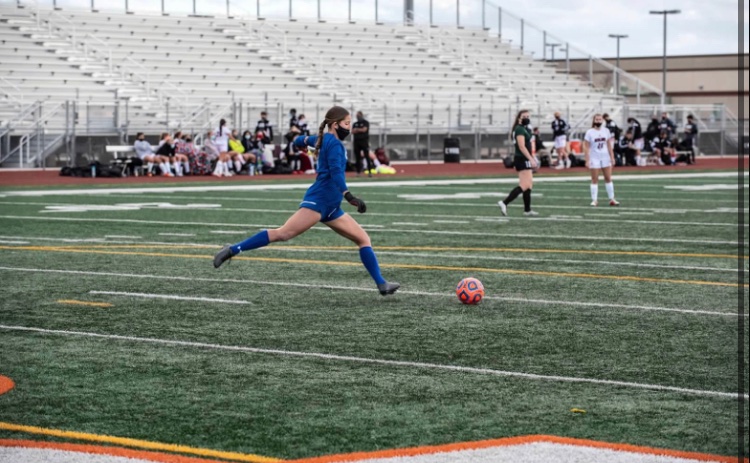 Paige Cook is an ASU Walter Cronkite student assigned to cover Campo Verde by AZPreps365
It all started when Kayla Caballero was 4 years old, playing for the Arizona Soccer Club Thunder team. Her love only intensified throughout her career and is what drove her to pursue playing soccer at the collegiate level.
Dream realized: Caballero will be attending Metropolitan State University of Denver after a stellar career at Campo Verde. The school is a member of NCAA Division II and part of the Rocky Mountain Athletic Conference.
Caballero recalls feeling happy after every game, and that her soccer put her in a good mood, no matter what else was going on in her life.
To start her recruitment process, her father created a website to post her grades, test scores, academic and sports accomplishments, and videos of her playing soccer.
Caballero ended her senior soccer season with Campo Verde sixth in Arizona for goals against average (.680) as a goalkeeper.
Caballero is one of 12 students at Campo Verde who have currently committed to play a sport at the collegiate level. After the spring season, athletic director Max Ragsdale, said there could be more.
Caballero and her peers represent a small fraction of those playing a college sport.
In 2020, more than 480,000 students competed in the NCAA at either the Division I, II, or III level. For men, football had the most participation, with 73,712. For women, 30,326 student-athletes compete in track and field.
Campo Verde has many former students compete in the NCAA at all three levels. For example, 2019 graduate Caitlin Dugan currently plays D1 girls volleyball at Texas Tech.
Campo Verde's Sam Gleadle played D1 at the University of New Mexico and signed with San Antonio FC of the United Soccer League.
Now it's Caballero's turn at MSU-Denver.
"I am one of three incoming freshmen keepers battling for the starting spot," Caballero said. What distinguishes her from her two competitors? "My youth and energy."
Caballero said she is prepared to "push herself to earn the starting spot." She hopes her teammates will do the same. "Keepers are sometimes considered a 'different breed' because we bring energy and fun into practices."
Her teammates agree that Caballero is always upbeat and positive. "Kayla is a very inspiring teammate. She always works as hard as possible, which lifts up our team's energy as a whole," said Campo Verde teammate, Lexi Kreipke.
"I do not think Kayla will face any challenges at the collegiate level because she already puts in 100% effort, in practice and games, and practices on her own to get even better."
Caballero knows that Campo Verde prepared her for her next chapter.
Playing at Campo Verde's "intensity and level" has made her a better player. "Coach Drew (Guarneri) had us working our hardest at practices and games." He would remind the girls that sometimes they were playing in front of scouts or having games filmed so they would be sent to college coaches.
Caballero's parents know that Campo Verde's program shaped her into the person she is today.
"It is amazing to think about what she was like as a freshman who was all about herself, do the minimum, just get it done girl with attitude to now a senior who is a leader, hard worker, TEAMmate, [and] a great person to be around," said her mother, Olivia Caballero.
Her father, Manny, said that being part of Campo Verde's program "helped instill a drive" in his daughter that pushed her to work for what she wanted to accomplish. "The accolades she has received in addition to being able to continue her soccer career in college are proof," he said.
Coach Drew Guarneri witnessed Caballero's growth over time.
"Kayla's biggest improvement has been her character. She has gone from someone that thought she had a lot of the answers to someone that is seeking out answers," he said.
Guarneri said that Caballero recognized that it is okay to show weakness and embraced her flaws. Her changes in character have allowed her to lead and also be led by others.
In collegiate programs, sometimes a player's character can make or break their career.
College programs are much more intense than high school or club. Playing at the collegiate level will be much different not only for her, but other student athletes.
"You're not playing in your area; you're playing with people from all over the country. College is traveling, playing in-state and out-of-state, which builds independence because you're worrying about yourself and learning what you need to do on your own," she said.
"Growing up, you play with the same coaches and for college, these coaches are just as new to me as I am to them, so I need to build new relationships and learn how to cooperate."
Guarneri thinks her biggest challenge will be the practice schedule.
"She will be competing with other keepers and field players that can all play at a high level so there is no real time for rest," he said.
The average recruiting process for a student begins their sophomore year of high school and is about two years in length. During this time, students find interested schools, speak with scouts, and endure multiple conversations with the school's coaches and admissions.
The class of 2021 suffered from the ongoing pandemic, as scouts were not necessarily able to attend games and practices in person.
"COVID caused [the process] to be tough because [training] camps got cancelled. I would be sending videos to colleges almost every other week for them to see me, or I would send them my schedule and have scouts sent to my games," she said.
Because of the pandemic, Caballero began the recruitment process later than most high school athletes.
"With camps getting cancelled and/or postponed and having limited opportunities to get in front of coaches, it was hard to see Kayla getting frustrated and feeling like she wouldn't find a home to continue playing soccer," said Olivia Caballero.
Despite the pandemic, the recruitment process is not new for the Caballero family. Caballero's older sister went through the same process a year prior.
Olivia and Manny Caballero are proud of Caballero and effort put into the process. "Now seeing the results of her hard work puts big smiles on our faces."
And to keep her going throughout the journey? People like Guarneri offer some advice.
"Keep continuing to listen, work and ask questions and you will grow as a person and player. It is the character of the person that ends up being what everyone remembers. Keep on being you and good things will happen."
---