Mark and Marcus Carter are focused on changing lives
April 20, 2021 by Prince James Story, Arizona State University
---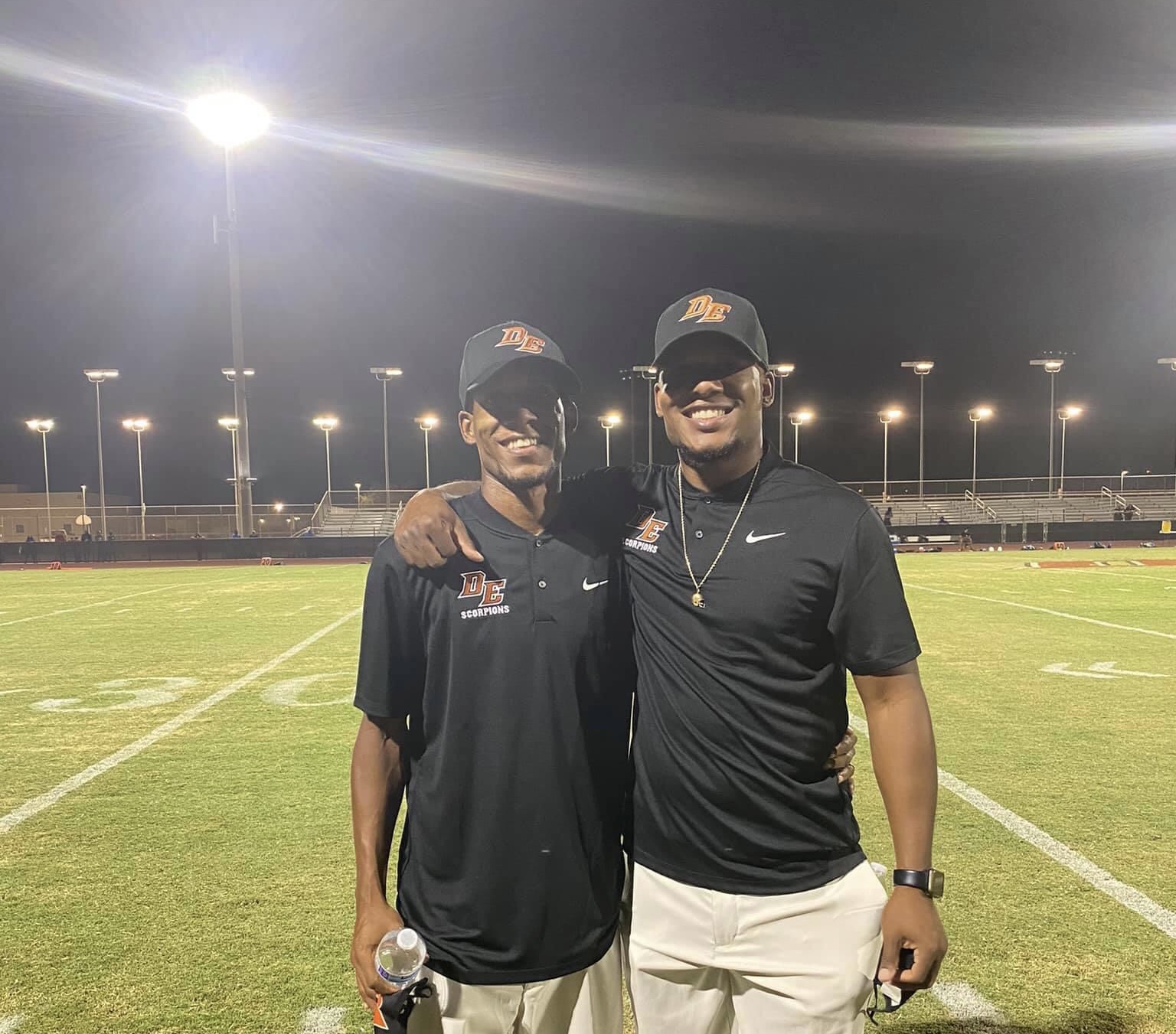 Prince James Story is an ASU Cronkite School of Journalism student assigned to cover Desert Edge high school for AZPreps365.com
A lot of coaches say that winning is everything. Desert Edge football coaches Marcus and Mark Carter have a different philosophy. They focus on creating men of great character. Winning games is just a bonus.
"I don't ever want to be labeled as a coach, and my brother, as well, labeled as a coach that just cared about football," Marcus said. "We get our wins from these guys being doctors and entrepreneurs, lawyers, firefighters, police officers, military men, whatever they choose to do and that they're the best at it."
This year was their first season coaching at Desert Edge, and the Scorpions had a perfect 8-0 record during the regular season, earning them an invite to the AIA Open Division state playoffs.
The Scorpions lost to Chandler High School, 52-0, in the first round of the tournament. Chandler went on to win the championship.
The Carters are the first African American coaches to have a team compete in the AIA Open Division state playoffs.
"I know representation matters," Marcus said. "Because a lot of other people always get to see their culture or their ethnicity in a position of power. I think it's especially important for us to show that we can be professional, we can be respectful, we can win, and we can win the right way."
The 39-year-old twins are in their 17th year coaching football.
They have coached football in three states: California, Arizona, and Georgia. In their coaching career, they have won two state championships and nine region championships.
Their first head coaching opportunity came in 2016 at South Mountain High School.
When they were hired, the last time the South Mountain football team had posted a winning record was in 2008.
As first-year head coaches at South Mountain, they went 1-10.
"The next year, we doubled in numbers," Marcus said. "That was because the kids knew that we cared. They knew we had their best interests at heart."
In their second year at South Mountain, they went 5-5, and the following year they went 6-4. Their last year at South Mountain, they went 7-3, and they were the 5A Metro Region champions.
In two out of the four years they coached at South Mountain, they won the region coach of the year award.
In 2019, they received the "Coach Earl Putman" coach of the year award from the National Football Foundation, Valley of The Sun Chapter.
For the Carters, leaving South Mountain to take the head coaching job at Desert Edge wasn't an easy decision.
"That was a tough decision for us because we basically grew that program," Marcus said.. "We had over 150 kids in that program as we left. We started with nine, ended up with 156."
One of the reasons the Carters said they have had success coaching and what sets them apart from other coaches is the trust and respect they pour into their players.
They said their coaching style is more of democracy instead of authoritarian style. Everyone's voice is heard, and then they figure out the best method to move forward.
"You know the kids on our team are allowed to call plays. They're allowed to manipulate schemes," Mark said. "The fact that we allow them to gets them focused in the game because they know at some point we're going to ask them, 'Hey, what do you guys want to do.'"
It makes the players smarter because they have to study more, and if the opportunity comes up when they can call their own plays, they have to give a logical explanation on why they want to run that play.
Mark said their ability to be flexible and be "players-coaches" has played a role in the team's success and positively affected the team dynamic.
As co-head coaches, they bounce ideas off each other first, and because they have been together for so long, they can move amicably past any conflict that may arise.
"Whether we agree or disagree, we come through on a solution, and then we'll go with it," Marcus said. "I trust my brother more than I trust anybody in this world, so you know if I feel that his points are valid, then that's what we're gonna roll with."
Mark (left) and Marcus at football practice. (Photo courtesy of Mark Carter)
At Desert Edge, they connected with their players early and were able to bond with them over the summer, even though practices and meetings were all virtual because of the COVID-19 pandemic.
They only practiced for two weeks in person before their first game of the season.
Steven Ortiz Jr., a senior at Desert Edge, has signed a letter of intent to play cornerback at the University of Minnesota. He talked about how the Carters have taught him a lot of life lessons and how to carry himself how as a man.
"Their first two days at Desert Edge, I bonded with them quickly," Ortiz Jr. said. "They're awesome coaches. You can't ask for anybody better than them."
On the field, he felt more comfortable playing this year compared to previous years because he could just be himself.
"With the Carters, there are a lot of rules, but they also tell you to go be a dog. Just be you," Ortiz Jr. said.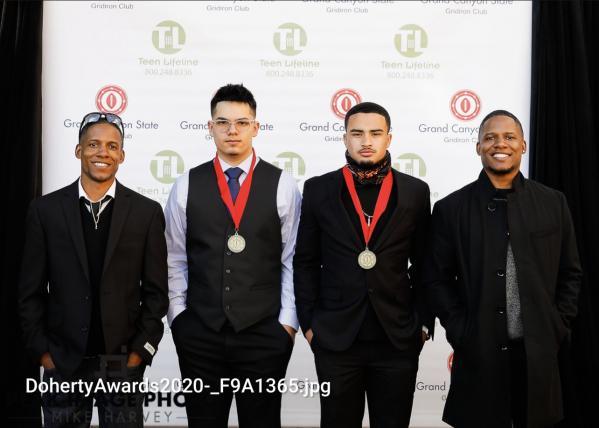 Mark Carter (far left) and Marcus Carter (far right) at the Ed Doherty Award ceremony with Doherty Award nominees Adryan Lara (middle left), Steven Ortiz Jr. (middle right). (Photo courtesy of Mark Carter)
Everywhere the Carters have gone, they've created a "we are family" culture that the players and coaching staff have bought into their culture.
"We love a lot in our program," Mark said. "You know we tell the kids we love them, we tell the coaches we love them. We don't call it a football team, we call it a family."
When they interview a candidate for their coaching staff, they don't just focus on the amount of football knowledge they may have, they concentrate on who they are off the field and who they are when adversity hits them.
"As long as your best interest is the kids, and you want to be able to change lives, you'll be a part of our coaching staff," Marcus said.
Vollon Golden has been on the Carters' coaching staff since their first year at South Mountain. He said the Carters have helped him tremendously in his personal life and coaching career.
"When they say we're family, they mean that," Golden said. "I consider them brothers now because they taught me so much."
When Golden interviewed for a position on the Carters' coaching staff at South Mountain, he told them that he was interested in becoming a teacher.
They told him that he would achieve that goal if he stuck with them and did everything they told him to do.
This year Golden received his teacher certification.
Over the years, the Carters have provided him with advice about managing his credit and purchasing homes.
"They have helped me more than I ever thought they could," Golden said. "They are amazing guys, and they have changed my life for the better."
Through all of their success, the Carters continue to give glory to their God and are thankful for everyone who has helped them get to this point in their coaching career.
They praised a few coaches who have mentored them over the years -- Jon Clanton, Mark Wood, and Ryan Andrews.
They also thanked all of the assistant coaches who have worked under them, all of the players they have ever coached, and Desert Edge Athletic Director Jason Linn.
"You know all of our accomplishments have been a team effort, so I don't want anyone ever to think that it's just about us. It has never been just about us," Marcus said.
However long their coaching careers last, The Carters look to help mold a generation of young men who are more than just outstanding football players. They are looking to transform boys into men, to help them become better brothers, fathers, and husbands after leaving their program.
"We won a lot and lost a lot, so you know those come and go, but our main goal is to make sure these dudes leave better than when they came," Marcus said. "Then come back and pour into these young men that are coming in, after them."
---