Snowflake produces one of the best years in the state
April 22, 2021 by Nik Hall, Arizona State University
---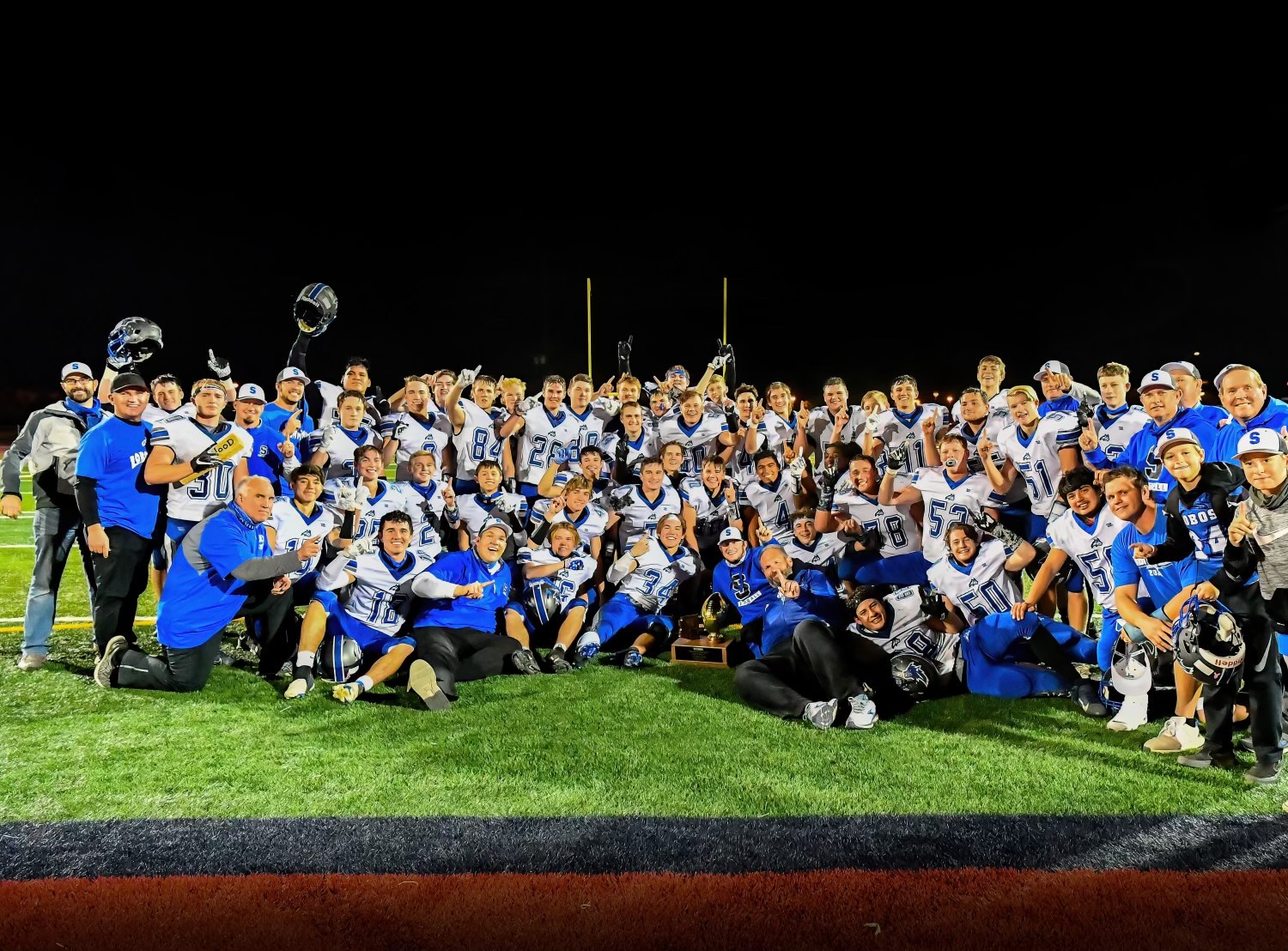 Nik Hall is a student at ASU's Cronkite School of Journalism assigned to cover high schools by AZPreps365.com
Snowflake, Arizona is a small two-stoplight town located in the northeastern region of the state. It is the exact opposite of its capital city of Phoenix. It is cold, snowy and located in a high elevation. But in the 2020-21 season the Lobos had arguably the most dominant sports year in Arizona.
Through the completion of the winter sports season, no team has finished their season lower than sixth in the final season rankings. They won the football state championship, finished the season as runner ups in both boys and girls basketball, the boys finished fourth in soccer and the girls ended the season ranked fifth, with wrestling finishing the season at sixth. In cross country the boys finished second and the girls placed third.
This little town takes pride in their athletic success at the high school level. Legends are created on the gridiron and the hardwood, and rarely through career or post high school success. Time itself is even remembered by what team a certain member of the community was a part of.
Snowflake doesn't get as many accolades as the other powerhouse athletic programs in Arizona such as Hamilton, Chandler and Saguaro. They are more known for producing a vast number of missionaries for the Mormon church then they are at producing college athletic stars. Despite their lack of production in college athletes.
Decades of drought end with year of plenty
For the first time in 27 years, Snowflake captured the football state championship. which had been so elusive to them for so long.
"There's high expectations from parents and from a community," coach Kay Solomon said.
"Having been around the program for a little, the expectation to win is not new. But seeing a specific group of kids make you realize this is a group that can be successful. The boys have always know that the expectation is that we will be competing for state championship every year."
Seniors Terren Green, and Josh and Carter Solomon have been told since they were little that their grade was going to be the one to bring Snowflake a championship. One of Green's biggest fears was losing in the semifinal game and being forgotten.
"I thought if we win this game we will be remembered because we will have gone to the championship game," Green said. "But one of my biggest fears was if we would have lost that game its that we wouldn't have been remembered. We would have been just another team that had lost in the playoffs."
Before hoisting of the championship trophy, there was the threat of the coronavirus stopping any chances of high school sports happening. Especially full contact sports such as football. That did not stop the players from getting together on their own to answer the immense pressure the town had heaped upon them.
"It really helped to see that there almost wasn't a season," Carter said. "Everyone planned on having a season. A lot of other teams probably didn't, but we always planned on having a season."
The players would send out group text to coordinate getting together.
"Winning the championship after all these years was bittersweet," coach Solomon said. "I was so happy for these kids but I was so sad going into the finals against Yuma Catholic because I knew how many people from the town wanted to be there. But because of covid we weren't able to have as many people there as I would have liked to."
Volleyball's semifinal run was nothing new
Girls' volleyball has perhaps performed the most consistently of any fall sport over the years at Snowflake. They consistently make deep runs into the playoffs and the town rallies around them. This was a special team, according to coach Karen Hargrove.
"I felt like this year we had all of the pieces. In the past we maybe have had a great hitter, a good setter or strong defense," she said. "But there was always something missing. Maybe we were missing an attack out of the middle or we weren't the strongest on the outside. And this year I felt like we had great defense and our middle attacks combined with out outside was just strong. This was probably the best team that I've coached."
Due to restrictions with Covid, Hargrove said the girls missed opportunities to compete against teams from outside of the northern region to help them understand what it would take to win.
"I don't think we were as prepared as we could have been because we hadn't seen the high level of play that some of these teams had to offer," Hargrove said. "We missed out on tournaments where we go and see bigger 5A schools where we do lose. But it's good for us because we are able to see good competition."
The Lobos finished the regular season 15-1 with the only loss going to No. 1 overall seed Northwest Christian at home. They only lost three sets in the entire regular season outside of the Northwest Christian game.
Their dominance continued until their semifinal 3-0 loss to Valley Christian. They finished the season, 51-8 in total sets, their only losses in total matches against the state champion and runner up.
Winter sports led by familiar face
The Snowflake boys basketball team is no stranger to expectations or to winning. They last won the state championship in 2015. Their picture hangs in the hallway of the school's administration building, still seen as a sign of honor, strength and importance to the town. The team has always had high expectations coming into seasons, but with football claiming their first title in decades the pressure shifted to the hardwood.
But the expectations would have to wait due to the AIA announcement of no winter sports seasons shortly after the conclusion of the football season.
"Before the season even came back," said coach Andy Wood," the kids were so willing to do whatever it took to just be able to have a season. When the season was brough back in and the regulation was the kids would have to wear a mask the kids a that point said 'that's fine I don't care if I have a mask I just want to have a basketball season'."
Wood realized this team had similar qualities to the team that won in 2015.
"Every night we had someone who would step up and make big plays for us," he said. "But we never had someone who said 'man that needs to be me'. The kids were very supportive of each other in their individual successes. That's what made this team so special."
The team started off with the offense humming, scoring no less than 50 points until its 11th game against region foe Holbrook. Their only regular season loss came against regional opponent Winslow, the No. 2 overall seed, in Winslow by one point.
With tough, low scoring affairs the team clawed its way into the state championship game against Page. A team they had previously defeated 76-69 at Page during the regular season. A shooting slump chose to show up at the wrong time as they lost, 64-51. The boys finished with an overall record of 15-2.
Girls basketball's revival
They boys team was joined in its championship run by perhaps the greatest surprise of the entire school year: the girls basketball team.
The girls team, which two years ago missed the playoffs, made it to the state championship game for the first time in a decade.
When asked about how his team's newfound success was taken by the community coach Joe Clare said, "From what I've heard from the town they were pretty surprised. It's more of a credit to the girls and seeing them want to work hard is the biggest reason we've been able to turn things around so quickly."
Because of Covid restrictions, the girls found creative ways to get together in case their season came back. They met at a community member's house who had a full court with two baskets.
The turning point for the season, according to Clare, was in the prior season when the team won an in-season tournament for the first time in years. It showed him these girls were willing to work and knew what it took to win. But within this season, he said it was when Emily Davis was injured against Show Low they had to turn around the day after and go to Page. They had a team meeting where he encouraged them to not give up.
"Ever since then," Clare said, "I looked and saw a greater sense of team comradery and girls were willing to do whatever it took to win and I just knew we had something special at that point. And I knew if we were given another chance to compete with Page, it would be a different story."
The number one overall watched girls basketball game out of 49 total games shown on the NFHS Network was the championship game between Snowflake and Page.
The rematch ended in defeat, this time by only four points against a powerhouse girls team.
Springtime revival
The baseball team, while not as big as a surprise as the girls basketball team, has had a solid 11-4 start to the season. Their deepest playoff run, most recently, was to the quarterfinals during the 2017 season.
Head coach Bryan Lang is excited about his team's chances because of what it went through during the pandemic. "As weird as it sounds," he said, "I think Covid actually helped us out. This group has been more focused and has done more this offseason than any other team I've been a part of. Once we were allowed to come back, we did stuff in the summer, we did stuff in the fall. In October, we changed some stuff up and started getting into the weight room. We did that until February, but when are season was delayed we just stayed on the field and continued to work and have been working ever since."
Lang has noticed a big difference in the support from the town this season.
"This is a football town," he said. "The weather in the spring here stinks, it's the end of the year. But we have a pretty good group of parents who always come out and support. I think we're getting more support due to the fact of people mainly just wanna get out and do something. They just wanna come out and watch something. With us starting later, it's been nice because the weather has been a little nicer and our crowds have been pretty decent. During the summer we played a few games, and the kids couldn't believe how many people had come out to watch summer baseball. Once covid hit people just wanted to come out and watch something."
Lyman, who played on the football team this year, said, "The day before the state championship game I told our quarterback, Caden Cantrell, 'Hey if we don't win state I really don't think there's a point of trying in baseball'. After we won, I told him there was no point in not giving it my all in baseball this year."
One final chance
The softball team is perhaps the team that lost the most with having last season canceled. With a chance to return to the state title game no longer an option, the players have shifted their drive towards this season.
Coach Aaron Huish said the only thing standing in the way of this team winning a state championship is their own play.
"We feel like we are in the upper tier of 3A softball," he said. "We feel like if we can play our game and we are able to do our own thing, we can be great, If the moons align and we play our best game we feel we can go deep and do some damage."
Senior Anna Berger added, "We are a solid team. We have been playing very very well. Our team chemistry and our energy has been very strong this season. I know we have a lot more in us and I'm just waiting for us to just finally break loose."
Snowflake is currently ranked fourth in 3A at 14-1 with two remaining games against the fifth-ranked Payson Longhorns. They are primed for deep playoff run.
"This season, by far, has been my favorite season," senior Jordyn Butler said. "Us girls have been so close to each other. This group of girls has just been so close to each other. We care about winning, but what's more important is knowing if we played good. It's been my favorite season because of the growth of us girls being able to grow together and enjoying the sport as much as we have this season."
Butler was at the state title game for football.
"It was a feeling I'll never forget," she said. "It's a feeling I want to have again. I really want that feeling as a player. When we went to state my sophomore year it was not the game we expected it to be. It didn't go very well. But just the feeling to be on that field, I want to feel that all the time."
---