Class of 2021 softball seniors
April 27, 2021 by Caleb Gottry, Chandler Preparatory Academy
---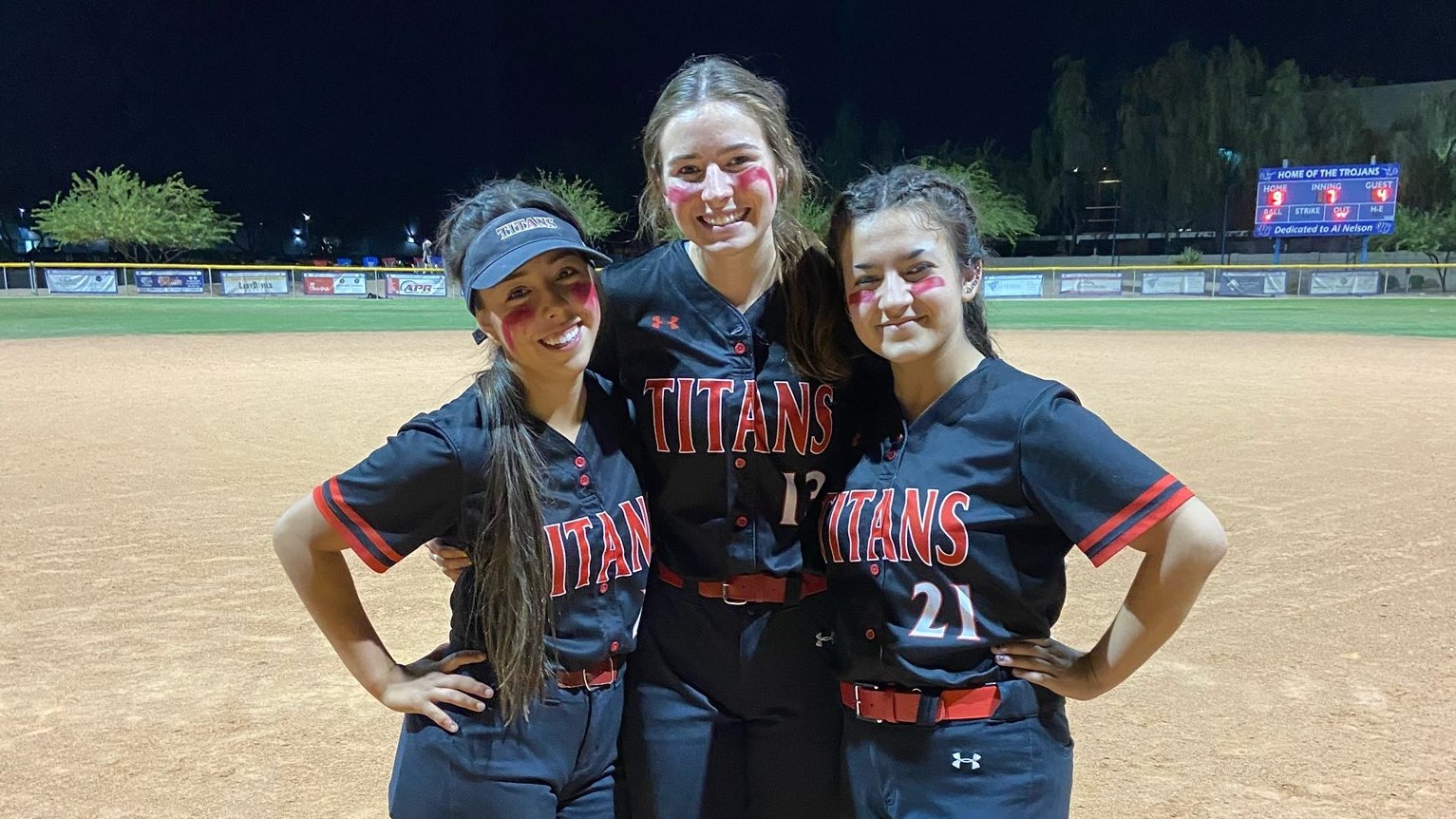 Caleb Gottry attends Chandler Preparatory Academy and is a member of the AIA's Student SID program.
The Chandler Prep Titans graduate just three seniors from their softball team this year, but somehow, the impact feels like they are losing so many more. These three leaders lead together but separate, each shining in her own way on the field, at the plate, or in the dugout. Titan Head Coaches Raul Guadian and Mark Brodnik honored the seniors after their win on Saturday with words of thankfulness and encouragement from a year or more of coaching. Titan Up.
Guadian: Kemper, you have really impressed me this season, with your work ethic and determination to be the best player you could be for this team's success. You worked tirelessly over the off-season to improve your skill set and it really has shown with your high level of play! You continue to exhibit more and more confidence each and every game and it's really spreading throughout the team. We will certainly be counting on you and your great ability to guide us into the playoffs and help us make a deep run for a state championship. It's been a pleasure to have been your coach for the past two years, and I wish you the best of luck in your future endeavors. You are going to be successful in anything you choose to pursue!
Brodnik: I've watched you for two years in middle-school ball and helped coach you in three years of high-school ball. You are a walk machine at the plate, always making the pitcher work and getting a quality at bat. Patience in assessing a situation is a skill needed in our world today. You have the patience to wait for what you want in softball and that is a great skill to carry forward into your future. Demand the best from everyone and be patient until you get it.
Guadian: Ali, you have been the life force of the team this season. Whenever we have needed a spark, you have been there to provide it for us and you have refused to allow our team to ever get down or feel defeated! You have an amazing ability to elevate everyone around you and provide a large amount of positivity and excitement. I know I always look to you to get the girls pumped up and you never let me down. I feel very honored and privileged to have been your coach these last two seasons and I want to wish you the best of luck in your future endeavors!
Brodnik: Ali is not only the motivator on the team but has always come up with a clutch hit. I remember in last year's game against ACP, Ali had the hit that drove in the runs to seal the victory. Sports teach us many things that can be applied to other areas of our life. The world needs leaders that can deal with high pressure situations and motivate their team to action. Ali, you've proven that you can be cool under pressure and that trait will help make you successful in everything you do in your future.
Brodnik: Amanda, In the three years I've watched you play HS softball I've always known you as the outfielder that you don't have to worry will catch a fly ball. My favorite memory was also from last year's ACP game where you smoked a line drive homer to left field… The leaders of tomorrow don't just need talent, but need to show those they are leading that they can use that talent when needed… Use that talent to bust open doors in the next phase of your life and I guarantee you'll be highly successful in anything you do.
Guadian: Amanda, the amount of athletic ability you possess is amazing. From star soccer player, to star softball player, you are certainly one gifted young lady! I will truly miss all of the awesome sound effects that you bring to every practice and your passion for the game… Along with Kemper and Ali, we will certainly need you to continue to shine in our remaining games for us to reach our goal of going deep in the state playoffs. I also want to wish you the best of luck in everything you do after high school and I know you will continue to shine!
---