Notes from the North: Lee Williams, Blair playing for next level
April 29, 2021 by George Werner, AZPreps365
---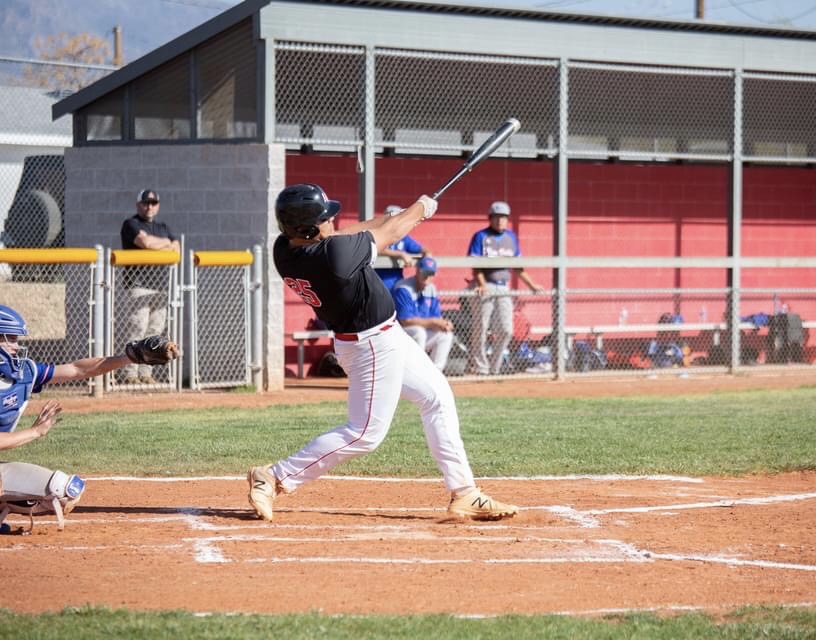 As the spring sports seasons conclude and postseason play begins, Notes from the North is there, shining the light.
This time, the focus is on the old and the new, the seniors and the freshmen, the college commits and the rising state tournament contenders.
Blair, Wheaton make it official
Throughout her perfect fall, there was considerable speculation as to where Mia Blair would play soccer at the next level.
Monday, April 26, the Northland Prep senior made it official, committing to three-time Division III national champ Wheaton College, in Illinois.
"I am not sure if there is a more successful player, results-wise, to ever come out of Flagstaff and Northern Arizona for any sports, let alone soccer," said her father, Spartans head girls soccer coach Michael Blair. "There continue to be great players, but Mia has definitely put herself amongst the best of the best of all time from Northern Arizona."
Blair will follow in the footsteps of such diverse Wheaton alumni as the Rev. Billy Graham, Grand Canyon explorer John Wesley Powell and Nightmare on Elm Street and Scream creator Wes Craven after finishing her high school career as the second-leading disher of assists in America among all fall girls soccer players.
In Blair's four-year high school soccer career, the Spartans won four 2A Conference state championships and were 60-0 when Blair played.
"She was out with her ACL tear for the other 15 wins and one loss the team had her sophomore year," said Michael Blair, who will be handing over the reins of her daughter's coaching to the fifth-winningest girls soccer coach in NCAA history, Pete Felske. "He believes, with Mia, they have all the pieces to get further and win another national championship in the fall."
Mia Blair continues to play club soccer, as her AYSO team is in the state semifinals this weekend at the Reach 11 Sports Complex in Phoenix. With two more wins at the corner of Cave Creek and Deer Valley roads, AYSO United will not only take the Arizona State Cup for ages 19U, it will advance to regional competition June 16 for the U.S. Youth Soccer Far West President's Cup in Salt Lake City, Utah…
Lee Williams' postseason hopes hinge on doubleheader
Closer to home, Lee Williams High School will be in a fight for its postseason life Thursday, April 29, beginning at noon in its Grand Canyon Region doubleheader finale.
The 18th-ranked Volunteers will need to take two from 15th-ranked Prescott High School, then win a final road trip Monday, May 3, to Lake Havasu High School for a berth in the 4A Conference tournament.
Big reasons why head coach Patrick O'Boyle's team is in contention this late in the season has been the pitching of Garrett Diem to fellow senior Dylan Petersen behind the plate, aggressive baserunning from the region's stolen base co-leader, Rye Samson, and a youth movement of power in the batting order, including sophomore Troy Edwards and the only true freshman on the Lee Williams varsity, Nick Kennedy.
"Nick has always been a power hitter," his father, Harry Kennedy, said after his son hit the first home run of the year for the Volunteers, a 361-foot, two-run shot, during a 12-7 loss April 10 to sixth-ranked Flagstaff. "He set the Kingman Little League record at age 11 with six homers in one season."
Small wonder, then, that, especially at 6 feet, 4 inches tall and 240 pounds, Kennedy is among the top five in the region in on-base percentage.
Getting on even more, almost 60 percent of his plate appearances, is Edwards, who leads the region with a .500 batting average.
"Troy...has been red-hot," Kennedy added. "Garrett and Dylan are both hitting great and the rest of the lineup is waking up."
It was the battery of Diem and Petersen which was most responsible for the Volunteers' first sweep of the season over Mohave High School, 4-1 and 2-1, on April 20 and 22.
Diem went the distance in Bullhead City, striking out 13 Thunderbirds in just 81 pitches to remain among the top seven 4A pitchers in both strikeouts and earned-run average.
Two days later, Petersen, sixth in the conference with a .439 batting average, was the only Volunteer to get multiple hits against the Thunderbirds and flipped roles with Diem to get the win, striking out five batters in four innings.
Diem and Petersen are Kennedy's favorite teammates, added Harry Kennedy, whose son, in the seventh grade, was once clocked pitching 80 mph. Diem also "throws gas," Kennedy said, while Petersen is "straight up the best catcher [Nick] has ever seen.
"His work ethic is tremendous," Kennedy said of Petersen, who also "backs up the throw at first with lightning speed every time."...
Williams on the rise on 1A diamond
While the smaller baseball schools in the Kingman and Mohave Valley area jockey for postseason seeding--Kingman Academy, Mohave Accelerated Learning Center and River Valley High School (not to mention its undefeated softball team) all are contenders--the offensive juggernaut in the 1A Conference's North Region has been Williams High School.
Winning regional matchups by scores of 30-8, 22-1 and 21-2, the No. 5 Vikings have shredded most every opponent not named Mogollon High School.
Speedy senior shortstop Zain Grantham has been a big reason why, as the only player in the 1A Conference to have scored 30 runs this season. His 19 stolen bases are also fourth-best in 1A, while sophomore Danny Siegfried's three home runs tie him for the conference lead with two other players.
It certainly doesn't hurt that catcher Tyler Jensen is already one of Arizona's top three catchers defensively, committing just three errors while throwing out nearly half of the 34 runners attempting stolen bases against him. Jensen's 24 runs batted in and .547 batting average are also top four and top eight, respectively, in the conference.
It is only against the pitching of the No. 2 Mustangs--namely, senior Caden Owens and juniors Malaki and Cael Porter--that the Williams bats have been tempered. With the exception of a Tuesday, April 27, trip to Needles, Calif., the Vikings have not lost since April 9, when they were swept at Mogollon, 7-3.
Everyone else, pitchers such as Siegfried and junior Jacob Giles have shut down, including larger schools like Sedona Red Rock and 2A postseason contender Northland Prep. In their six wins, the two pitchers have allowed just six runs, with Giles leading the region in wins as well as strikeouts, with 40...
Although they have lost three more games than their counterparts have, the Vikings softball team has emerged as one of the biggest threats to win the 1A Conference crown.
They rule the North Region at 8-0 and are ranked second overall due largely to the battery of senior Sydnee Mortensen and sophomore Cheznee Carter.
Carter has committed just one error this season behind the plate, throwing out 10 of the 17 runners foolhardy enough to attempt stealing a base on her, and is among the top 10 in 1A in batting average, just one fraction of a percentage point behind Mortensen.
Mortensen, the top fielder in the conference as a pitcher, where she is second-best in 1A with six wins, 70 strikeouts and a 2.11 earned-run average, also leads the North Region in virtually every offensive category, including slugging percentage and RBIs.
Only Carter is .002 better in on-base percentage, and only sophomore Shaelee Echeverria has more home runs--at least until Mortensen hits her next one…
Adams going to NAU as Flinn Scholar
Perhaps Northern Arizona sports' greatest success story in the classroom this year who was not postseason-eligible has been Parris Adams, a senior at Page High School.
Though Adams was on the Sand Devils' top doubles team as a sophomore the year Page lost in the first round of the Division III state tournament to Sahuarita, her real success came April 15, when the Page valedictorian and student body president was named one of just 20 Flinn scholars in the state of Arizona.
Adams' full-ride scholarship to Northern Arizona University, where she will be in its Honors college, comes on the strength of a 4.0 grade-point average, including Advanced Placement courses, as well as membership in the National Honor Society and numerous other leadership roles, said her tennis coach and mother, Kori Fitch.
"I am encouraging Parris to play on the NAU travel team, but she does have a lot on her plate with the NAU honors college and Flinn activities," said Fitch, who saw her daughter go 5-5 as a singles player this season in Division III, in a section dominated by undefeated and third-ranked Sedona Red Rock High School. "While this sounds like the typical overachiever, Parris is very concerned about equity in almost all things she does. She is very involved in listening to everyone's perspective.
"She was...determined to include all voices and perspectives in the decisions of the student council. This last year, she was the [tennis team] captain and helped everyone understand expectations."
And yet, for all of that involvement, Adams' real passion is cooking, Fitch added.
"She was president of the culinary club, and...Parris arranged a spaghetti dinner for a family in need after they lost someone in a tragic accident," Fitch said. "She did this when she was a junior. The whole community came out to support this family, and Parris made it possible for people to help them."
Adams' major victory on the tennis court came two days prior, April 13, over Red Rock's top singles player, senior Sophia Zimmerman, 6-4, 7-6. Adams also teamed up with junior Esther Larson for one of the Sand Devils' two other match play wins over the Scorpions, an 8-2 win over their top doubles team of Zimmerman and sophomore Natalie Arizmendi, 8-2.
The Scorpions are the No. 4 seed in the Division III team tournament and play No. 13 Glendale Prep at 3 p.m. Thursday, April 29, for the right to host No. 11 Veritas Prep in the quarterfinals Tuesday, May 4. Zimmerman will begin play for the singles championship Friday, April 30, at 10 a.m. at the Paseo Racquet Center in Phoenix, while sophomore teammates Jillian Grondin and Rina Sato begin their doubles tournament there 90 minutes later...
Knights are Lanced after perfect regular season
That is where and when Lake Havasu High School, whose girls tennis team ended their regular season undefeated and fourth-ranked in Division II, expected to be.
But the Knights had the unfortunate draw of Salpointe Catholic High School in the first round of their state tournament, and the result was the wrong end of a shutout Tuesday, April 27.
"We had a rough day," Knights head coach Greg Brueckner said after the 9-0 loss. "Salpointe is very good, as usual. They were missing several key players in two of their three losses. With the full team we faced...they were very underseeded."
Prior to a 5-4 edging of Prescott in the April 20 season finale, the Knights had only lost nine singles or doubles matches all season, boasting six team shutouts themselves.
But no Lake Havasu player could come any closer to Salpointe than 6-4, 6-3, the result for No. 4 singles player Kovina Savita in her defeat by Lancers sophomore Ines Seldner.
Savita and fellow senior Megan Anderson can at least take solace in their state doubles tournament opening match against Sahuarita High School's top pair, which begins Friday, April 30, at 10:30 a.m. at the Phoenix Tennis Center.
"Individually, I know Tucson has some of the top talent," Brueckner added. Cat[alina] Foothills has Emily Flowers, [and] Salpointe has a very tough number 1. Notre Dame [Prep, in Scottsdale] has Brooke Belitz."
Although Brueckner added that the Division II singles tournament seeding committee "will have its work cut out for them, as there seem to be 10 [to] 12 girls worthy of a top 8 seed," Flowers and Belitz will be the top two seeds beginning Friday, April 30, at 9 a.m. at the Phoenix Tennis Center.
Prescott junior Ava Andrews is the No. 4 seed, and Brueckner's top singles player, sophomore Monet Land, is No. 8, despite her only two losses being to Andrews and Salpointe senior Paulette Careaga, the No. 5 seed in singles play.
But for all of Brueckner's other players, like junior Samantha Durbin, the season is unexpectedly over.
"She went undefeated in singles at both [Nos. 2 and 3] positions," Brueckner said of Durbin. "She played No. 1 doubles all year and lost just one match, her last match against Prescott.
"I was very happy with my team's year and their effort."
Next Time
The spring sports postseason wrap-up show is coming! All-region players will be announced, and all-state players are coming soon. The spotlight is turning to the summer, and that means it's time to know what teams and activities your players, sons and daughters, like Mia Blair, have been selected for.
Make sure you email me at gwerner@azpreps365.com or DM me on Twitter at @ProfGwerner for your winners!
---