Class of 2021 Titan Baseball Seniors
May 1, 2021 by Caleb Gottry, Chandler Preparatory Academy
---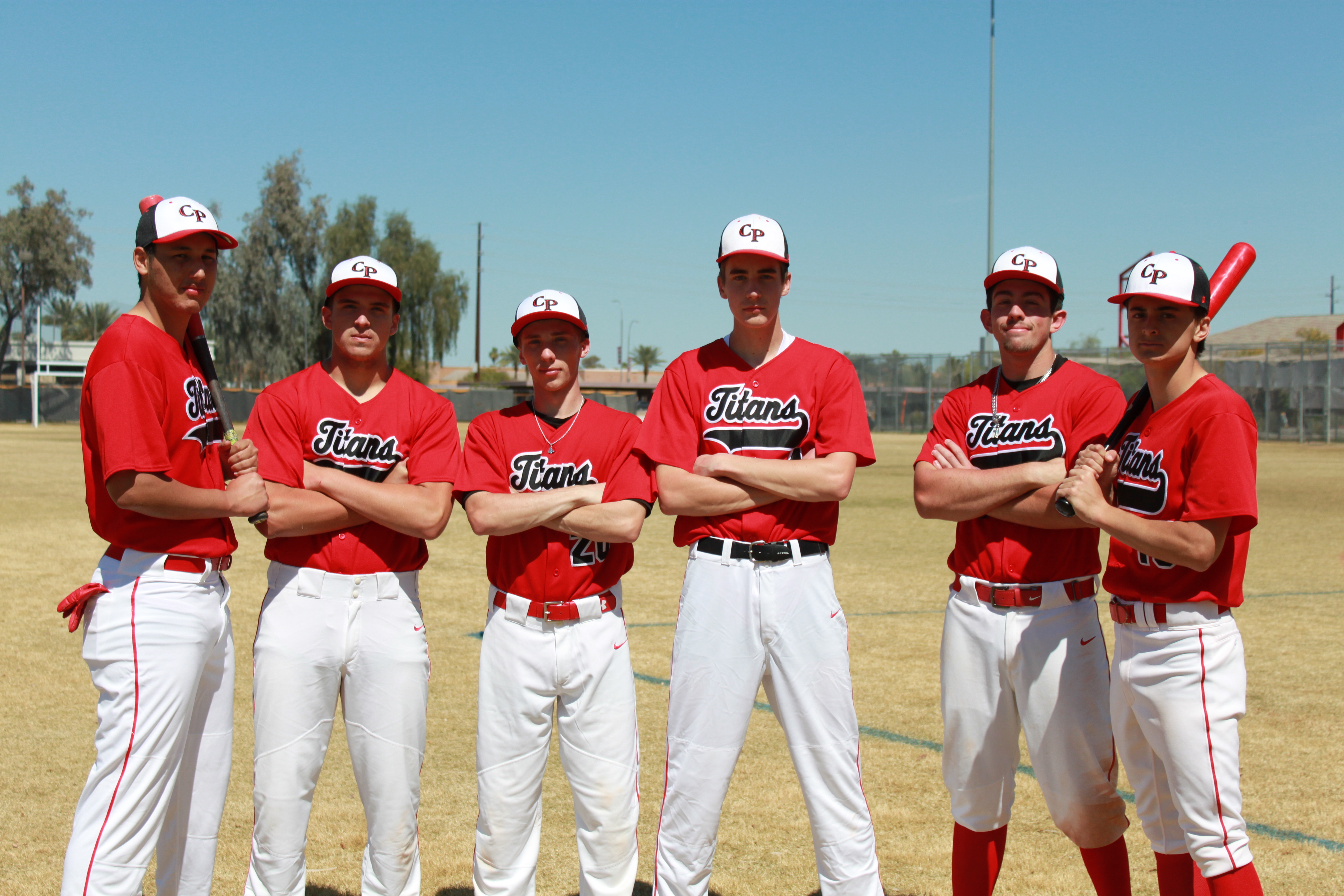 Caleb Gottry attends Chandler Preparatory Academy and is a member of the AIA's Student SID program.
After a big win under the lights at Snedigar Sports Complex on Wednesday, April 28th, the Chandler Prep Titans honored and gave gifts to their seven baseball seniors. Even with just a glance, it is plain to see that these seven men enjoy the company of each other and cherish the moments that they have on and off the field with each other. This is true even though some of them only decided to play this year. Six of them have been working and playing hard all season long, shining as leaders and mentors for the team. The other one could be found outside the fence, camera in hand, taking photo and video for Titan social media. Even though Chris Pekin was not officially on the team this year due to injury and COVID, he was included on senior night as he has been part of the program since he was in middle school. Joining Pekin for the senior night honorings were Nolan Bailey, Juan Pietri, Jonah Hansen, Daniel Peake, Reese Vilaboy, and Joey Pupillo. Read aloud were their responses to four questions about past memories and influences as well as words of wisdom for the team and future plans after graduation. The following are some of the responses that stood out. Titan Up.
Question: What are some of your favorite memories or moments from playing Chandler Prep baseball?
Nolan Bailey (SS): Some of my favorite memories of CPA baseball are while playing at the spring training fields. It gave us all a different feeling than normal. I will always remember the tournament of our sophomore year, my first time playing with CPA. It was quite a different feeling playing on a different team but it was the best feeling. Thank you for making me a part of this great program!
Juan Pietri (1B): My favorite memory was junior year when we played a tournament at ALA. We were eating lunch when the whole ALA school crowded around us and Crew got a little post-it note with three phone numbers on it.
Jonah Hansen (2B, LF): My favorite memories include the trip up to Miami which was a lot of fun even though we didn't win. My first game with Chandler Prep vs Arizona Lutheran was also a lot of fun and we were able to win our first game of the season.
Question: Who were some of your biggest influences at Chandler Prep as a baseball player and scholar athlete?
Daniel Peake (P): First of all, I'd like to thank my family for supporting me in any sport I play. But I would like to thank Coach Vilaboy, Coach Taylor, Coach Decker, and Coach Peake (my dad) for teaching me how to play baseball, because I didn't know much when I started to play. They taught me so much and I can't thank them enough.
Reese Vilaboy (C, P): I would like to thank all the coaches and parents that make baseball possible and enjoyable for all of us. I would like to thank my teammates now and from the past for making baseball my favorite sport to play all year. And I would especially like to thank my dad who has been coaching my baseball teams since I was eight-years-old. He never failed to show me what it takes to be a great baseball player both on and off the field.
Question: What advice do you leave with next year's returning players?
Joey Pupillo (RF): There's always hills and valleys but good things come to those who work hard. If you want to be good, put in the work when no one is watching. Take extra reps when doing a simple drill. And just have fun; find joy in the hard work and soak in each moment because there will be a time where you stop swinging that stick live and when baseballs are not being hit to you anymore.
Chris Pekin:. My number one piece of advice for returning players would be to always take care of your arm and your body...I would know. Dedicate extra time to keeping yourself healthy. Aside from that, I'd encourage everyone to take advantage of every opportunity they get and enjoy every waning second they spend on the diamond. This year I have been unable to look at a field and not miss it. Lastly, and I can already feel Coach Taylor staring at me when I say this, SLIDE! And always watch the ball into your glove! Let's just say I learned those the hard way.
Question: What are your plans for next year – post CPA?
NB: I will be going to CGCC for business and keep on working away!
Juan P: Next year I plan to go to a community college and study mechanical engineering and hopefully play baseball there.
JH: Post high school plans: I plan to attend NAU this fall semester. I am pursuing an education major through the Honors Program.
DP: I am going to be going to ASU studying business management in order to one day own my own successful business.
RV: After high school, I plan on studying material sciences and engineering at ASU Barrett.
Joey P: My plans after graduating are to go study psychology at CGCC and to pursue a career in that field.
CP: My plans for next year are to attend Barrett the Honors College at ASU where I will pursue a degree in Computer Science and possibly a double major in Film sometime down the road. I'd like to thank all the parents, coaches, and athletes that have been kind and supported me through my new endeavors this past year!
---