Armstrong, Fountain Hills make short work of Camp Verde
May 1, 2021 by George Werner, AZPreps365
---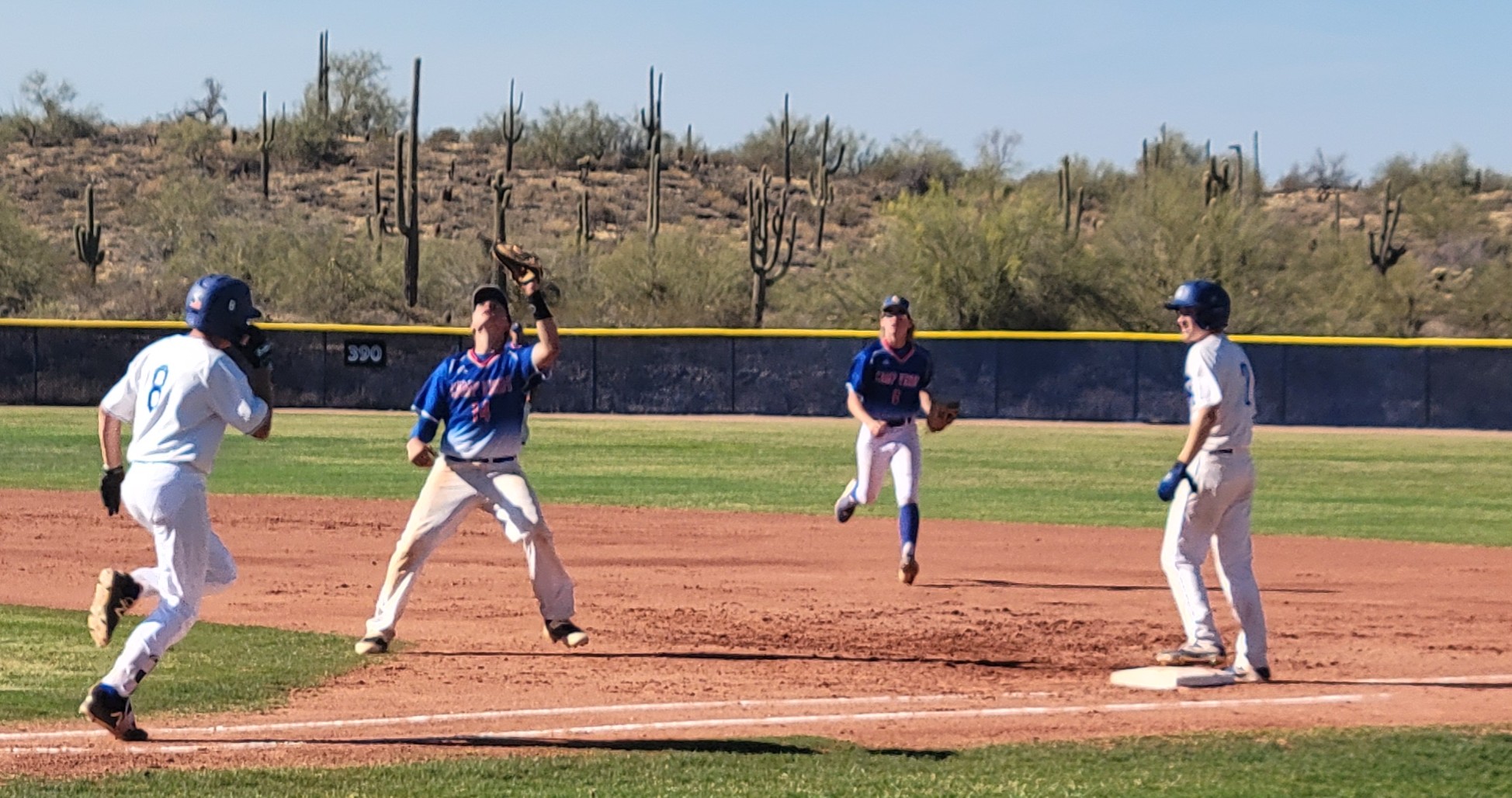 With the 3A state tournament on the line Friday, April 30, both Fountain Hills High School and its opponent, the visitors from Camp Verde, started their aces on the mound.
Only one of them, though, would finish the game in the 100-degree heat.
In his home finale, senior Gabe Armstrong needed just 71 pitches to one-hit Camp Verde High School, 10-0, in five innings.
"He's taken over the ace spot," said Falcons head coach Bob Langer, Jr. after his prodigal top pitcher struck out 11 Cowboys to improve to 7-1, just one off the state lead in wins among all individual pitchers. "He's done outstanding."
Pitching on a week's rest, Armstrong improved his season strikeout total to 68--tying him for second-most strikeouts this spring in the 3A Conference.
The shutout also improved Armstrong's earned-run average to below a run a game, second in the North Central Region--the place the 12th-ranked Falcons find themselves as a team in the standings heading into the first round of the state tournament Saturday, May 8, which the Falcons will open on the road at 11 a.m.
No. 16 Camp Verde's four-game winner, junior Cole Gillespie, did not have Armstrong's control April 30. Before giving way to two other Cowboys pitchers with one out in the fourth inning, Gillespie had issued nine walks, allowed six hits, thrown multiple wild pitches and made a throwing error into right field that would lead to an 8-0 deficit after three and one-third innings.
"He's a good pitcher," Langer said. "That was their best. They were trying to win the game. Hopefully, they still make it in."
The loss wasn't nearly all on Gillespie, though. Two earlier outfield errors led to three unearned Falcons runs in the first and second innings, giving Armstrong a 6-0 cushion before he took the hill in the third.
Sophomore reliever Treyton Battise gave up two hits, the first of which drove home the last batter Gillespie faced, before closing out the fourth inning.
Then, senior Peyton Kelley took over, walking one, getting one out and giving up three hits before the Falcons' game-ending 10th run, senior Connor Smout, crossed the plate with one out in the bottom of the fifth inning.
The Cowboys are 9-7 overall, fourth place in the North Central Region, after their second straight loss. They fell at home to the Falcons three days before, Tuesday, April 27, at home, 3-1.
Unfortunately, with No. 17 Florence High School [11-5] a 10-run winner in its April 30 regular-season finale, Camp Verde likely finds itself staying home for the postseason after being unable to figure out Armstrong's mix of fastballs and well-placed sliders.
"We played really good defense behind him," Langer said. "We hit it better [too]."
Especially third baseman Hunter McAloon, who had a double and two singles in three at-bats to drive in half the Falcon runs on the day, making a nifty over-the-shoulder grab of a pop fly in foul territory in the third inning.
Catcher and fellow senior Matt Pritchard built his region-leading RBI season total to 21 after hitting three singles in his three at-bats.
---