5A BVB: #3 Gilbert records quick sweep of #14 Centennial
May 8, 2021 by Les Willsey, AZPreps365
---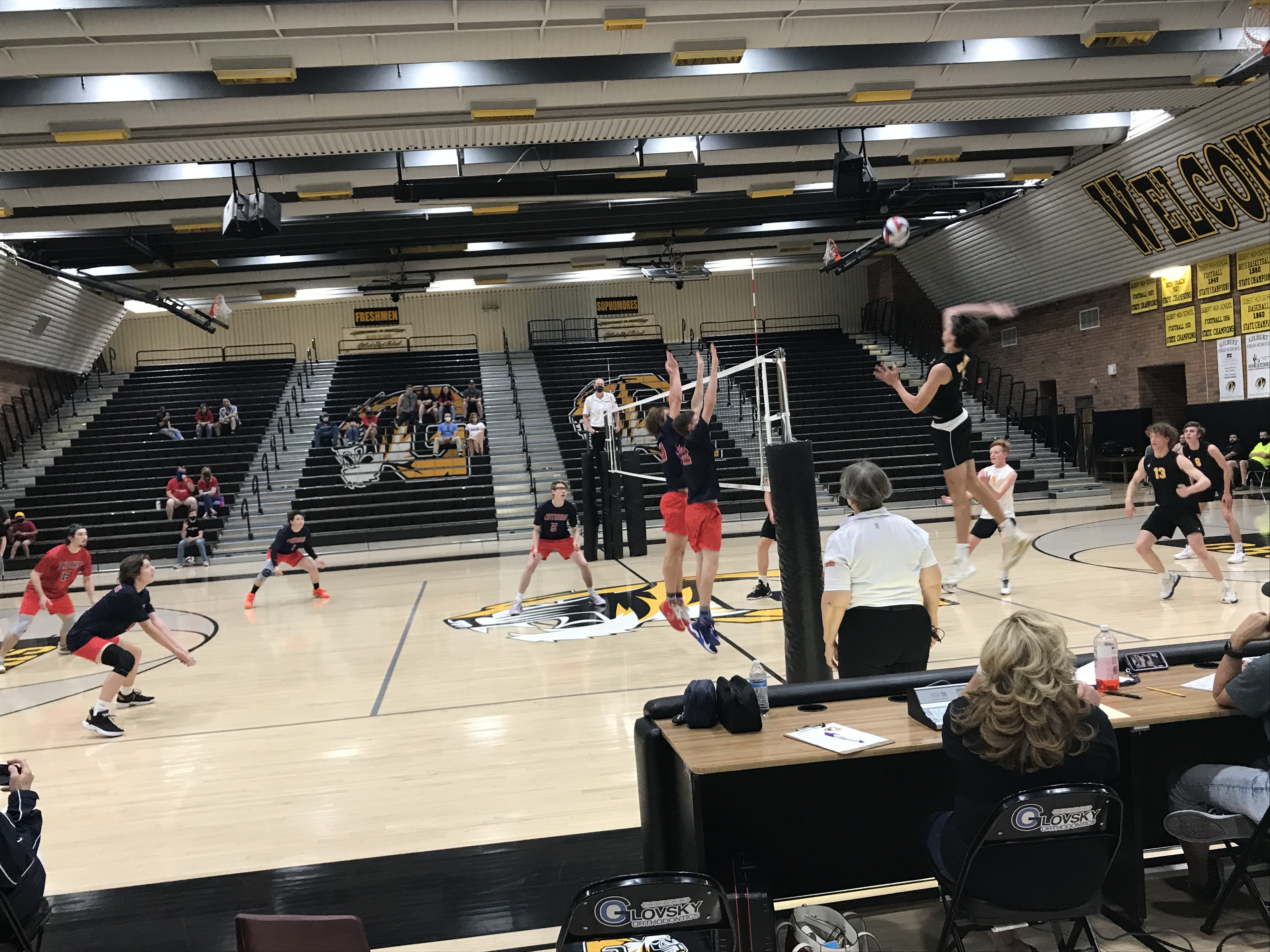 It was short and mostly sweet Saturday for #3 Gilbert's boys volleyball team in its first-round 5A state tournament sweep of #14 Centennial at The Jungle.
The Tigers (15-3) dominated the first two sets and demonstrated the ability to rally in the third set late to complete a 25-13, 25-9, 25-22 triumph over the Coyotes. Gilbert moves on for another home match in Tuesday's quarterfinals at 6:30 against #6 Marana Mountain View. Marana Mountain View (15-2) produced a sweep of #11 Agua Fria, 25-16, 25-15, 25-20.
"When we serve like we did the first two sets we can be at our best," Gilbert coach Joe Hesse said. "Our hitting was good. The last set we had seven hitting errors at the point I called time (Gilbert trailed, 17-12). We have our faults, but when we're serving well and hitting it can cover those up."
Gilbert played Centennial (8-9) the second match of the season in late March and won in three. The sets were closer, but nonetheless a sweep. The Tigers' attack leaders that night were the same as Saturday and much of the season as weel. Junior outside hitter Trent Moser led with 19 kills and senior Ethan Gilmore and junior Reed Shuey each chipped in eight kills each. Gilbert totaled 40 kills with setter Beau Walcott handling 30 assists. Gilmore led defensively with 11 digs and Whatcott added six digs.
The opening set was fairly tight just past the halfway mark. Gilbert led 15-12, but from that point put the hammer down with a 10-1 run to close the set. Moser had nine of his kills in the set, scoring four of the final five points. Centennial was not competitive in the second, down 5-0, 11-2 and 15-3 before it got worse. Shuey did his best work in that set with five kills.
Gilbert led 1-0 in the third, but played catch up nearly the entire rest of the set. The Tigers biggest deficit was 18-12. That's a point after Hesse called time to try and change momentum. The Tigers responded with a 13-4 run to finish the match.
The first round of the 5A tournament was good to other members of Gilbert's region - the San Tan. #1 Casteel, #5 Williams Field and #8 Higley all prevailed. The only San Tan team to fall was #12 Campo Verde and it lost to Williams Field.
---