Cactus makes history
May 8, 2021 by Jose Garcia, AZPreps365
---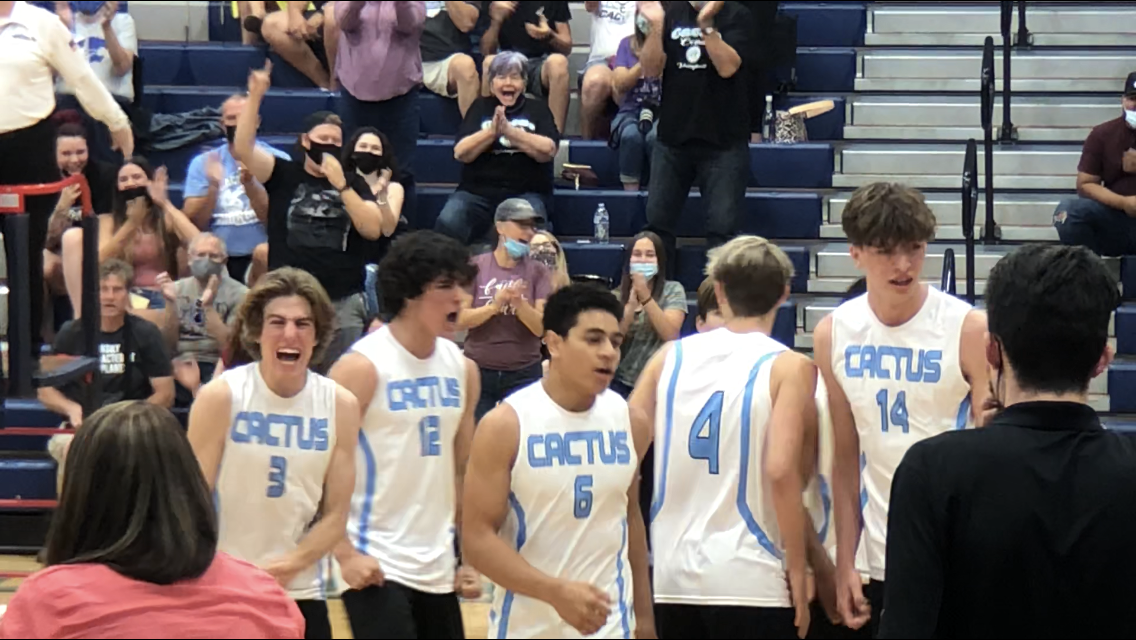 The 2021 Cactus boys won their program's first volleyball playoff match.
How they accomplished it made it extra sweet.
The Cobras so-so play in the first two frames didn't hint at a memorable comeback. But near the end of the third game, Cactus cranked up its play and rode the momentum all the way to the 4A Conference state quarterfinals.
Down two sets and 21-18 in the third game, Cactus rallied to upend a very athletic Mesquite squad 23-26, 17-25, 25-23, 25-21, 15-12. On the final point, Mesquite's serve sailed over the Cobras' heads and out, allowing Cactus to start celebrating on its court.
It was the pre-party before some of the players headed off to Cactus' prom Saturday.
"Honestly, I have no words," Cactus libero Caleb Oaida said. "I'm just so happy. I can't believe we actually came back. We worked hard. I'm so glad and happy for our team."
A freshman ignited Cactus' rebound.
Bradey Henige (pronounced hen-eg) is 6-11 with some rich Cactus family sports history. The lefty delivered from the right side late in the third game to help give Cactus a 23-21 lead.
Henige's mom, Jana, is also Cactus' volleyball coach, and his dad, Bob, who won a national title as a basketball player at Grand Canyon University, is Cactus High's first All-State basketball player. There are more tall Heniges, including Bobby, Cactus' assistant and All-American volleyball player for Mesa Benedictine University.
A Mesquite passing and hitting error gave Cactus the final two points of the momentum-shifting third game. Mesquite had different options for collecting points.
But its top point getter, the high-flying Tyler Bell, put away a Jayden Minarcik set and partnered with Kevin Codling, the team's best blocker Saturday, for a block to put their team up 18-13 in the fourth game.
But back came Cactus with a Henige kill and Quinnton Briscoe put away. After smashing his set away in the middle, Briscoe then flexed his right bicep during the spirited match.
Captain Joseph Vakameilalo also flexed after a back row attempt found an open corner to tie Game 4 at 21-21. The kill placement of Vakameilalo and consistent play of another captain, Aki Pulu, in the final two games played big roles in the outcome.
Jana credited Vakameilalo and Pulu for her team's turnaround in the match as well as Justin Bunch's defense and Oaida's passing. One of Pulu's bright moments came when he strong-armed a cross court stinger from the right side, leaving his team two points from winning the fourth game.
But Mesquite did Cactus the favor of closing another game, making a couple of errors to send the match to the final stanza. Cactus executed when it counted the most in the final three games and continued to do so until the end.
A Henige kill form the right and Vakameilalo handed their team the lead for good at 12-11.
Before it was over, Henige tallied another point before Mesquite's match ending errant serve.
It's losing only two seniors, so expect 12-5 Mesquite, the 9th seed this year, to be back next season in the postseason.
"I'm really happy with the way our team turned out this season actually," Mesquite's first-year coach Jesse Cervantes said. "Next year we'll be looking pretty good."
Up next for No. 8 seed Cactus (12-3) is a Tuesday match-up with the No. 1 seed, American Leadership Academy Queen Creek, on the road.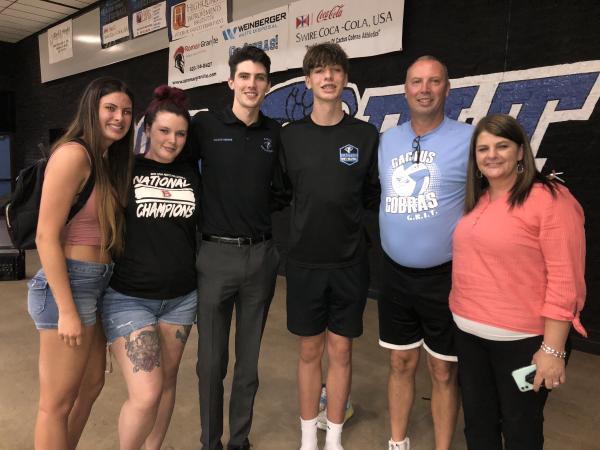 The Henige family, minues a couple of family members, celebrated after Saturday's playoff history. azpreps365 photo.
---