Lee Williams cousins cohere to capture Volunteers' first state tennis championship
May 14, 2021 by George Werner, AZPreps365
---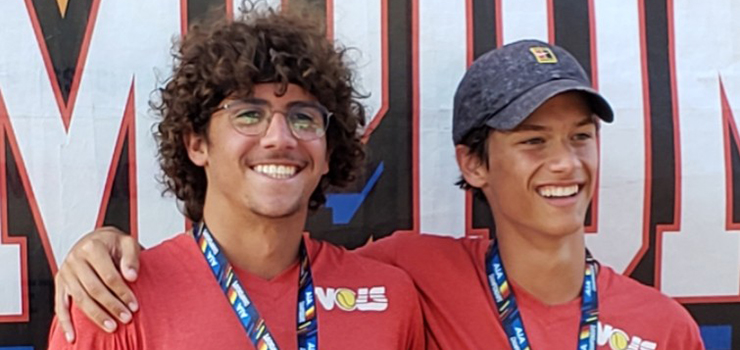 They can play tennis in Kingman, too.
Arizona's 2021 Division II high school doubles champions are the most positive proof of that: Kohen Juelfs and Logan Rosenbach, cousins from Lee Williams High School, teamed up May 3 to take home their school's first state title of any kind in the sport.
"I was thankful they were able to do it in straight sets!" Volunteers head boys tennis coach Matt Larson said after the 6-2, 6-4 win over McClintock High School's Zach Daniels and Jackson Fischer. "I don't need any more gray hair than I already have."
The stress of Juelfs and Rosenbach's comeback victory in the semifinal against third seed Arcadia High School was punishment enough on the pigment of their head coach's hair.
"The pressure of that match was insane," Larson reflected. "We tried our best to keep them calm and focused, but knowing that we were just one match away from playing for the state title really escalated the nerves."
Especially when Rosenbach, a senior, and Juelfs, a sophomore--seeded second in the tournament after their own sweep of their 10 regular-season opponents--found themselves two games away from elimination in their best-of-three tiebreaker with undefeated Titans Shane Heard and Rhys Williams.
"The heart that they displayed down 1-4 was almost breathtaking to watch," Larson said. "I was unbelievably proud of them. They played amazing tennis."
Particularly considering that neither Volunteer had lost four games to an opponent, much less a doubles set, since their first practice--when Rosenbach resolved they were going to go for the doubles title, Larson said.
"They ran through the regular season undefeated, rarely giving up more than a game or two in their doubles matches," Larson said. "It became apparent to me that Logan and Kohen had a special chemistry for doubles. They are both solid players [with] no major weaknesses, and their style of play was very complimentary."
Their closest match was an 8-3 win April 19 at Estrella Foothills High School over sophomores Noah Killeen and Brandon Lloyd; all of their other doubles wins, besides a lone 8-2 win March 25 at Tempe High School, were either 8-1 routs or shutouts.
"From the moment the tournament began, it became clear to me that a potential showdown with Arcadia could be the make-or-break match for us," Larson said. "We were playing great tennis, but I knew there was another level to my guys that hadn't been brought out yet. They hadn't faced a real challenge."
After dispatching No. 7 seed Casa Grande, 6-1, 6-0, in the first round, that challenge followed their first game of the semifinals.
"After that, the nerves took over," Larson said. "We squandered seven game points in our favor."
The losses mounted to a 4-1 deficit, leading to frustration and a 6-4 first-set defeat that Juelfs and Rosenbach actually used to turn the match around.
"They used their frustration to kick their nerves and focus," Larson said. "They ended up losing the first set, but they had started getting their confidence back and it felt like the momentum had switched."
After storming through the second set, 6-2, and winning the first game of the tiebreaker, Larson would ultimately be proven right, despite Heard and Williams gutting out the next four wins.
"They weren't willing to go down without a fight," he said. "We played tight. Down 1-4, with our backs against the wall, I saw Logan and Kohen convert their nerves into intense focus, and I watched them elevate their level of play."
That elevation stayed with Rosenbach and Juelfs through the May 3 final in Phoenix. But what Larson will never forget is the heart the duo showed two days before at the Paseo Racquet Center, reeling off five wins in a row over Heard and Williams in their second state match of the afternoon to take the tiebreaker, 6-4, and the match.
"These two competitors were going to give all they had to the bitter end," he said. "I have been involved in the sport of tennis for over 30 years. Those final five games were some of the most beautiful, gutsy games I have ever seen. I would be lying if I told you I didn't tear up when they won."
That heart, in the end, was one of three intangibles that stood out to Larson about Juelfs' and Rosenbach's run:
"They didn't give up, they persevered," he explained. "If you go down in a tournament, but you played your best, you have nothing to feel bad about.

"They played for each other. Doubles requires teamwork and I loved seeing how they had each others' back in the arena.

"They were able to fight through their nerves and play up to their potential. Its amazing to play your best and to find your best was good enough to be a state champion!"
---