Perry, O'Connor put on a show
May 16, 2021 by Jose Garcia, AZPreps365
---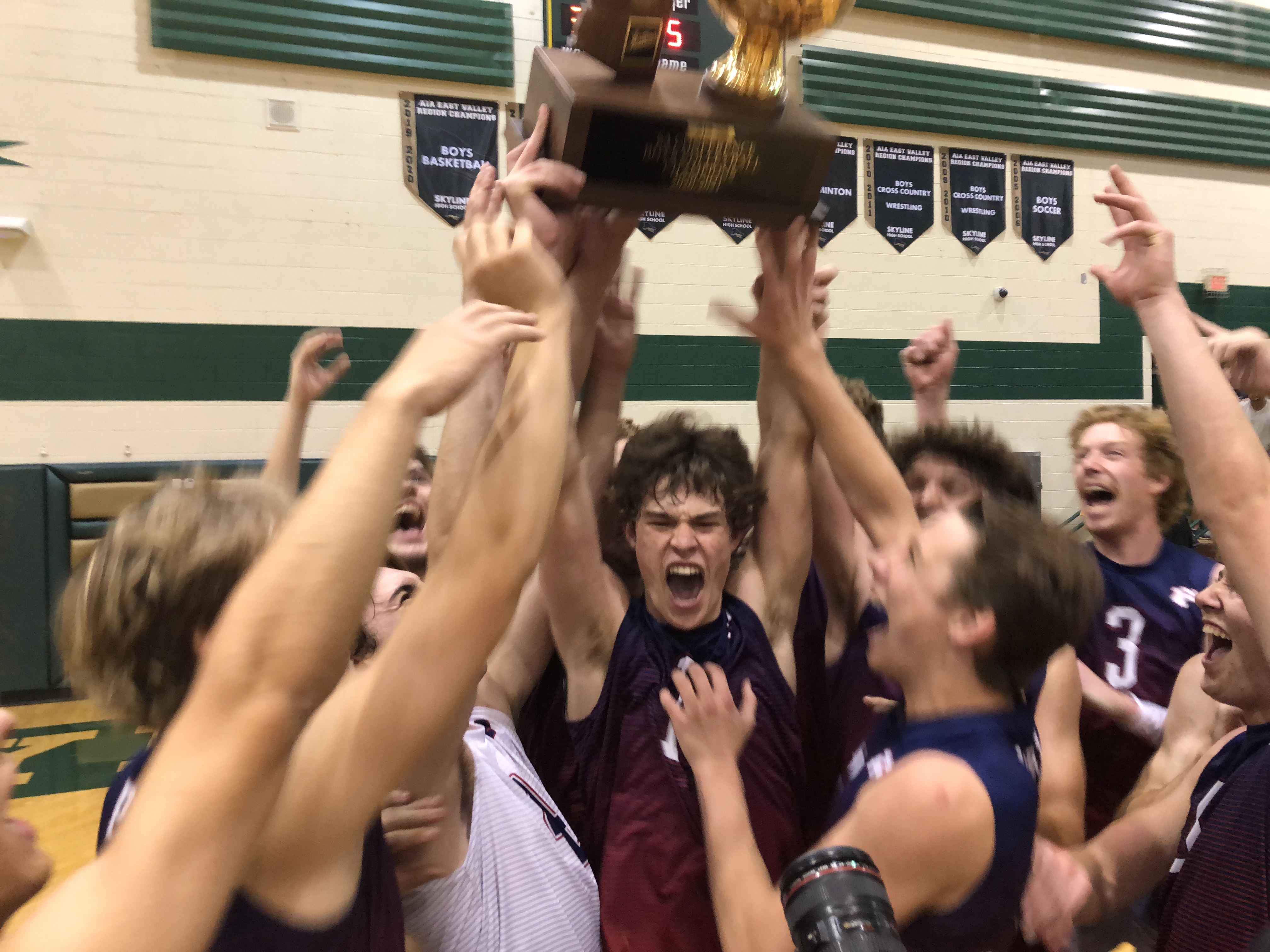 Perry and Sandra Day O'Connor put on a show, a five set championship thriller to cap the indoor volleyball season.
It had suspense. Aside from the 6A Conference match lasting five games, Perry dropped two games in a match for the first time this season.
It had drama. Two red cards were given.
It had action, as two great teams went back and forth with players doing extraordinary things. It had an endearing father and son moment.
History was also made as Perry volleyball became the first boys team at its school to clinch a title after outlasting O'Connor, 22-25, 25-15, 20-25, 25-17, 15-12, at Skyline High School.
Perry head coach Ryan Tolman and his son, Gehrig, Perry's outstanding setter, hugged each other tightly on the court after it was over while their fans' cheers filled Skyline's gym. Tolman waited 14 more years as a high school volleyball coach to hoist the championship trophy again, and to accomplish it with his son by his side, that's special.
"He (Gehrig) told me the first week of the season that he was going to do this for us," Tolman said. "I can't say enough about how good he was as a leader. He picked his spots. He helped his team out. He served great. As a coach I'm pretty proud, but as a dad I'm probably beaming right now. I sure hope I am."
Last year, Perry was a favorite to win the 6A belt with another son of Tolman, Daxton, running the offense. But the pandemic dashed last year's championship hopes after the season was cancelled.
This year, the players rightfully scripted the ending.
"All the boys, that's who we wanted to win for also," said Gehrig about the seniors, including his brother, who missed the opportunity to play for a ring last year. "It was for those 10 seniors who lost it."
The 2021 finalists, the top seeded teams in the 6A tourney, met for the second time this season.
But for the first time Perry, maxpreps' No. 1 ranked team in the nation, lost two games in a match. O'Connor started a player that soared higher than anybody else on the court, UCLA-commit Zach Rama.
"It was kind of scary," Tolman said, "I'm not going to lie. We were tied with five different teams this year but never behind like that. I was super proud of how the guys just hung in there and fought. They never gave up."
In the pivotal fourth game, Tolman's squad immediately stepped up and never trailed in the game.
Camden Neimann and Cooper Sander took turns in the middle slamming down Gehrig's sets. Neimann was Perry's most consistent and explosive player in the early going.
But Sander stepped up in the second half of the match. His four kills helped his team open the fourth game with 7-3 advantage.
That lead increased to 11-4 after Niemann and Gehrig partnered up for a block and Gehrig surprised O'Conner with a blast just inside the 10-foot line for a point. In the fourth game, O'Connor suffered a key loss when junior Bryce Robbins went down with an apparent ankle injury.
Robbins' offense on the left side helped his team take a 2-1 set lead. With Robbins on the bench, Perry wrapped up the fourth game with kills from Sander and Dalan Smith and a Gehrig ace.
The Smith pin hitters of Perry, Dalan and Canyon, then took center stage with their offensive production when the fifth game started.
A Mark Tomlinson serve that hit the tape and then landed for an ace led to an O'Connor timeout while trailing 7-5. Perry finished with 12 aces in the match.
After the O'Connor (13-4) timeout, Perry kept siding out up until its bench received its second red card while its team was up 13-8. Perry's bench received its first red near the end of the third game.
A red card in volleyball automatically gives the opponent a free point, but it also gave O'Connor some momentum in the fifth game. Because after the card, O'Connor followed with an ace and block by the team's top blocker Saturday, Louden Heldt, forcing Perry to call a timeout.
But Gehrig and Sander answered the bell one more time for their team. Gehrig put away a pass with his left hand instead of setting it to give Perry its first championship point.
Sander wound up sealing it after his kill was partially blocked, but the ball landed on O'Connor's side, allowing Perry Puma nation to start celebrating.
Perry wrapped up its 2021 season with a 17-0 record, but both teams deserved a standing ovation.
We can't wait for what 2022 has in store.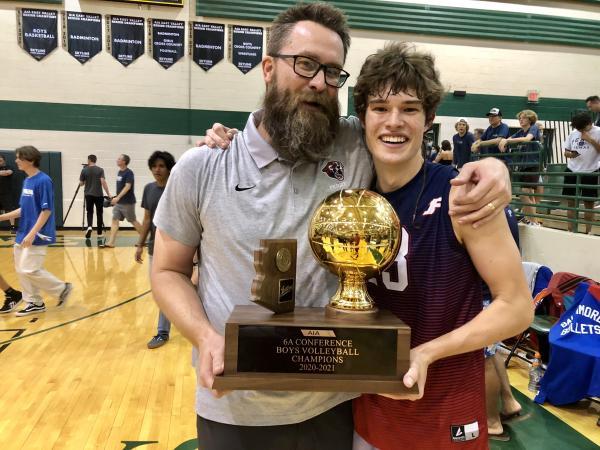 Ryan and Gehrig Tolman
---