Casteel overpowers opponent in 5A title tilt
May 16, 2021 by Jose Garcia, AZPreps365
---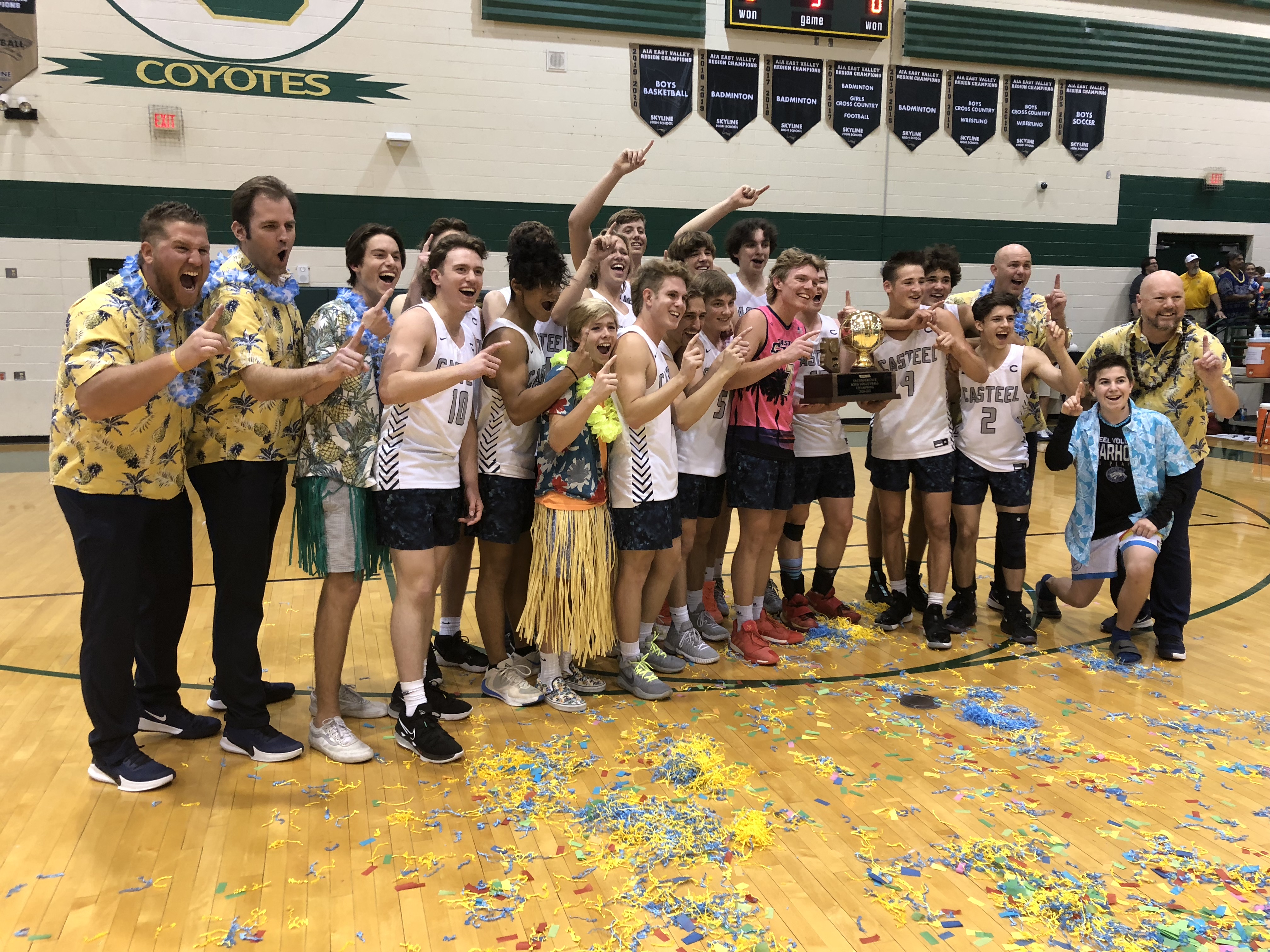 Cienega ran into buzzsaw, and nobody saw it coming outside of Casteel.
The dominating run Casteel went on Saturday actually began in the 5A Conference volleyball semifinals, when it lost the first two games to Williams Field. Something just clicked after that.
That's also when it unleashed senior Kyler Evans. Casteel rallied to defeat Williams Field and continued to roll Saturday at Skyline High, overwhelming a legitimate contender in Cienega (17-1).
The scores of the 5A final: 25-15, 25-20, 25-14.
"From what I saw on tape, and I knew we had just had the biggest challenge of our season against Williams Field when they took the first two sets and had to win the next three in row," Casteel coach Ryan Meyn said, "I knew that if we were able to come back from that I wasn't afraid of any opponent."
Evans was playing it safe during the first two games in the state semifinals, but after that it was no more Mr. Nice Guy.
He was going out swinging and did just that with 30 kills in the semifinals. In the 5A final, the senior's hitting percentage was in impressive .562 with 21 kills.
The 6-8 right side also had nine digs.
"This means everything to me," Evans said. "This is something that I've dreamed about, winning a state championship, especially because of last year when I thought we were going to take it. It's like a weight taken off my shoulders. It's a time to celebrate."
But the team's ringleader wasn't the only one Cienega had trouble with.
A pair of high jumping 6-1 outsides, Dallon Hunt (10 kills, 4 aces) and Adam Wilson (9 kills), also took turns celebrating like never before. At the wheel of Casteel's offense was Tate Bluth (46 assists).
Casteel's passing and serving also helped keep Cienega out of system. Noah Solomonson, Casteel's libero with the ultra-bright jersey top, had 15 digs in the match and also contributed a couple of aces.
Eight aces via jump serve by the winning team also had a hand in slowing down the attack of Cienega, which only led twice in the match. Near the end of the second game, it appeared that Cienega, especially Grand Canyon commit Matthew Meeker-Hacket, had figured out Casteel's offensive schemes.
Meeker-Hacket had back-to-back-to-back blocks to cut Casteel's lead to 20-15.
But Casteel just kept feeding their big boy, Evans, down the stretch of the second game to close it out. A four-point spurt in the second game, sparked by Meeker-Hacket's blocks, was Cienega's longest run of the match.
Cienega's frustrations boiled over, as its bench received a yellow and red card during the match. For 17-1 Casteel, the No. 1 seed in the 5A tourney, it only lost to 6A champ Perry this season.
What it didn't lose was the opportunity to take home its first championship trophy in boys volleyball to the school.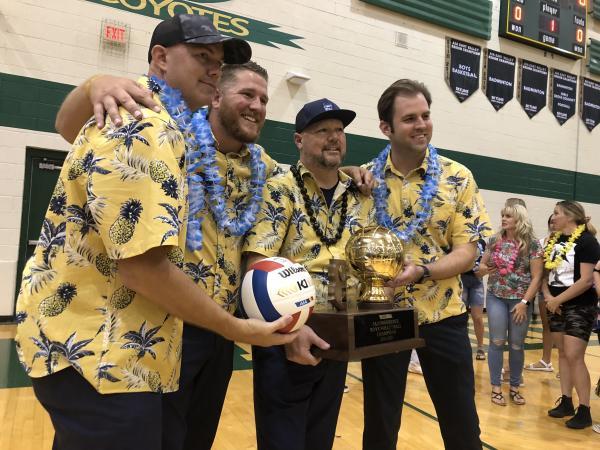 Casteel's volleyball coaches.
Casteel won the third set 25-14 to win the 5A championship. Congrats to the Colts on winning their first title. Final point and celebration: pic.twitter.com/9LFGl2Ut92

— Jose E. Garcia (@AZPreps365Jose) May 16, 2021
---