Notes from the North: Sventek, softball, Snowflake title sweep saluted
May 20, 2021 by George Werner, AZPreps365
---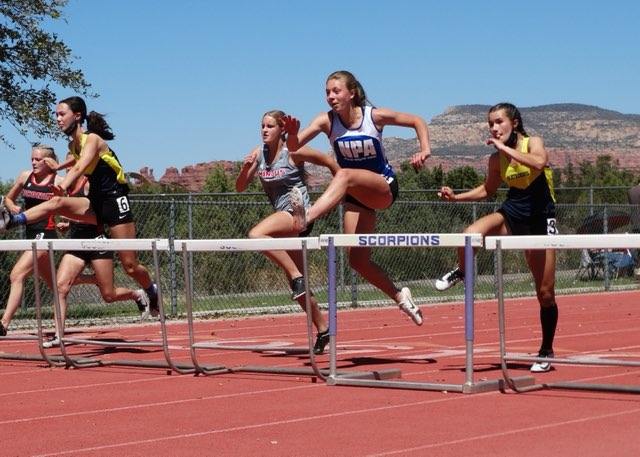 The run through the state's spring sports championships is done. All Northern Arizona athletes are parted away. The curtain has at last fallen on the most memorable year of high school sports any of us may ever witness.
To be sure, there will still be summer camps, retreats, and challenges like there were before the Coronavirus, but they will never be as casual as then. Careful planning and close observation will define the new normal, particularly for coaches like River Valley High School head softball coach Kathleen Watson, currently enjoying her moment in the sun as the 2A Conference Coach of the Year.
What else changed? The popularity of girls sports, which skyrocketed during social distancing, hopefully for good. All but one of the team sports titles Northern Arizona schools brought home this spring were in girls sports.
The lone exception was the Division III boys track and field champions from Snowflake High School, which enjoyed one of its best years, athletically, in school history. Both boys and girls track teams took home state championship trophies for head coach Lynn Johnson.
Who else emerged into the spotlight from this spring season's cloudy beginnings? Read on:
Spartans' Sydney Sventek stars at Division IV meet
Of all the praiseworthy final acts among Northern Arizona upperclassmen this spring, perhaps the greatest state tournament show was put on by a Northland Preparatory Academy athlete with eligibility remaining, Sydney Sventek.
As covered so thoroughly by AzPreps365's Southern Arizona correspondent Andy Morales, Sventek took Division IV titles in the 100- and 300-meter hurdles as well as the long jump.
All of her times and marks in each event at State were personal records. They improved on her PRs during the season by .2 and .29 of a second and an inch-and-a-half.
The biggest surprise Sventek delivered came in the 4 x 400 relay, whose team she anchored. After barely finishing in the division's top five times during the regular season, the Spartans improved nearly 14 seconds on their PR in the event to edge St. Johns for the gold medal by .08 of a second.
Sventek also anchored the Spartans' 4 x 100 relay team, which fell just 1.1 seconds short of a title in that event to eventual state team champion Valley Christian High School. While Northland Prep ended up a distant third in the girls team standings, the Trojans won the state championship by just three points over St. Johns. If the results for Sventek's relay teams had been reversed, the girls Division IV team champion would likely have been from Northern Arizona…
The Redskins weren't left off the title podium in individual events, however, as two boys won their events. Senior Nick Patterson won the shot put by more than a foot, while Preston Wilson high-jumped 6 feet, 8 inches to take gold.
For the girls, senior Kara Meyer finished her career with a bronze medal in the 100-meter dash.
The 800-meter dash of Brooke Smith, tops in the division during the regular season, fell just .09 of a second short of the gold medal, won by Kimi Cahoon of Phoenix Country Day School, who also edged out Redskins freshman Aubrie Wilson in the 1,600 meters by a second and, in the 3,200 meters, Round Valley High School's Jessica Madrid. Madrid's senior counterpart on the boys side, Makai Funaki, took home his silver in the discus.
In that event, Redskins junior Tynesia Little took bronze, more than a foot-and-a-half short of senior winner Ashlee Bueler, of Camp Verde High School, in the final event of her career.
Wilson finished second in the pole vault and high jump, just an inch short of Mogollon High School senior Isabella Horn in the latter event. Horn also won the triple jump by more than a foot over St. Johns' Ellie Otto and Kinley Crosby. Her counterpart on the boys side, Jayk Kelton, took first in the triple jump as well, along with the long jump in the final event of his high school career.
Another surprise gold for the girls came in the shot put, where Grand Canyon High School senior Alana Keebahe threw it more than 18 inches further than her personal best during the season, which only put her at fifth in Division IV.
But her shot put of 33 feet, 2 ½ inches was a couple of inches further than the silver medalist, Kingman Academy sophomore Jaden Kile, for the win...
Shout outs go to Sedona Red Rock High School junior Shota Yabuuchi, who fell short of gold by a couple of seconds in the 1,600 meters but concluded his season-long dominance of the 3,200 meters by edging Northwest Christian's Luke Poarch for the gold. Teammate Odin McGinness wasn't as fortunate in the javelin, whose 145-foot, 1-inch throw was only good enough for bronze behind two other placers, including Camp Verde High School junior Kayden Boggess. But Scorpions senior Frederick Schrader bronzed in the pole vault in his final event...
Snowflake dominates Division III meet
No single Northern Arizona team finished so high in so many sports this 2020-21 season as Snowflake High School. This dominance extended to track and field, where the Lobos won both the boys and girls Division III championships.
This success was not just due to great individual performances but also team success, specifically the girls 4 x 800-meter relay. That team won gold by more than five seconds over Salpointe Catholic High School and needed a photo finish to take silver to the Lancers in the 4 x 100, officially finishing second by one-hundredth of a second. The boys 4 x 400 meter relay team finished second.
Senior Reagan Olson remained super in her final meet, winning the triple jump by more than a foot, while sophomore Lydia Szabo became Olson's heir apparent with a win in the 200-meter dash and second place, by .14 of a second, to Coconino High School sophomore Cathron Donaldson.
Senior Tyler White and junior Macee LeSueur both finished second in the javelin, where LeSueur's classmate, Kimberlee Eich, took home the bronze...
Special shoutouts must go to Payson senior Faith Haught, who took gold in the discus by more than seven feet, then finished third in the shot put.
Coconino senior pole vaulter Grant Hagaman finished his high school career taking first by 2 ½ feet over junior teammate Mason Palmer, who bronzed in the event.
Page senior Trent Holiday got two silver medals, one in the 1,600 meters and one in the 800-meter dash, where he finished three seconds short of St. Mary's runner Pierce Vittone.
Finally, Prescott senior Emma Lloyd capped her Badgers career with bronze in the 100-meter hurdles...
Spitzer trades graduation for championship, gets both
Even though the Snowflake softball team was upset in the second round of its state tournament, senior Anna Berger, who no-hit Blue Ridge High School on April 13, still had the respect and remembrance of her peers in the 3A Conference.
Berger took conference Player of the Year honors after finishing second in 3A in batting average and runs batted in, third in slugging and on-base percentages, fourth in strikeouts and seventh in runs scored.
But the real story of the spring softball season came at River Valley High School, where outgoing pitcher Chloe Spitzer, who no-hit not one, but four teams this spring, joined her four senior teammates in giving up walking at their graduation to play in the 2A state finals.
After they won the title, 3-2 over Benson, they got their graduation anyway.
For Spitzer, who had the state's most wins in the circle this spring with 20, and head coach Kathy Watson, who arranged the impromptu postgame event, they got a little more.
Watson's win of the school's first-ever state title won her conference Coach of the Year honors, while Spitzer's conference-leading 183 strikeouts also helped in taking home the 2A Player of the Year award.
Watson looks to build the program's future success around sophomore catcher Karina Pulu, who led Arizona in RBIs and was tied for first in the state in home runs.
The state strikeout leader this spring was outgoing Payson pitcher Raci Miranda, who had 279 Ks and tied Spitzer atop the leaderboard in wins with 20 of her own. This sold her profile as the 3A Defensive Player of the Year along with Sabino High School pitcher Riley Nielson, the only one to outduel Miranda for the state championship Monday, May 17...
Tennis players take home postseason honors
As previously covered here, Lee Williams High School doubles players Kohen Juelfs and Logan Rosenbach took their special team chemistry all the way to a state championship, the Volunteers' first in the sport.
The unbeaten duo were just additionally rewarded, taking home Division II Player of the Year honors.
Prescott High School head girls coach Sterling Fetty was honored as the Division II, Section II Coach of the Year after leading the Badgers to another team tournament berth. The boys singles Player of the Year in that section was Bradshaw Mountain High School sophomore Colin Streeter.
Meanwhile, over in Section III, Lake Havasu High School head girls coach Greg Brueckner was also named that section's Coach of the Year after leading the Knights to an undefeated regular season. His top singles player, sophomore Monet Land, shared Player of the Year honors with Estrella Foothills High School singles player Lily Serbin.
Basis Flagstaff High School doubles players Aeliana Ricci and Jenna Crone took home Section VII Player of the Year honors in Division III, where Ricci tied Sedona Red Rock High School fellow sophomore Jillian Grondin for the honor among singles players.