Brophy Invitational, AZ Fall Preview & One-Off Invitaional results
August 29, 2021 by Andy Morales, AZPreps365
---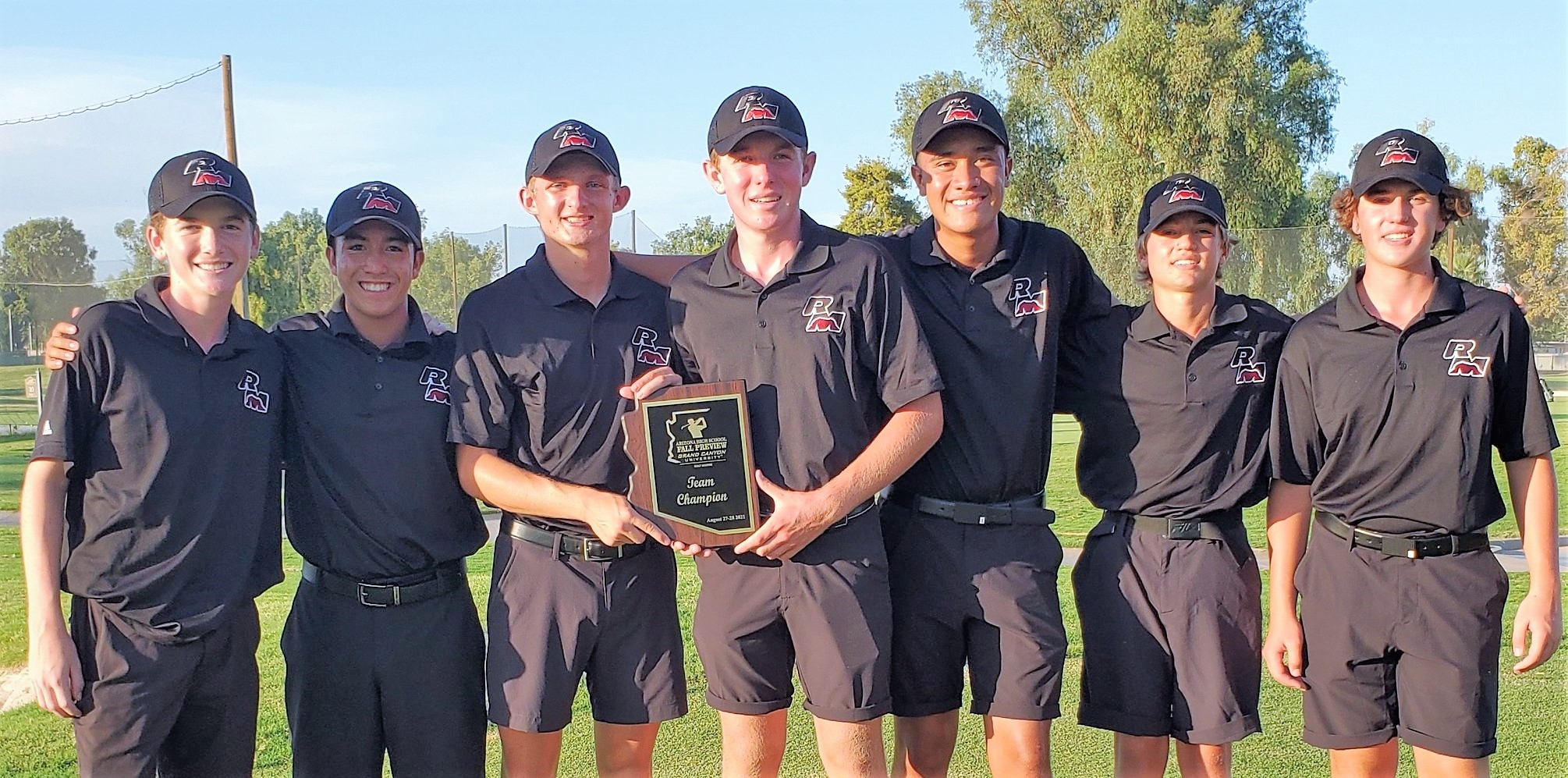 BROPHY INVITATIONAL
August 27-28: Grayhawk Golf Club Raptor Course
Brophy beat Hamilton 572-594 to win the Brophy Invitational held on the Raptor Course of the Grayhawk Golf Club in Scottsdale. Hamilton beat Brophy in 2019 and 2020 to win back-to-back Division I state championships.
Brophy sophomore Tyler Spielman shot a 10-under-par 134 to finish four strokes ahead of Hamilton standout Anawin Pikulthong. D-II standout Rylan Johnson of Williams Field tied for third place with Hamilton sophomore Vincent Cervantes (143).
Desert Vista took third place (618).
ARIZONA HIGH SCHOOL FALL PREVIEW
August 27-28: GCU Golf Course
Red Mountain beat Corona del Sol 571 to 595 to win the Arizona High School Fall Preview held at the Grand Canyon University Golf Course and Boulder Creek came in right behind with a 596.
Desert Mountain senior Jake Webb took first place with a 4-under 138, one shot ahead of Red Mountain senior Carter Wilkes. Corona del Sol junior Nick Morrow, Seton Catholic senior Nik Kittilson, Boulder Creek junior Keegan Stamp and Lee Williams senior Cole Finch all came in with a 2-under 140 to tie for third place.
Webb shot a birdie on the 18th hole to keep the stroke lead over Wilkes who came in with birdies on the 14th, 17th and 18th holes to make things close.
ONE-OFF INVITATIONAL
August 27-28: Papago Golf Course
The Ironwood Ridge girls made an early statement by defeating Xavier 593 to 607 to capture the championship of the One-Off Invitational held at the Papago Golf Course located in Phoenix.
The Nighthawks won the last two Division II state championships with back-to-back wins over Cactus Shadows at the Omni Tucson National and Xavier has won 37 state titles including the 2020 Division I championship also held at Tucson National.
Liberty took fifth place in D-I last year and the Lions came in six shots behind Xavier for third place at the One-Off Invitational and D-II Cactus Shadows took fourth.
Individually, Ironwood Ridge junior Zoe Newell took first with a 6-under-par 138 and Cactus Shadows junior Paige Hammarstrom took second with an even 144. Hammarstrom shot an eagle on the 10th hole in the second round to draw close with Newell but Newell picked up a stroke on 13th and she solidified her win with another birdie on the 17th.
Defending D-I champion Mattie Frick of Liberty also shot a 144 and Xavier junior Annie Dawson came in with a 3-over 147.
---