Serving dominates as Corona del Sol sweeps Mountain Pointe
September 9, 2021 by Olivia Eisenhauer, Arizona State University
---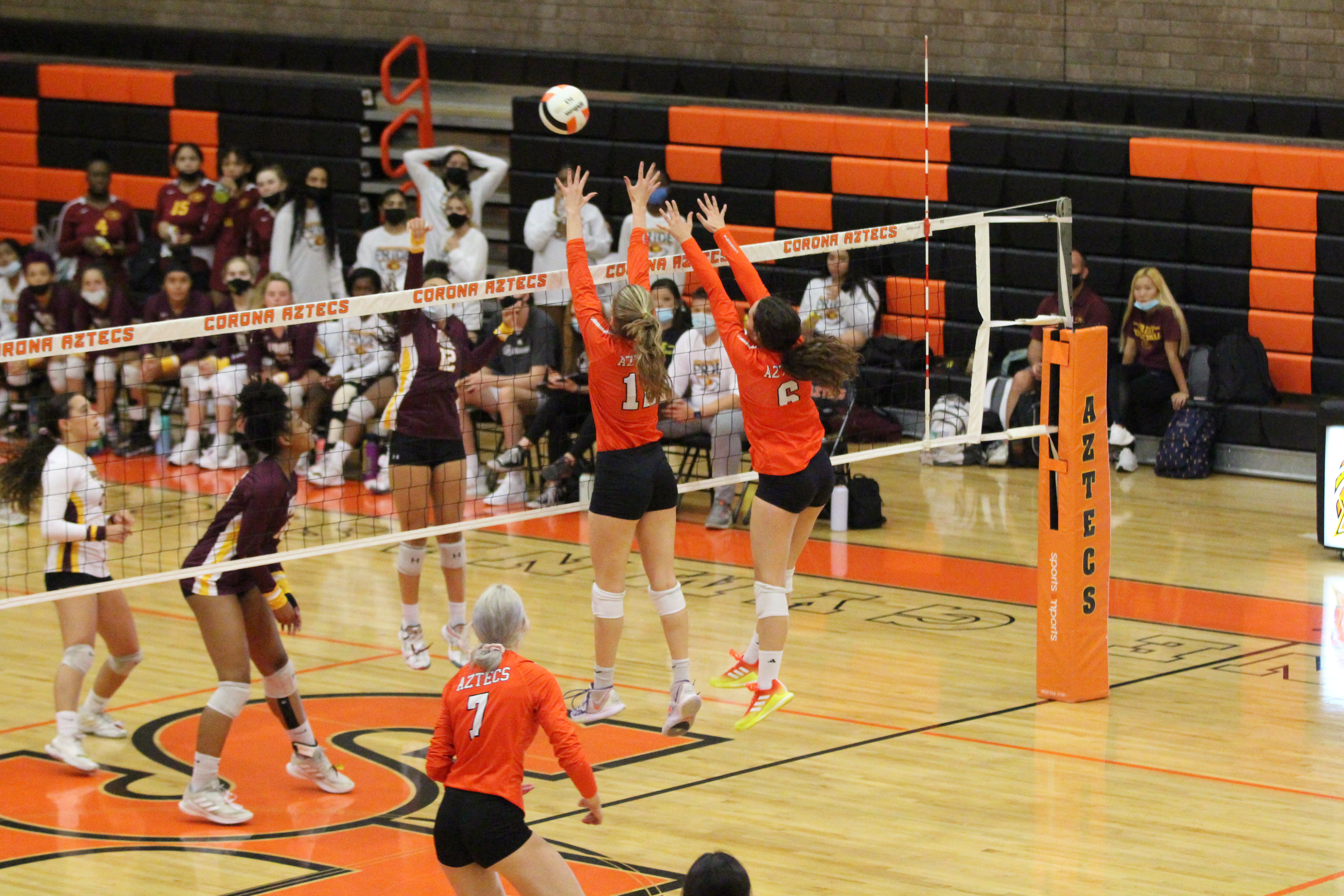 A 6A Central matchup went down on Wednesday night at Corona del Sol High School in Tempe as the Aztecs looked to bounce back from a five-set loss at Liberty High School just a week ago.
The 21 total aces in front of the home crowd helped create the gap in each of the three set wins for Corona Del Sol as they defeated Mountain Pointe High School, 25-11, 25-6 and 25-16.
Mountain Pointe came into the evening with a winless record and the Aztecs dominated the Pride throughout thanks to serving runs and strong leadership. Senior libero Angie Bour had six aces on 18 attempts for the evening. Senior Taylor Erickson also matched the libero's ace count on 16 attempts.
Corona del Sol women's volleyball head coach Ben Maxfield acknowledged the importance of Bour's presence on the court.
"Angie's a great libero. She is just very consistent, she is a great leader out there and her passing and defense, she keeps us in system," Maxfield said. "We know no matter who we put out there on the court if we put her out there we're going to get good balls."
Aside from minimal miscommunications, the 32 digs on the evening allowed 70 setting attempts and 28 assists.
"We had a lot of players playing together that hadn't played together in the back row," Maxfield said. "We are really at the point in the season where we are learning our system, so they have all of their systems in club and really melding that into the Corona [del Sol] system."
Bour led the back row in digs at eight, followed by sophomore Julia Owens and senior Kacie Webb at five a piece.
Weaknesses pointed out by the head coach were along the net, where eight errors were recorded. The 2-1 Aztecs host Mountain View in a non-section matchup Thursday night before hitting the road the following week.
"Mountain View is going to be a tough matchup, we have to play good defense or they will run right over us," Maxfield added. "We have to line up our block a little bit better."
Mountain Pointe (0-4) travels to Xavier College Prep in Phoenix on Thursday before playing in the Tournament of Champions this weekend, with six matches across two days at Highland High School.
---