Salcido, Sena combine for 5 Flagstaff TDs in wipeout of Washington
September 11, 2021 by George Werner, AZPreps365
---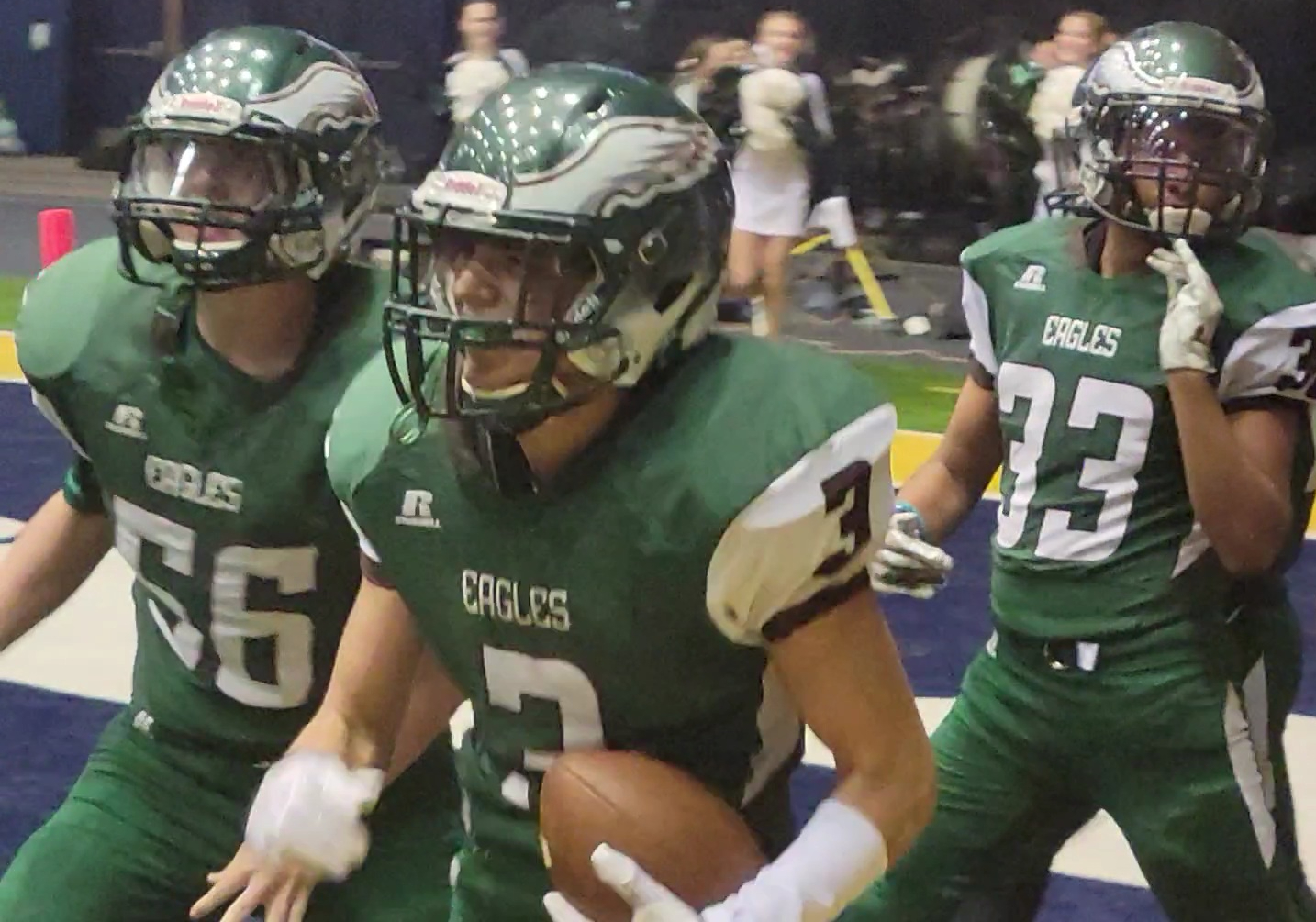 Since March, Flagstaff High School's football program has had to find a new head coach, new starting quarterback and new offensive focus.
So far, the Eagles have made all the right moves.
Long-time program assistant Sean Manning won his second straight game as head coach, as senior Bodie Maier completed 13 of his 17 passes for 222 yards and three touchdowns in a 48-0 wipeout of visiting Washington High School at Northern Arizona University.
"I've been in this program 13 years, through the ups and the downs," a hoarse Manning said after the romp. "The 0-10 [record]s, the 2-8s, the 8-4s. I think I've settled in."
Senior running back Marcus Salcido, who has had to fill the shoes of departed 3,000-plus-yard rusher Luis Jaramillo, ran for 63 yards and another two touchdowns to supplement a dominant defensive performance Manning said was spearheaded by linebacker Spencer Smith.
"I think the biggest momentum turnaround was when Marcus scored in the second half," Smith said after collecting three sacks, forcing two fumbles and preserving the shutout late. "We did kind of start off the game a little flat."
Smith, along with 6-foot, 8-inch, 250-pound defensive end Nick Morrow, forms the senior leaders of a Flagstaff defense that held strong through a scoreless first quarter rife with penalties on both teams, highlighted by an ill-fated 63-yard field goal attempt by Rams kicker Alonzo Salazar.
"Right now, I'm just focused on winning as a team," said Smith, whose Eagles open Grand Canyon Region play Friday, Sept. 17, against 1-1 Mingus Union High School. "Win the region, get a home playoff win, and win State. Those are the goals I have."
Two minutes into the second period, Salcido's three-yard run at last lit up the Walkup Skydome scoreboard.
Six minutes later, Holden Sena hauled in what would be the first of his three touchdown receptions on the night, from 21 yards out, set up by Maier's 49-yard connection to fellow junior wide receiver Jake Weidinger.
Sena would also cap Flagstaff's next drive by gathering in Maier's 14-yard fade in the corner of the end zone less than two minutes before halftime.
Just like that, the rout was on in the Rams' opener.
Although Salcido's second score didn't come until more than five minutes into the second half, it proved to be the start of a three-touchdown third-quarter binge that would end Maier's night--and, with it, the competitive phase of the contest.
The floodgates were opened by senior linebacker Collin Doucette, whose interception on just the second play of Washington's next drive set up the Eagles with first down and goal at the Rams' 10-yard-line.
"Once you stop the outside, then they've got to deal with our threats on the inside," Manning said. "It's what we do defensively. They can wear them down, and get the ball back."
Sena, whom Maier had found on the two-point conversion pass after Salcido's 22-yard touchdown trot at 6:54, somehow was still in single coverage from the Washington 3-yard-line two minutes later. Maier, on his final play of the night, had no problem finding him.
Although Manning called off Maier and most of the rest of his dogs, Sena, up 35-0, was not done. He recorded another interception of Washington senior quarterback Gabriel Segovia in Rams territory, setting up senior Gunner Price from the 12-yard-line with less than 3:00 to play in the third.
"Our offense has multiple sets, so we try to find out, obviously, what's going to work and what's not," Manning said. "Then we push the envelope a little bit."
The reserve running back took the handoff from sophomore backup quarterback Tyson Buckley and beat the defense, decimated by injuries the previous three plays, around right end to take a 41-0 lead.
By the time sophomore punt returner Amare Menninger capped the scoring with a 53-yard punt return in full stride, it was five minutes into the fourth quarter, and the AIA's running clock rule was in effect.
"It energizes our kids; it energizes the fans--they feed off of them," Manning said. "Once we start cleaning up the mistakes and being the team that I know we are--I stopped counting at seven penalties--if it's a tight game, they've got to tighten up too."
---