Campo Verde sweeps Desert Mountain, 25-17, 25-19, 25-11
September 14, 2021 by Les Willsey, AZPreps365
---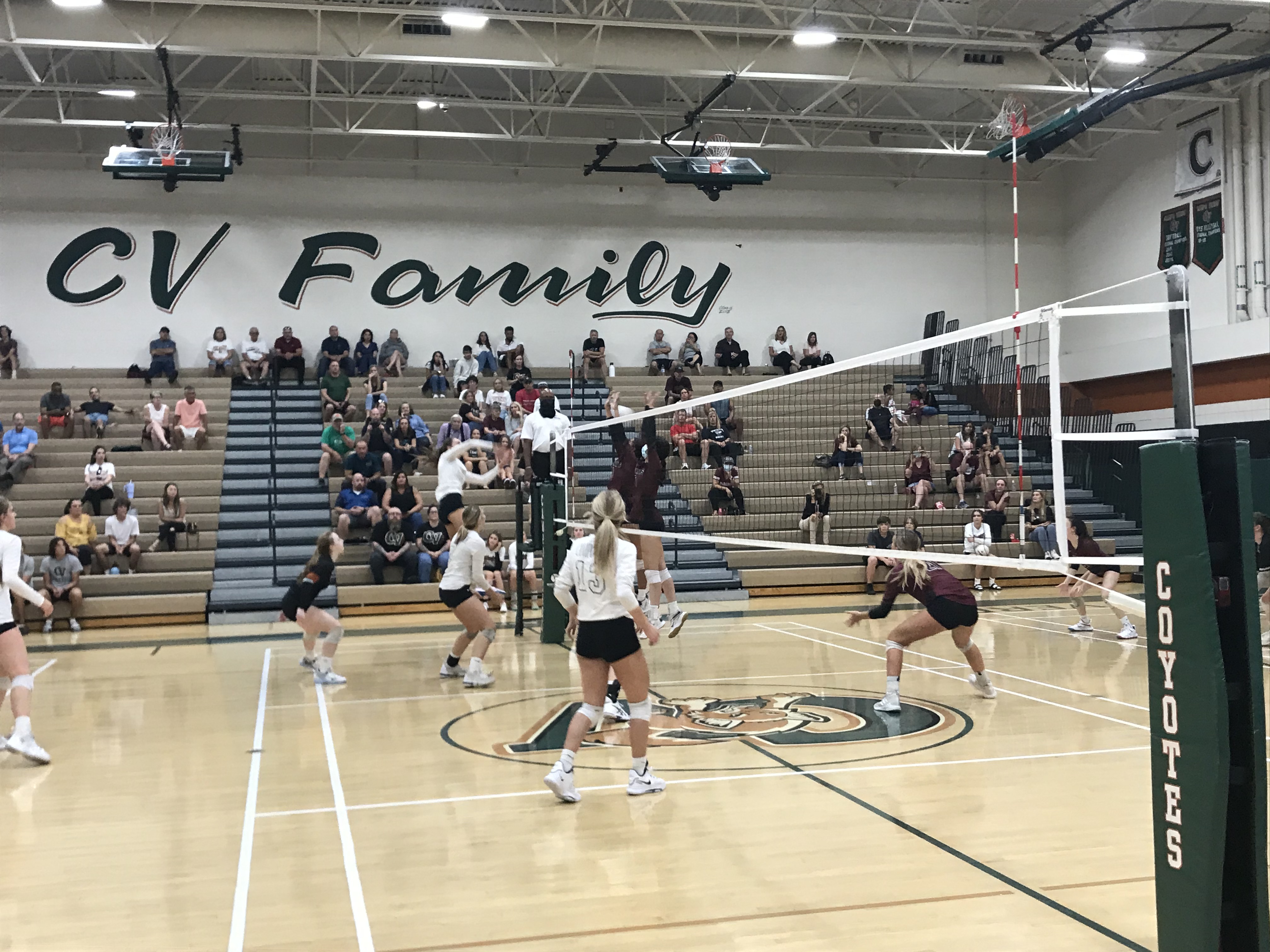 A busy week of action commenced for Campo Verde volleyball on Tuesday and it extended a power-ranking win streak by evening's end.
The host Coyotes took down Desert Mountain, 25-17, 25-19, 25-11 for their fourth consecutive victory in matches that mean the most.
Senior Addison Haluska, who led the Coyotes in kills last season, paced Campo Verde (4-1 power-ranking matches) on the attack in the sweep with 15 kills. Junior Gillian Bachali turned in an all-round performance with 12 kills, 18 digs and four aces. Setters Laurelle Lewis and Hannah Van Winkle shared equally in assists with 17 apiece. Libero Beigh Alexander posted 14 digs and two aces. Campo Verde's power-ranking matches have all been decided via sweep - a loss to defending 5A champo Millennium and wins prior to Tuesday over Desert Ridge, Mesquite and Ironwood Ridge.
'We were consistent," Campo Verde coach Tayler Bader-Peterson said. "Addison shifted from middle to outside this year, and is playing very well."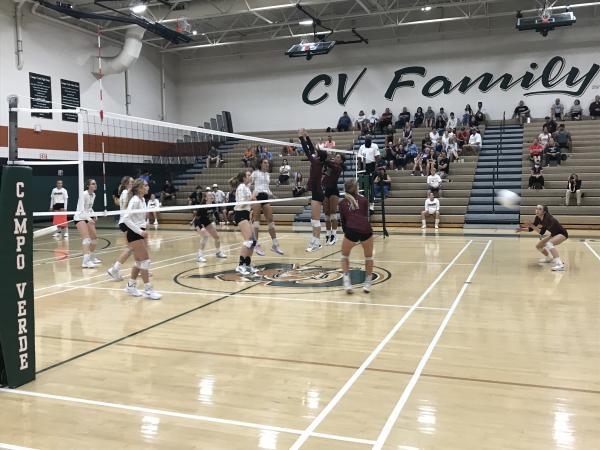 Campo Verde's Addison Haluska (pink shoes) scores with a second-set kill. (Azpreps365 photo)
Consistent Campo was. It trailed in the match once (3-2 in the second set). The Coyotes won the first set going away. In the second, Desert Mountain pressed hard and stayed within a point late (19-18). A service error and three hitting errors down the stretch prevented the Wolves the chance to tie the match.
The third set was over quickly. Desert Mountain committed a rotation error early. A 2-2 tie eroded to a 12-2 deficit. Three Campo Verde aces, two kills by Haluska and a handful of Desert Mountain attack errors were cause for the large deficit and ultimate demise. Desert Mountain struggled on the attack off and on and particularly in the final set.
Desert Mountain slipped to 1-4 in power-ranking matches. Kill leaders for the Wolves - Aubrey Johnson (five) and Julia Axelrod and Vivian Adamucci with four each. Anna Baldus led defensively with 12 digs.
Campo Verde begins 5A San Tan Region play Wednesday hosting 4-0 Williams Field, who has swept all of its opponents thus far. Campo Verde then travels to Las Vegas this weekend for an invitational. Desert Mountain is idle until Sept. 21 when it hosts Agua Fria.
---