Undefeated Chino Valley strives to surpass second place, 3-0 Snowflake
September 15, 2021 by George Werner, AZPreps365
---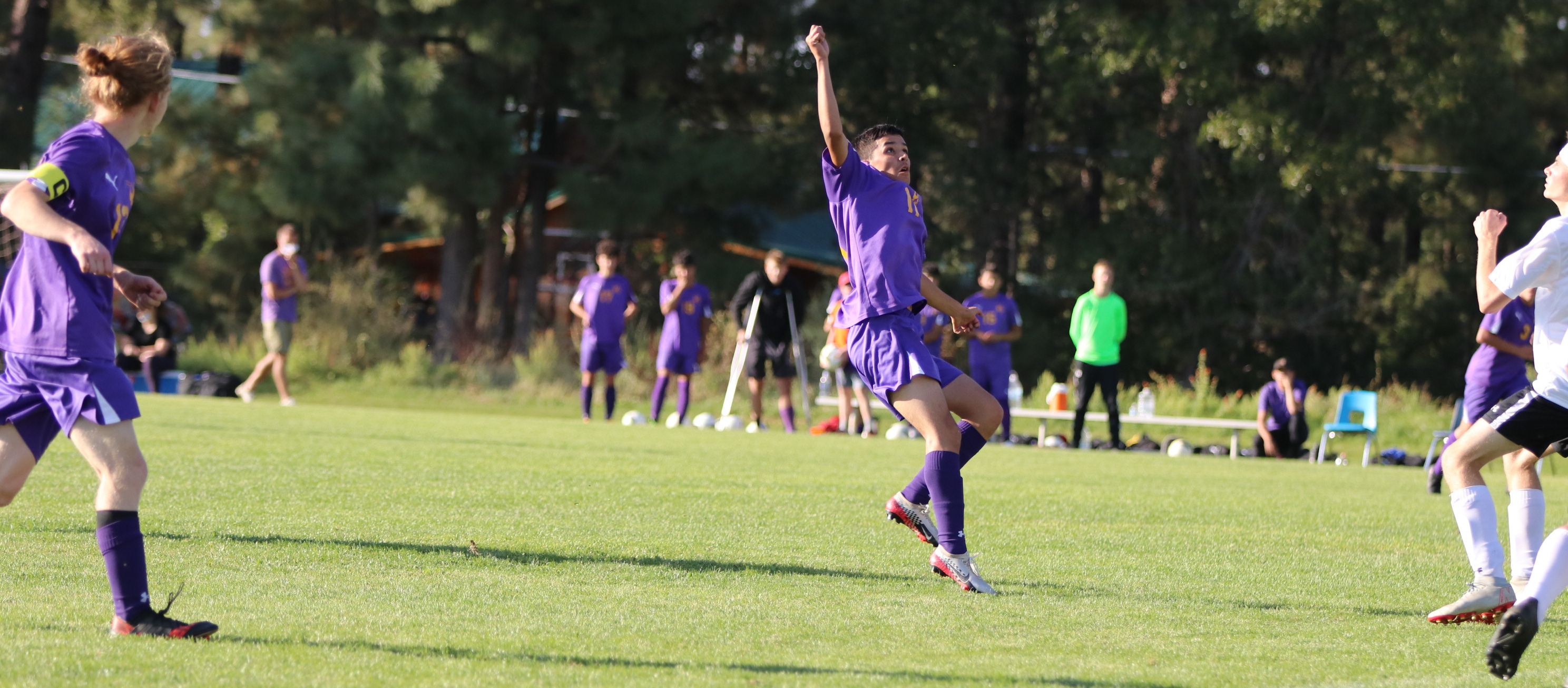 Todd Carey is done with being the 2A Conference boys soccer bridesmaid.
So are five of the sixth-year head coach's seniors at Chino Valley High School. Returning 2A Defensive Player of the Year Ravi Holladay, along with striker Orlando Santoyo, goalkeeper Trever Stazenski and defenders Andy Nava and Fernando Soto, every fall since arriving on campus, have all made an annual push to the state championship game--only to take home the runner-up trophy instead.
"So they're getting pretty sick of it," said Carey, who needed a goal from a junior, midfielder Carlos Rodriguez, to avenge last year's 2A title shutout Saturday, Sept. 11, over Blue Ridge High School at home. "All it does is tell us we are on the right track. Last year, we kind of peaked at the wrong time."
And the year before that, also against the Yellow Jackets. And the year before that, against Phoenix Country Day School.
In fact, Carey is in search of his first fall soccer state title since his undefeated first season of 2016, in which the Cougars won their third straight championship.
The runner-up all three seasons? Blue Ridge.
"They're such a quality program with quality players," Carey said of the Yellow Jackets, who along with Country Day and East Region leader Snowflake, are the only teams he has lost to in his 70-win tenure. "Hopefully, we can learn from last year, when they got us at the end."
Five other upperclassmen are providing reinforcements, including second-team all-2A midfielder Gabe Castillo. His goal, along with Santoyo's, shut out Round Valley in their Sept. 2 opener. Another senior midfielder, Richard Flores, made the difference in overtime of Chino's next game at Show Low after Holladay's first half boot off a free kick.
"We've got a lot of work to do, so we've got to do a better job of getting better through the season," Carey added. "I definitely don't want us to get a big head and think, 'We got this.'
"Because that wasn't the case last year."
While Carey's Central Region co-leaders enjoy the latest leg up in the rivalry with conference Coach of the Year Kirby Elkins--starting just his second season as head coach at Blue Ridge--third-year head coach Joshua Johnson is setting the pace at Snowflake.
The Lobos, led by first-team all-conference midfielder Samuel Lopez, got a goal late in the first half by Payson sophomore Jesus Hernandez to remain undefeated and edge the previously undefeated Longhorns on the road.
"Our goalie made a mistake by coming out too far and not getting a solid handle on [the ball]," new Longhorns head coach Billy Spalding said. "He made many great stops."
As he had been in his previous three games, allowing a tight average of just one goal. But despite moving up junior Braden Tenney to forward, Spalding's offense, led by all-conference forward Esgar Reyes, was shut down for the first time since Payson's 2020 state quarterfinal loss to Blue Ridge.
"We've had such high-scoring games, we've had many players get scoring opportunities who wouldn't have otherwise," said Spalding, whose team had scored 30 goals through its first three games. "Our main midfielders, senior Easton Redford and two juniors, Ismael Urquiza and Juan Hernandez, are also doing a great job and getting some goals.
"We had everyone getting goals against Williams and Rancho Solano [Preparatory Academy]."
Rancho Solano Prep joins Gilbert's Leading Edge Academy and North Valley Christian as programs left behind the Longhorns and Chino in the Central Region, where Sedona Red Rock High School hasn't yet played a game due to COVID-19 cancellations. Sophomore goalie Joan Diaz Rodriquez, top five in the state in 2020 with 78 saves, and the rest of the Scorpions hope to open at defending North Region champion Camp Verde on Thursday, Sept. 16.
"Our biggest question was if we would have a team or not," said first-year St. Johns head coach T.J. Hendriksen, whose three incumbent defenders--seniors Collin Arave and Hunter Jarvis, along with sophomore Benjamin Jessop--and three other returners are still seeking his first win. "There was a time that we were unsure if we would have enough for a full varsity team. We hope within the next year or two we will have enough players to have a JV team."
The Redskins, at least, have promising freshman Pacer Wiltbank in goal and are making a fresh start, with the company of winless Round Valley at the bottom of the East Region.
"We are a younger team with a handful of players that will be earning a lot of experience this year," Hendriksen said. "I was impressed by how quickly they are learning and picking up our strategies."
Hendriksen's defense, bolstered by "strong newcomers" like junior C.J. Winters and sophomore Randell Patterson, "is the furthest along right now," he added.
Senior midfielder Byron Bradshaw and junior forward Evan Gardner return on offense, with support in their attack provided by senior Raymond Winters and freshman Brennon Leslie.
While Hendriksen is confident his team will have "a normal and full season this year," the same cannot be said for the seven teams in the 2A South Region. The Gregory School, for instance, did not play a game until Tuesday, Sept. 14: a 3-0 home shutout at the hands of undefeated region leader St. Augustine.
Despite having a senior year of eligibility remaining for both its Region Player of the Year and Defensive Player of the Year, as well as the services of two other all-region players, defending South champion Bisbee has allowed two more goals--and lost just as many games--in its first two contests as it did all of last season. All-region second-team forward Alexis Torres has at least kept Benson in the region title hunt.
The region's returning Coach of the Year, Juan Rodriguez, has fared better at Willcox, the first team to miss the postseason cut in 2020 despite finishing second in the South at 7-3. Rodriguez returns all-South second-teamers, senior forward Francisco Felix and junior midfielder Johan Rodriguez, undefeated in region play through two games by a combined score of 14-0.
But thanks to the continuing effects of the Coronavirus, other hopeful challengers to Chino Valley's dominance have shared Sedona's struggles in just starting the season. These include independent teams like St. Michael High School, whose opening game has been delayed until the Old Pueblo Classic, beginning Oct. 1.
The Tucson tournament is hosted by Desert Christian High School, whose senior goalkeeper, Santos Duran, was second in the state with 33 saves and just two goals allowed last season in relief of all-2A Honorable Mention Michael Steckler.
In the patchwork quilt of Arizona high school boys soccer scheduling this fall, head coach Charles Lamb's Cardinals will play the briefest of slates, taking on just St. Johns more than two weeks after the conclusion of the Tucson tournament.
"We will play to win every game," Hendriksen added, "but we are hopefully to establish a solid foundation for the years to come with the new coaching staff."
Independent preparatory programs Highland and Madison Highland, undefeated through its first three games, will provide a more formidable test of the Arizona Interscholastic Association's eight-team 2A state tournament seeding--if they can make it through a full season.
Junior goalkeeper Connor Owen, second in 2A with 31 saves and just two goals allowed, has spearheaded the Heat's 3-0 start. Senior Kevin Valdez has rung up five goals, while freshman and fellow forward Voss Sellers has added four to lead the Heat offense.
The Honey Badgers, meanwhile, have bounced back to win their last three games after an 0-2 start, led by senior Francisco Galindo's seven goals that rank third in the state. Their goalkeepers, freshman Estevan Corella and sophomore Micah Rodda, have saved a combined 30 shots as Highland has won overtime road games at Ash Fork and Grand Canyon.
The latter Phantoms, who have a combined nine assists from conference leaders Roman Evans and Everett Rommel, are the only one of four region teams to retain a winning record heading into their North opener Friday, Sept. 17, at the Spartans. Rommel, a freshman, leads the state with 13 goals, while the junior Evans has added six to account for all but four of Grand Canyon's total offense through three games.
But Grand Canyon will have to topple defending North Region champ Camp Verde first. The Cowboys, led by longtime head coach Dave Miller and first-team all-conference seniors Quintin O'Grady and Gary Ortega, already blasted Desert Christian, 9-1, in their opener. The region's returning defensive and offensive players of the year are supported in the midfield by classmates Logan Kurowski and all-region first-teamer Coy Dexter, as well as by second-team all-2A juniors Tyler Clubb and Eduardo Noguez. Another upperclassman, Dominic Rezzonico, backs them up on defense, leaving more room for aggression by forwards Coy Dexter and sophomore Jonny Lomeli.
"I'm happy to see us out there in a normal type of season, but we're just taking it in our stride," Carey concluded. "If we want to raise that state championship hardware at the end of the season, we're going to have to work harder.