Could the shot clock come to Arizona?
September 16, 2021 by Seth Polansky, AZPreps365
---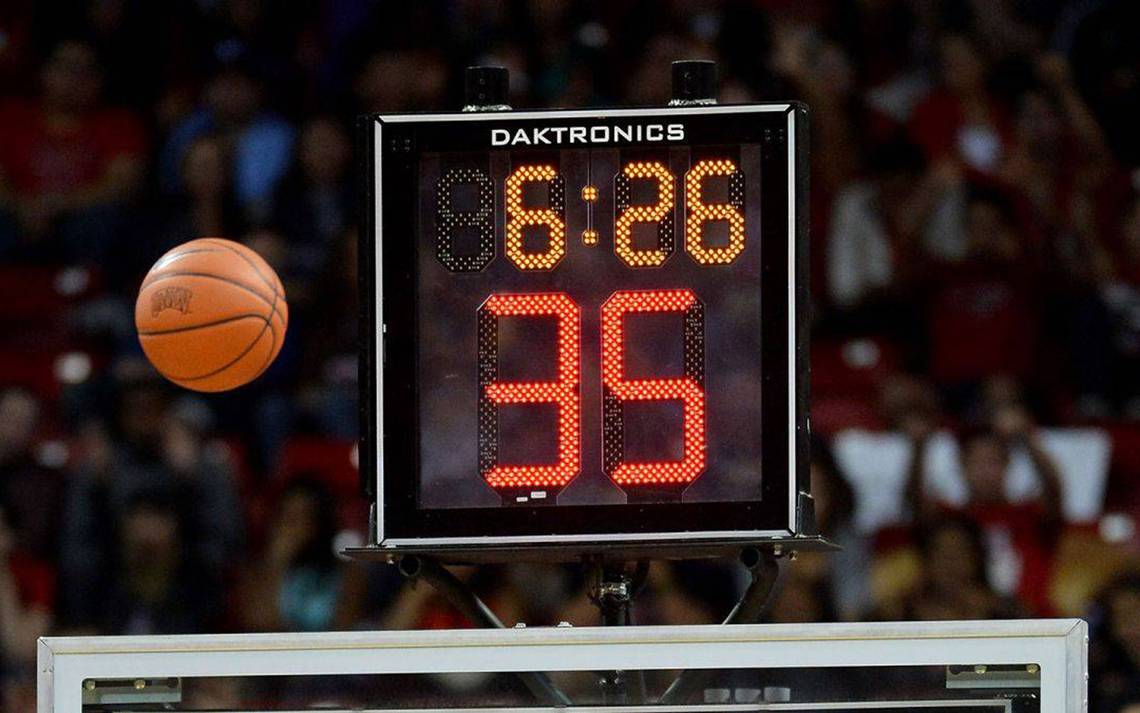 The shot clock could be coming to the AIA starting in the 2022-23 season.
That's what each of the AIA's six conference committees must decide on to make this happen. In Arizona, the conference committees determine what is best for its member schools. Each conference would need to make a proposal to the AIA's Executive Board for inclusion of the shot clock … if they want it.
Arizona could very well have some conferences with the shot clock and those without, which could make rule enforcement tricky. A school with the shot clock hosting an inter-conference game against a school that does not use one will operate with shot clock rules. And vice versa.
As previously released, the National Federation of State High School Associations (NFHS) Basketball Rules Committee voted to allow states to adopt its own rules regarding a shot clock starting with the 2022-23 school year. The rule that has been in place did not allow it to be used in sanctioned contests. And if a state used a shot clock, then its basketball representatives would not be able to take part in rules committee meetings. Now all states have an opportunity to come back to the table to help establish national standards.
"In national basketball rules conversations with states that have had it for years, they stated the amount of shot clock violations was negligible. Not more than one violation per game on average," said Brian Gessner, AIA Commissioner of Officials and NFHS Basketball Rules Committee member. "The compelling argument was that it was 'new and exciting' and could breathe new life into high school basketball."
The rule is going to be a 35-second clock. No more, no less. That's what the committee decided on. It's a number that works well with other mechanics of the game like timing for backcourt violations.
The AIA's office of officials collected about 100,000 data points over two years from the Visit Mesa tournament, which featured teams from Arizona as well as Nevada, New York, Utah, California and Washington. The folks running this tournament were given permission to operate with a shot clock as the games did not factor into AIA power points rankings. The data points were essentially the combined number of possessions over two tournaments that the group watched on film.
And the findings? Just under 16 seconds per possession.
This matches up similarly with the data the NFHS committee gathered as whole. Nationwide, the average possession in a boys game was 15.3 seconds and 15.8 seconds for the girls.
According to NCAA statistics, approximately 3.5-4 percent of all high school basketball players go on to play in college at any level, meaning an adoption of the shot clock will benefit a few hundred of the more than 14,800 participants in Arizona in a continuation of their careers.
In a survey sent out to AIA member school administrators and coaches during the 2019-20 school year, there was a disparity between the groups when it came to wanting the shot clock. Seventy-four percent of coaches said they were in favor, but just 54% of athletic directors gave the thumbs up.
"Our survey showed a want to, not a need to," Gessner said. "But it is going to generate some excitement and interest the first year, provided the conferences approve it. Some end-of-quarter possessions could create exceptional moments. People are going to talk about this."
Equipment purchase and installation will be one of the biggest factors for Arizona schools. Some schools already have a shot clock built into their existing scoreboard. But, in order for this to operate properly, a shot clock needs to be visible on both sides of the court. Schools can get creative in ways to display a pair of clocks. But a fully functional system can cost upwards of $5,000 before installation and labor can be factored into it.
And who knows what schools might find when they get into their floors, walls and rafters.
Gessner noted, "We'll be pretty accommodating as far as that goes. It needs to be visible, and it needs to have a unique sound. Ideally, we'd like it above the backboard with an LED ring around it. As schools update their equipment, or revitalize or renovate their gyms, I think they can go to some of that."
Another logistical hurdle is getting the right officiating crews on the court. While a game with a shot clock can be called with two officials, it's definitely optimal to have three out there. Training for both two-person and three-person crews is already being developed. But again, economics can factor into a school's decision to use two or three officials based on money available for gameday operations.
On top of officials, a dedicated and trained shot clock operator should be used at all times.
"There will be a learning curve for the officials, administrators, timers and coaches. I just hope any issues don't occur at the end of a game as opposed to the beginning of a game," Gessner added.
"As officials we're going to prepare and prepare and prepare, but inevitably there will be errors on the official's part or the timer's part. Anything and everything you can possibly think of will eventually go wrong. We'll be patient. Hopefully the schools will be patient too. We're going to prepare for this as best we can and then break some eggs."
Expect to see more of the shot clock at in-season tournaments and invitationals before it becomes a national allowance.
---