Queen Creek badminton puts up a fight but falls to Liberty
September 23, 2021 by Adriana Dopadre, Arizona State University
---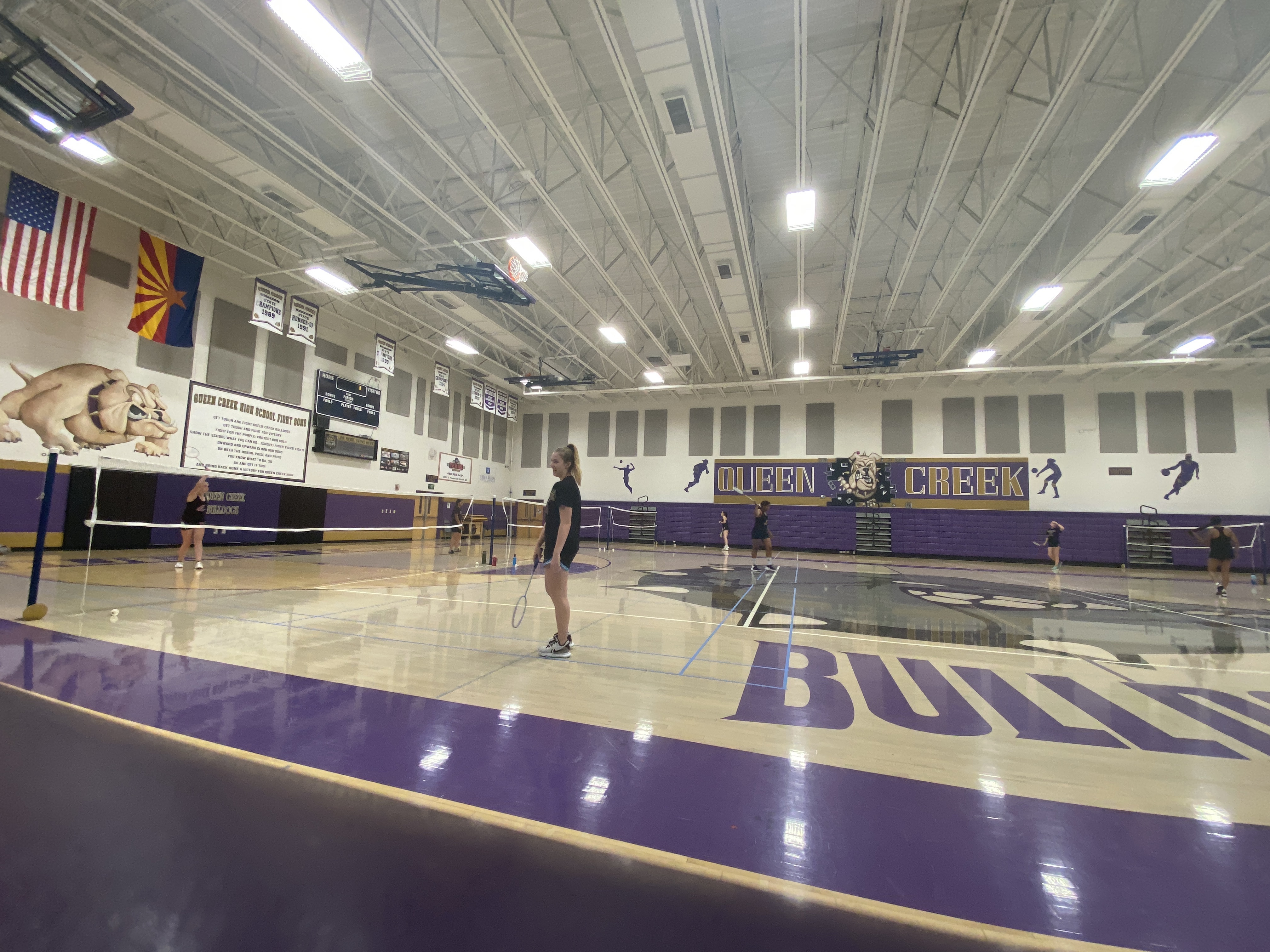 Adriana DoPadre is an ASU Cronkite School of Journalism student assigned to cover Queen Creek High School for AZPreps365.com
QUEEN CREEK — The Queen Creek Bulldogs fought hard against the Liberty Lions in Thursday night's badminton match-up, but fell two games short, with a final score of 6-3. The Lions outscored the Bulldogs, 397 to 378.
After last Wednesday's match scheduled against the Mesa Jackrabbits was canceled, the Bulldogs were eager to play.
"I think it hurt them," head coach of the Bulldogs Jason Rhone said, referring to the cancellation.
In a varsity singles match-up, Bulldog senior Raigan Peterson defeated Liberty senior Hannah Kublala, 21-8, 21-16. Her classmate Jaye Estrade beat Lion junior Hailey Connor 21-8, 20-22, 21-16.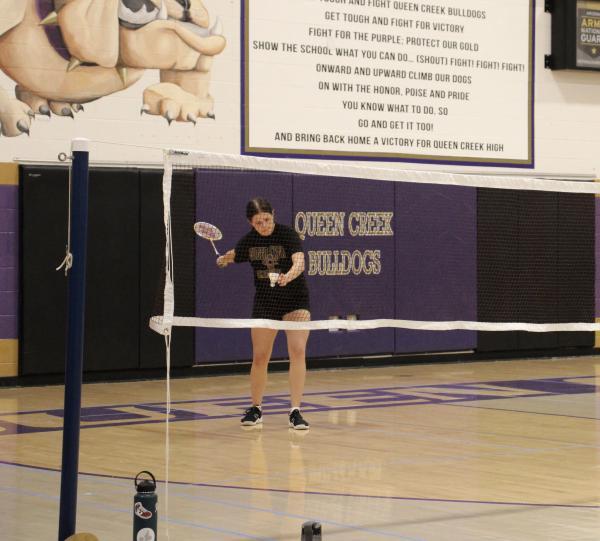 Raigan Peterson getting ready to serve in her singles matchup against Hanna Kublala (Adriana DoPadre/AZPreps365)
In varsity doubles, Queen Creek's Estrada and Kaia Turner defeated Liberty's Connor and Deeksha Aithal in two tightly contested games, 21-18, 21-18.
Estrade and Turner were ecstatic to find out they would be playing in doubles on Thursday's match-up.
"We've been asking Rhone to play us together, so now he plays us together," Turner said, "because we work best together."
"Rick and Morty till we win," is a phrase the girls kept repeating to themselves during the match. It's a reference to the song 'Rick and Morty' by the rapper Soulja Boy, which is part of a popular trend on the social media platform TikTok.
The Bulldogs trailed 4-2 entering their doubles match-ups, but were unable to rebound as they split one of two. Peterson and Lauren Ripley's doubles match went into a third game, but the girls couldn't survive a high-powered spike attack from Liberty, who would find their stride late in the game.
Coach Rhone has two rules for his team: The first being a reference from the movie Forever Strong: "Just don't do anything that embarrasses me, yourself, your family or your school." The second rule? "We don't sit in practice."
Coach Rhone wants his team to succeed and builds his team around how they practice. Rhone uses a ladder as a metaphor: the more you show up to practice, the more opportunities you have to move up.
"A lot of these kids are really good kids," Coach Rhone said. "They want to get better so that's why they are here, they want to be part of something."
And if they don't? Rhone has some seniors who play on the exhibition team that have the talent for varsity but because they don't show up to practice they don't play varsity.
The Bulldogs are set to play again on September 28 at 4:00 p.m., a rescheduled match against the Mesa Jackrabbits in Queen Creek.
---