Xavier volleyball feels the love of female sports from Gator community
October 11, 2021 by Olivia Dowell, Arizona State University
---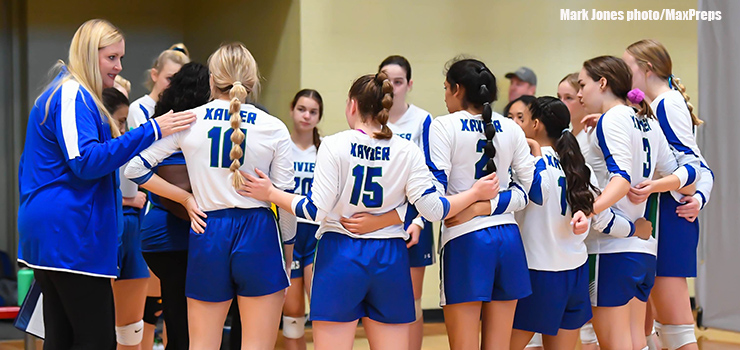 Olivia Dowell is an ASU Cronkite School of Journalism student assigned to cover Xavier College Prep for AZPreps365.com.
Beginning her volleyball career as a kindergartner and beginning to play club volleyball as a fourth-grader, Xavier College Prep senior and volleyball team captain Emma Soderstrom said volleyball was always the sport she enjoyed playing. Additionally, she said playing volleyball for the Gators as a woman in a sport has been impactful on her whole athletic career due to her school itself and her coaching staff.
"At Xavier specifically, there's lots of support around female sports," Soderstrom said. "I know some of my friends who go to co-ed schools don't experience the same level of support that Xavier gives us."
Head XCP volleyball coach Lamar-Renee Bryant, who also works in the finance office at the school, has been with the Gators volleyball program for 16 years. She initially began at Xavier by connecting with one of her best friends, who had been working with the volleyball program at the time and helped Bryant become a junior varsity coach. Bryant was then promoted to the position of head coach on varsity eight years ago.
Playing on varsity since she was a sophomore, senior setter and team captain Alexa Shiner said she also had Bryant as her club coach as well and that she has had a huge impact on her career.
"She gave me the chance to run a 5-1 offense, and along with that, she taught me how to be a leader both on and off the court," Shiner said. "I have been more vocal and confident with her help."
Though XCP is a female-only school, Bryant said the differences in XCP versus a co-ed school are that the academic side of it being a college preparatory academy is more significant than the athletics side.
"Being a coach at a school that's all women is not very different than coaching at a two-sex school," Bryant said. "However, coaching at an academic elite school, that's where we should have a higher moral compass as well as making sure students are taking care of things in the classroom."
As an athlete who competes at various schools within the greater Phoenix area, Soderstrom said she has noticed the differences between the attention boys sports get versus girls sports, even as young as the high school level of athletics is in comparison to professional sports.
"A lot of focus and funding goes to the male sports, it's just all around," Soderstrom said. "So I really just want to see a change where there's actually a genuine interest in female sports, not just like saying there's interest."
Bryant said the increase in support for women's sports over the years has been impactful and hopes to continue to see a push for more equality in women's sports.
"I want women to have an equal seat at the table and make sure they're being given the same resources," Bryant said. "Females in women's sports are definitely important, I think they're important for young women to see as role models."
---