Northwest Christian football falls in home opener, 44-12, to ALA Queen Creek
September 25, 2021 by Jonah Krell, Arizona State University
---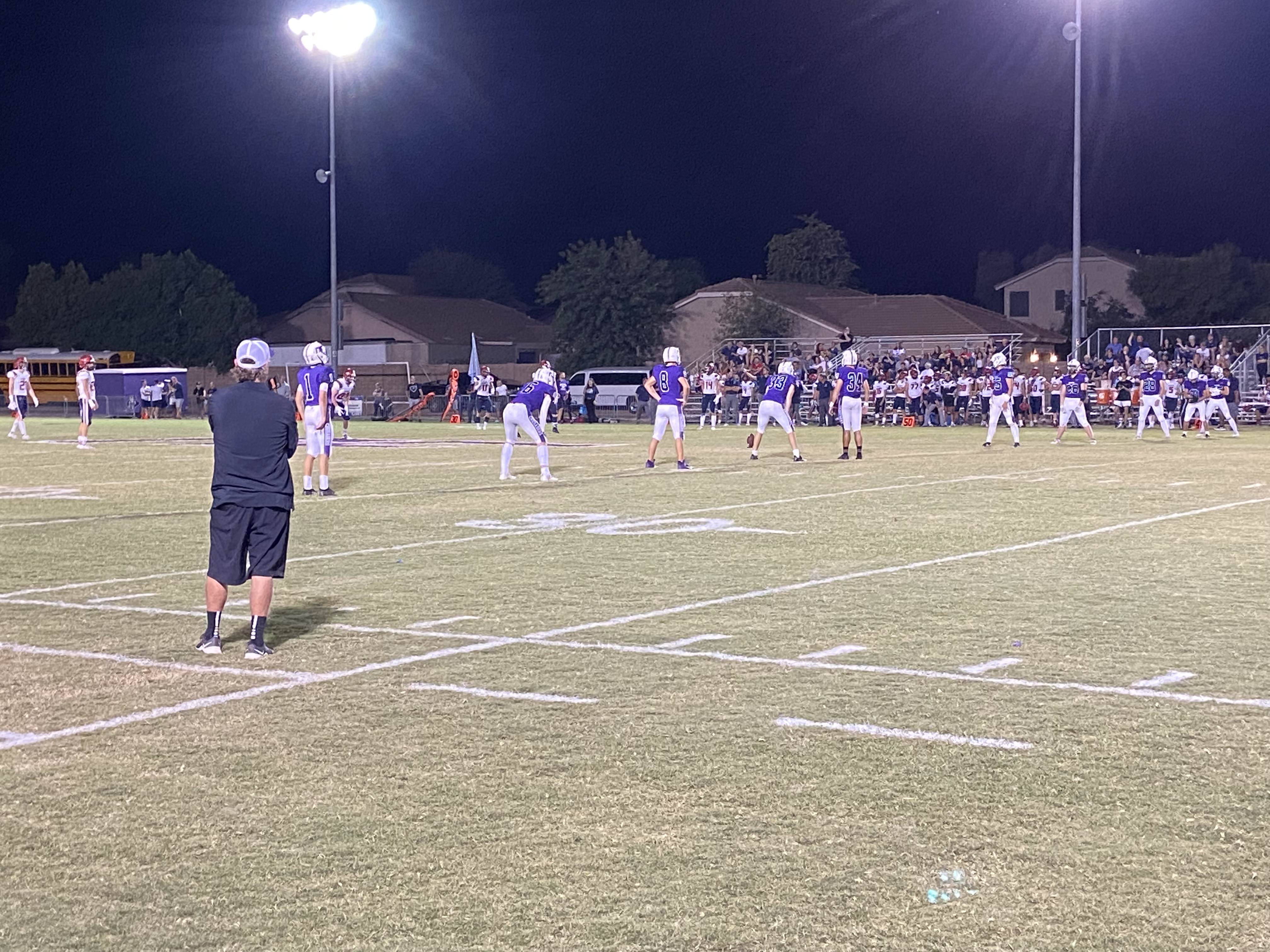 Jonah Krell is an ASU Cronkite School of Journalism student assigned to cover Northwest Christian High School for AZPreps365.com.
For several years, Northwest Christian football has preached heart and effort as their mantra, according to sophomore Kyler Thruston. In a game in which junior quarterback Judah Huisman was pulled just hours before facing a top opponent, that mantra had to be on the Crusaders' minds Friday.
The night ended in a 44-12 defeat to American Leadership Academy Queen Creek (3-1, 3-0 4A Desert Sky), with Patriots quarterback Logan Hubler leading the team with five total touchdowns. Junior running back Mitch Jensen also had a strong first-half performance with 97 yards and a touchdown.
The Patriots had their way with the Crusader defense in the first half, with Hubler mowing down Northwest Christian's pass coverage and Jensen's 185-pound frame being hard to bring down. By halftime, the score was 37-0 in favor of ALA.
The Crusaders (1-3, 1-2 4A West Valley) were at a disadvantage offensively with the late switch at quarterback. Head coach David Inness made the decision to start sophomore Logan Fagerlie — who was called up from the JV team to make his first varsity start — and wanted to play it safe with his talented starter.
"I want him [for] the rest of the season," Inness said. "I didn't want to blow him out here. … He competes one way, so I made the decision and he was fine with it."
Inness said he was "throwing a 14-year-old in the fire," and that became clear early on. Fagerlie struggled in the first half, not converting a single first down, throwing one completed pass and an interception.
"It was just some nerves in the first half and then just shaking it off," Fagerlie said. "It's a lot faster in varsity, so I guess that was the main thing."
With a lopsided score, the effort that Northwest Christian prides itself on was called into question by Inness at halftime.
"I don't care about [the] scoreboard," Inness said. "I've been doing this a long time. … I'm not worried about the end result, I'm just worried about us — are we playing hard or are we not playing hard? And we weren't playing hard, so I challenged them [in the] second half.
"I don't care who was in the game for them, I don't care what they were running. We played hard. I played more young guys, too."
The change in effort was clearly present in the second half, with the Crusaders holding ALA to seven second-half points.
The Crusaders offense also loosened up, converting first downs with Fagerlie looking downfield to his receivers. On Northwest Christian's second drive of the half, senior running back Grant Gibson rushed seven times on a methodical 13-play drive that ended in Fagerlie punching in the Crusaders' first score from 1 yard out.
Fagerlie's first successful drive also featured a 33-yard deep ball to Thruston to set the Crusaders up in the red zone. Thruston's reception added to his highlight reel of jump-ball style catches made in tight coverage this season. This time, he was able to do it in front of his first varsity home crowd.
"Jumping up for that ball, coming down with it and looking over to the stands," Thruston said. "Everyone's going crazy. It was just so fun to watch and just be a part of. I just can't wait to keep doing it more in the future."
Thruston, who has developed a solid rapport with Huisman to start the season, praised Fagerlie considering the circumstances.
"Logan played great in my opinion for such a late-minute decision," Thruston said. "He did the best he could. [It] probably wasn't the best outcome he wanted but that's as much as we can ask for from our second-string quarterback who doesn't get very many reps in games and that's the first time he's played. … Just kudos to him for putting in work behind the scenes."
Gibson also paced the Crusaders with 13 carries for 50 yards and a touchdown, with Inness saying they were able to get him running downhill.
With this game serving as a learning experience for the young Crusaders, they will perhaps need to grow up fast considering their next challenge is Yuma Catholic (4-1, 3-1 3A West), which has outscored its opponents 209-25 this year. For Northwest Christian, preparation comes as early as the next day and the answer again lies in living up to its wise mantra.
"We've got to be able to run the ball on Yuma and play great defense," Inness said. "We'll be doing a walk-through on Yuma at 8 o'clock in the morning. Our boys, we're excited about getting ready to challenge Yuma. … But again, we've got to teach these guys how to play hard."
---