Notes from the North: Early Small School Seedings reviewed for football, volleyball
September 30, 2021 by George Werner, AZPreps365
---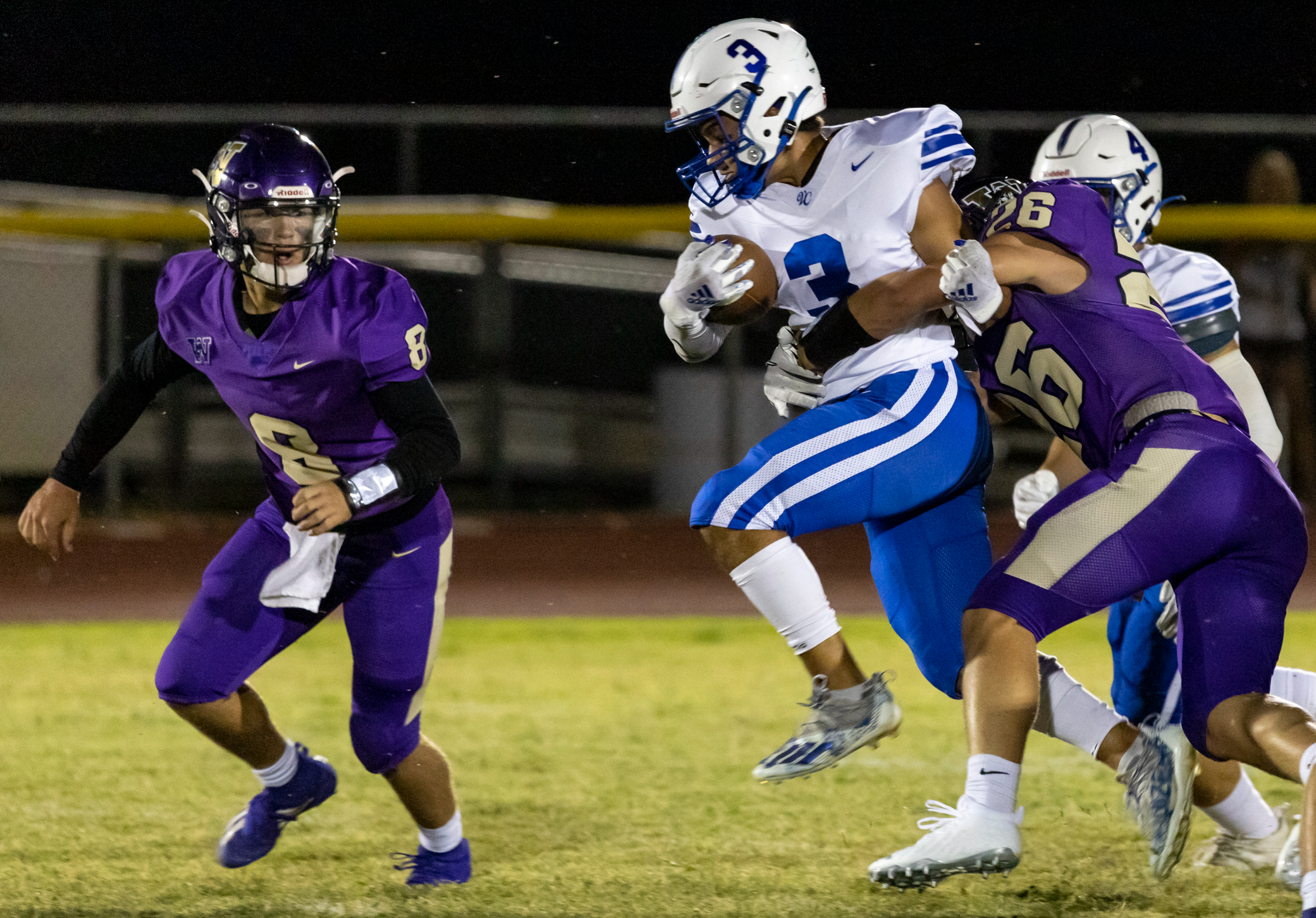 Pencils down, faithful readers! You have seen my early projections for which Northern Arizona teams are going to the football and volleyball postseason tournaments in the 1A through 3A conferences.
Now, as most of these programs enter region play, the Arizona Interscholastic Association's football and volleyball power rankings have debuted. Let's hold a mirror up to those, compare with the projections and see what work these programs have left to do to challenge for a state title.
All potential postseason seeds were projected last week, from Nos. 1 to 16. An asterisk (*) indicates an automatic bid, meaning the starred team is projected to win its region title. Included in brackets are each Northern Arizona team's overall won-loss records, followed by any region records.
I am not including candidates for 2A play-in berths, though you are welcome to send me your feedback on those Nos. 17 to 24 seeds. All records and rankings have been updated as of Wednesday, Sept. 29.
Remember, I have no "insider" information or other secret knowledge of the power rankings. I do, though, get them two hours early. You can, too--simply download the AZPreps365 Live! app on your phone. Each Tuesday through Friday, at 10 a.m., hit the AIA icon at the top of the app then, right below the Top Stories, select "Rankings," then your desired sport. The updated postseason seeds will be available to you two hours early!
Snowflake, Monument Valley stay Top 5, while Mogollon volleyball moves up
My Small School Seedings compare favorably in the 1A and 3A conferences with the Sept. 29 power rankings, topped by 3A power Snowflake.
Heading into a key North Region matchup Saturday, Oct. 2, at Whiteriver Alchesay, Monument Valley hasn't dropped a set through its first seven 3A matches thus far. The competition faced by 8-0 Snowflake, and the three one-loss schools ahead of the Mustangs, has been just better enough to keep head coach Rennell Gilmore's girls ranked fifth.
Closing in fast on 1A's top-ranked volleyball program, Tempe Prep, are both Mogollon and Rock Point high schools, a combined 13-0 in conference play to round out the top three.
My projected 2A runner-up in Sedona, however, Red Rock High School, could only muster a set win in losses to Tuba City and Desert Heights Prep. These first two losses of the season, combined with a mysterious tie Tuesday, Sept. 28, with Central Region rival Scottsdale Prep, dropped the Scorpions to eighth.
Here's how the other power rankings stack up against my Northern Arizona seedings:
1A
2. Mogollon [7-0, 5-0]*: The Mustangs, rally winners Sept. 10 at the San Tan Roadrunner Invite over larger programs Apollo High School and American Leadership Academy - Ironwood, win 3-1 at Joseph City to move up from third in my seedings. Senior middle blocker Paige Parry remains the conference's top hitter through 2A top team Chandler Prep's Epic Tourneys Invite, which the Mustangs played in Friday and Saturday, Sept. 24 and 25, at Arizona State University. Junior Ellie Hancock and senior Tylinn Mclaws rank seventh and eighth, respectively, in 1A kills, with Hancock adding 99 assists and 23 aces. Senior libero Brooke Valdez's 124 digs rank eighth in the conference...
3. Rock Point [6-0, 1-0]*: Head Coach Kyle Arthur's Cougars have won tiebreakers at Joseph City and Williams to find themselves in the top three. They will return Friday, Oct. 8, to face their first North Region victim Red Mesa High School again, among other competitors, in the two-day Joseph City Invitational. Senior middle hitter Tamira John had eight kills, eight digs, five aces and three blocks in her first win over the Redskins, while outside hitter Arianne Begay led the team with 21 kills and fellow junior Sasha Chee added eight blocks and five aces...
5. Joseph City [6-3, 5-2]: The Wildcats were up a set on Mogollon before dropping three in a row to their current Central Region superior. Routs of Mayer and Ash Fork, however, fueled a meteoric rise of seven spots from my Small School Seedings. Junior Kadence Armstrong and sophomore Ajhana Tagler are Nos. 1 and 2 in 1A blocks, respectively, with a combined 47. Three of their next four matches will be winnable region play, on the road, before returning home to host a two-day invitational against teams as large as Alchesay. After that, the team's next match will be 9 a.m. Friday, Oct. 15, against Tucson's Cholla High as part of another tournament, the Gopher Get Down at Florence...
9. St. Michael [5-3, 4-0]: Although the Cardinals are ranked a seed higher than in my projections, they haven't had a chance to advance on Rock Point, much less played a non-tournament match, since Saturday, Sept. 18. Piñon at home will help Thursday, Sept. 30, but region play won't resume for head coach Reynalda Terry until Tuesday, Oct. 5, with a doubleheader at Red Mesa. In fact, after Saturday, Oct. 9, and the end of the Joseph City Invitational, St. Michael will only have three regular-season opponents remaining, all in doubleheaders...
11. Williams [5-4, 4-1]: The Vikings moved up five spots from my projected final 1A playoff seed, gaining valuable Central Region ground with sweeps of Seligman and Mayer at home as well as at Grand Canyon, while a Tuesday, Sept. 28 match with Basis Flagstaff is still pending. Head Coach Connie Stevens has marshaled a rebound from an 0-3 start to a sweep through the Spartan Classic at Ash Fork, losing just two sets in rally play Sept. 10 and 11, both to larger schools: Camp Verde and Florence. The Vikings also held their own against larger schools Sept. 17 and 18 at Payson's Invitational and will join Joseph City, their only regional loss, at the Gopher Get Down...
12. Red Mesa [2-1, 0-1]: A surprise entry that I projected to miss the postseason entirely, head coach Henrietta Haven's Redskins have managed, in spite of losing their regional opener at Rock Point, to navigate several COVID-19 cancellations to beat larger Rez rivals Chinle and Hopi. The question becomes: Can the girls continue to be successful at their one tournament, the Joseph City Invitational, as well as against the remainder of their regular-season opponents, all but two of which are doubleheaders? A home rematch with the fifth-ranked Cougars awaits Tuesday, Oct. 26...
2A
7. Sedona Red Rock [8-2, 4-1]*: If head coach John Parks or anybody else can resolve the Sept. 28 match with this team, please contact me. Tiebreakers are played to avoid such a result, which, if positive, would halt the Scorpions' two-match slide since their only tiebreaker of the season Sept. 20, a 3-2 win over Glendale Prep. Otherwise, the Scorpions need a Thursday, Sept. 29, home rematch with the Griffins to get back in the Central Region saddle again. Second-ranked Scottsdale Christian Academy follows at home Monday, Oct. 4, prior to a six-match regional stretch run...
11. Kingman Academy [6-2, 2-2]: Setter Maliah Gardner's 91 assists, 60 digs and 40 kills lead the Tigers, along with outside hitter Kirsta Thomson's 46 kills and 21 aces. Those statistics, along with the fact that unbeaten West Region leader Trivium Prep is ranked third, are the primary reasons the Tigers remain a solid postseason "in" despite being shut out at home Thursday, Sept. 23, by the Crimson Knights,. In that sense, it has been either feast or famine for head coach Annette McCord's team, which has lost just four other sets in non-tournament play and was initially projected as my No. 16 seed...
15. Round Valley [6-2, 4-0]: After a 1-2 start, the Elks, winners of their last five matches, have run away and hidden from the rest of the North Region. Junior libero Riann Cluff is Top Ten in 2A with 160 digs, including 41 in a four-game thriller over No. 17 Ganado, first projected as a No. 5 seed and region winner. Senior setter Shiloh McCall added 28 assists and seven aces to eke the Hornets, 27-25, for the match, the only one in region play that hasn't been a shutout for the Elks. No other North team is a win away from catching up to head coach Marcelle Donaldson's Elks, who need to keep the heat up heading into Ganado for their Tuesday, Oct. 12, rematch...
3A
1. Snowflake [8-0, 2-0]*: The Lobos have not only not lost a step under new head coach Jamie Robinson, they haven't even lost a match. That includes their home "Be Like NAT" tournament, in which they shut out all seven of their opponents in rally play Sept. 17 and 18. In fact, since edging American Leadership Academy - Gilbert North in its season-opening tiebreaker, 19-0 Snowflake has lost just two sets all season, both at ASU's Epic Tourneys Invite, to Cactus and Williams Field high schools. If all that wasn't terrifying enough, the Lobos are young and still growing. Senior outside hitter Macee LeSueur is fourth in the conference in kills with 158, but their leaders in overall hitting percentage and assists, middle blocker Macey Gardner and setter Braxton Jones, are both sophomores. They are both Top Five in 3A in those categories...
5. Monument Valley [7-0, 2-0]*: Unless No. 8 Tuba City can mount an October Surprise in their two upcoming matches, the North Region still belongs to the Mustangs, flawless in conference game play this fall. Middle hitter Kristy Denetsosie had 22 assists, 10 digs and two aces to shut out Page, while fellow senior Shree Yazzie led the Mustangs in kills with nine, adding three aces. Mark on your calendar the Mustangs' Saturday, Oct. 23, home tilt at 2 p.m. with top-ranked Snowflake...
8. Tuba City [4-3]: Only North Region play can determine whether head coach Brittney Laughter's Warriors, who emerged from Freedom and tournament play 7-8 overall, are truly the last 3A team worthy of hosting a first-round playoff match, or whether they are more of a nomadic No. 13 seed. Unfortunately, that doesn't begin until Tuesday, Oct. 5, when Tuba City hosts fifth-ranked Monument Valley. The AIA took into account the fact that a disproportionate amount of Laughter's losses--three total, two in conference play--were to top-ranked Snowflake. The other loss, at No. 9, Winslow, was by a 15-12 tiebreaker despite 11 kills and 16 digs by Ellyce Begay, 24 assists and 11 digs from Asia Sixkiller, 19 digs by Alaina Dugi, and nine aces by Lyrissa George--all juniors...
9. Winslow [7-2, 0-1]: Just one seed higher than I projected, head coach Julie Thomas' team may be heading back down to that No. 10 ranking--if not further, if it drops its second straight match Sept. 29 at home against No. 1 Snowflake. Then the East Region will be wide open for that final home seed, regardless of whether or not sophomore Jaci Gonnie and junior Shaelene Singer are two of the state's top 10 ace servers, or if senior Kylie Begay and junior Brynlee Barris are each second in 3A in digs and blocks, respectively. Although the Bulldogs are 16-7-1 overall and took surprising Blue Ridge all the way to 20 points in their tiebreaker before losing, they have also dropped sets to Ganado, Page and 1A St. Michael before rallying to win those matches...
12. Blue Ridge [4-2, 1-0]: Props to head coach Ryan Fergen's Yellow Jackets for going from off my postseason radar entirely to a potential first round host seed in the postseason--and proving, in the process, just how deep the East Region really is this fall. Sept. 11, at the Ceil Billings Tournament at Greenway High School, Blue Ridge managed to down 4A Washington High School before succumbing to similar large schools in its other three matches. Already, three juniors are separating themselves as varsity leaders: setter Sarah Miles has 178 assists, Anna Berges is Top 10 in 3A with 126 kills, and fellow outside hitter Hanna Carlson leads the team with 118 digs...
15. Show Low [5-3, 1-1]: The other East Region surprise--sorry, No. 22 Payson [4-3, 0-1], not yet--head coach Melissa Brimhall's Cougars are 17-10-1 overall. Their only 3A losses were Tuesday, Sept. 28, at top-ranked Snowflake, as well as two early Freedom matches, including a 16-14 tiebreaker Sept. 16 to Chino Valley--another group of Cougars [5-4, 1-0 North Central] I project to be much higher than their current No. 19 ranking. Junior Halle Gibbens had 16 kills and 13 digs in the loss, while sophomore Allie Garvin added 13 digs of her own to go with 17 assists. With in-season tournament wins over Winslow and 4A Lee Williams, if senior defensive specialist Tyann Wallentine can start catching up to junior libero Hanna Buchholz in aces, Show Low will be a tough out for any team on the rest of its schedule.
Parker shoots atop 2A rankings, while Round Valley runs to No. 3 in 3A
Credit where credit is due: Both Parker and Round Valley high schools were major surprises, considering my Small School Seedings.
The Elks were a hedged bet at No. 10 after losing head coach Marcus Bell as well as their starting quarterback and several key linemen to graduation. But running back Seth Wiltbank remains one of the state's most explosive running backs; another senior, wideout Jovan Ortiz, averages over 63 kick return yards a night; a Top 10 conference passer has been discovered in sophomore Ryker Marble; and junior kicker Kevin Flores leads Arizona in kickoff yardage as well as extra points.
I underestimated, at No. 8, Parker--or, to be more accurate, top-ranked Parker's competition. Head coach Jeston Lotts' offense averaged 45 points per game in its first four wins, including a Sept. 10 overtime classic at 3A contender Wickenburg. Barely in my coverage area, Parker's initial projection was overly-based on the unspectacular records of its other three opponents. Fortunately, my Phoenix-area colleagues are a closer drive to the Broncs' home stadium than I would be. Multimedia contributor Jose Garcia will be even closer Friday, Oct. 1, when he visits second-ranked Arizona Lutheran Academy to see if the reports about the Broncs' big, physical lines are true.
Otherwise, though, top-ranked Mogollon and new 3A dark horse River Valley have paced pretty accurate projections. Northern Arizona programs dominate the top half of the 1A rankings, with head coach Rick Samon's defending champions in Heber proving to be untouchable atop the 12 seeds. River Valley's West Region is one of the most loaded in 3A--certainly comparable with the depth of the Metro East. Here is how the rest of Northern Arizona's small schools stacked up in the AIA's power rankings:
1A (8-man)
1. Mogollon [6-0, 2-0]*: Senior Cael Porter may be Arizona's best two-way player, leading the state with 10 interceptions, while scoring as many touchdowns as the team's starting quarterback to tie four other 1A players in the category's top five. His 1,216 yards of total offense is also Top Five in the conference, and his 76 points this season would also be fifth in 1A, had his twin brother Malaki not scored 12 more. Fifth-ranked St. David, in the first half of a 48-26 loss, is the only opponent to score more than six points, while the Porter-powered offense has averaged virtually 54 points per game. So the disparity between Samon's family of players and the other 11 postseason contenders is real--not a COVID-19 manipulation--and may not close at all this fall if 1A runner-up Williams cannot overcome a Friday, Oct. 8, trip to Heber. No. 13 Fredonia [1-3, 0-2] will be fighting for a win and its postseason life the week prior...
2. Mohave Accelerated Learning Center [4-0, 2-0]*: If Cael Porter was not playing high school football this fall, Aden Honegger would be the odds-on favorite to be Arizona's best two-way football player. The senior leads the state in receiving with 760 yards, is second in the state in touchdowns, tied for second in interceptions with seven, and is two touchdowns and two-point conversions away from leading the state in scoring. The Patriots, despite a Thursday, Sept. 23, cancellation of its game with new Wittmann high school Mountainside, are still a safe bet to take the West Region based on an offense averaging virtually 69 points in each of its first four contests behind the cannon of 6-foot, 2-inch, 215-pound quarterback Kelden Holmes. The upperclassman's 1,290 yards passing is fourth in the state; Holmes is just 18 total yards of offense shy of leading 1A in that category. Although head coach Adam Gibson's defense allows three full touchdowns per game, two seniors give him an edge in the kicking game: Owen Davis and Bobby Sanchez. Davis is second in 1A in average kickoff return yardage, while Sanchez is the conference's second-highest scoring kicker...
4. Williams [5-1, 2-0]: The closest any opponent has come to beating Mogollon since 2019 was the Vikings' 38-30 loss in last year's 1A title game. They will probably need at least a couple more touchdowns and two-point conversions Oct. 8 to have a chance this season. If so, junior running back Drew Logan is ready. Logan, who is also the Vikings' kicker, is third in the state in kickoff yards, fourth in the state in rushing with 906 yards and tied for fifth among the state's leading scorers with 94 points. He is also one of the top five punters in the conference, and junior Kevin Nunez is second-best in 1A at returning them. Sophomore quarterback Tyler Jensen and senior defensive end Preston Ford are also Top Ten in passing and sacks, respectively, but Mogollon will no doubt be analyzing Williams' 36-16 home loss Aug. 27 to Nevada's Pahranagat Valley High School for any edge...
6. El Capitan [4-1, 2-1]: It only takes one blowout loss to Mogollon for any 1A North rival to need to reset. Up to that 58-6 home defeat Friday, Sept. 24, the Eagles, at a clip of 51 points per game, had been outscoring its first four opponents. Unfortunately, head coach Mitch Jessop has just one more day before his offense has to face an even higher-powered one Thursday, Sept. 30, at Mohave Accelerated. Still, sophomore quarterback Zedakye White is sixth in 1A in both passing and total offense, at 1,050 yards. His favorite target, senior Giovanni Broadbent, has 400 yards receiving and other 90 in punt and kickoff returns, putting him among 1A's Top 10 in both categories. Senior Isaiah Bradshaw's 10 touchdowns and 464 yards rushing, making him one of the top seven rushers and scorers in the conference, can also keep the Eagles in the game...
8. Salome [4-1, 2-0]: Although riding a resurgent wave of late, head coach Bryan McCarty's Frogs can't yet shake a 32-12 season-opening loss at Hayden High School. Since then, his offense has outscored his four victims 208-56, but that won't be enough to move into the upper half of postseason seeds, as originally projected. Juniors Alvaro Alvarez and Kevin Castillo make their presences known, ranking among the conference Top Five in rushing yards and touchdowns and Top 10 in scoring and sacks. But it will take a team of such efforts in their regular-season finale Friday, Oct. 15, to topple West Region leader Mohave Accelerated...
9. Bagdad [3-3, 2-1]: Six days prior to that game, Salome will travel to play the Sultans, performing above expectations after an 80-22 blowout of the Phoenix Day School for the Deaf. Regardless of that result, however, ninth may be where head coach Dalton Mills' team may end up, as his defense has been torched for at least 60 points in each of its three losses. Mills can boast one of the top three kickoff returners in the state, though, in Cooper Williams, while another upperclassman, Connor Watson, can explode anytime on punt returns, averaging a conference-best 49 yards per night.
2A
1. Parker [4-0]*: The Broncs got the AIA's attention with a 40-0 road shutout of playoff challenger Antelope Union High School. They will get the state's attention with a similar win at undefeated, second-ranked Arizona Lutheran Academy. But it won't be until Friday, Oct. 8, at Camp Verde, that the Broncs can start winning the games that matter in the Agua Fria Region. Falling short of such a triple crown, however, could move the Broncs back to their original projected ranking. Senior linebacker Ethan Sale's 31 tackles seek to ensure that won't happen defensively, at least, with two of junior Gage Honomichi's 20 tackles sacks, and two others caused fumbles. Although sophomore quarterback Zachary Bennett has completed all nine of his passes to three different receivers for five Bronc touchdowns, Lotts' offense powers to points. Two of his running backs, upperclassmen Cameron Poole and Anthony Taylor, have split 950 rushing yards practically evenly this season, each scoring seven touchdowns. Another senior running back, Joe Martinez, has added three touchdowns and 326 yards on the ground...
6. Holbrook [4-1]: The 2A Conference's secondary surprise, the Roadrunners emerged from obscurity after a 49-0 home demolition of Pinon. But to stay there, head coach Chris Starkey will need a decisive victory in his Little Colorado Region opener Friday, Oct. 1, at 12th-ranked Alchesay. It will be all or nothing then for junior quarterback Marcus Oberriter, third in the conference in both passing and total yards, with 1,144. His favorite target is junior Izzy Ramos, top six in 2A in receiving, touchdowns and scoring. While senior Caden Tom's five sacks are among the conference's best, Starkey's secret weapon may be junior punt and kickoff returner Daniel Montijo. Just five yards away from leading the conference in total return yardage, Montijo averages over 50 yards a game, far and away first among all 2A punt returners...
11. Camp Verde [4-1]: With their Agua Fria Region opener Friday, Oct. 1, at Kingman Academy, head coach Rick Walsworth's Cowboys cannot afford to look ahead to Agua Fria leader Parker at home on the following Friday. After scoring six points through their first four games, the Tigers' confidence was renewed after their first victory of the season, 54-14 at home over Madison Highland. Although Camp Verde has scored 40 or more points in four of their five non-region games, the other game was an eight-point egg laid at sixth-ranked Holbrook. "They caught us with our head held too high" after their season-opening win, senior quarterback Jacob Oothoudt said after a 60-22 home win over 3A Page. Oothoudt cannot afford to lead his offense back into such a trap and must keep distributing the football to a diverse array of slotbacks and wideouts, including seniors Matt Loza and Top 10 2A rusher Kayden Boggess. Defensively, the Cowboys and their leading tackler Oothoudt must continue to blitz, force fumbles and step in front of receivers for key interceptions like sophomore Chris Sanabria did for a 37-yard pick-six against the Sand Devils...
12. Alchesay [3-1, 1-0]*: After allowing just six points in their first three games, the Falcons fell out of their lofty projected third seed after letting Miami's quarterback score five touchdowns and convert five two-point plays, all of which were needed in the 46-44 road loss. Senior Kakoa Upton, 2A's seventh-leading rusher, countered with six touchdowns on the ground to tie for fourth in 1A with 76 points on the season. Better news for head coach Brandon Newcomb: He can recover the Little Colorado Region lead and turn the tables on No. 6 Holbrook with a home win Friday, Oct. 1. While junior defensive back Leon Fall is among the conference Top 10 in interceptions and punt return yardage, Alchesay cannot afford to get into a second straight shootout with the Roadrunners, who have bigger offensive weapons. Otherwise, just two region games remain, and No. 17 St. Johns [2-3] will either have nothing to lose or be fighting for its postseason lives Friday, Oct. 29, in their season finale on the Falcons' Senior Night...
3A
3. Round Valley [5-0]: The Elks remain in third place in the East Region and are not projected to take its automatic postseason bid, despite shooting into the 3A top three after a 56-13 home win over North Region leader Monument Valley [3-2]--suddenly one of the last teams out of the playoffs at No. 18. Such is the incredible depth of small-school football in the White Mountains, in which both Show Low and Snowflake can be lower than Round Valley in the power rankings yet higher in the East Region standings. But if the Elks win the first of their season-ending run of five region games Oct. 1 at Payson, that imbalance will right itself quickly. For all of head coach Brad Baca's playmakers the Longhorns will key on, his defense will need to continue to limit Payson, as a team, to the Elks' season average of less than 10 points allowed per game.
4. River Valley [5-0]*: With an Oct. 1 win in their West Region opener at 16th-ranked Wickenburg, head coach Jonathan Clark will have the inside track to surmount eighth-ranked Yuma Catholic on Friday, Oct. 15, toppling not only the Shamrocks but the rest of 3A's second-toughest region, at least. Since emerging victorious from home shootouts over 3A playoff challengers Eastmark High School and Arizona College Prep, River Valley has shut out its past three opponents 157-0. Six-foot, two-inch, 230-pound senior lineman Michael Dulin has led the charge, splitting more than 10 sacks with junior Jake Purdy, while senior defensive back Gage Solano's five interceptions lead the conference. Of course, the toughest task for opposing defenses is how they can stop stop the state rushing, scoring and touchdown leader, senior Zach Hammett, who is on pace to rush for more than 4,000 yards in his Dust Devil career.
6. Show Low [5-0, 1-0]: First-year head coach Carlo Hernandez has not needed as much time as projected to build a state championship contender, putting his first five opponents to rout, 222-20. He has built senior Colten Yeager, Top 10 in 3A in three different punting, passing and kicking categories, into a true triple threat. Yeager also ran for a touchdown and even blocked a punt Friday, Sept. 24, in a 28-13 win at Winslow. While juniors Cutter Pepper and Colten Cloyd combined for 16 tackles and two sacks against the Bulldogs, Hernandez's best all-purpose player was junior Ryan Kishbaugh--who, along with sophomore Nash Brewer, form two of 3A's Top 10 punt returners. At Winslow, Kishbaugh ran, received, returned punts and kickoffs for a total of 231 yards. But the toughest part of Hernandez's rookie season awaits Oct. 8, when his East Region leaders begin a four-game gauntlet of rivals--three of which, helpfully, will be at home--against Round Valley.
5. Snowflake [4-1, 1-0]*: Although the defending state champions fell back a couple of spots from their projected fifth seed, they aren't going anywhere. Unlike, unfortunately, the Lobos' former Oct. 1 opponent Coconino, which cannot afford any more than two more COVID-19 cancellations after forcing the Lobos to play at Peoria instead. Head Coach Kay Solomon will continue to challenge his defense, which rebounded from allowing 38 points in a season-opening loss at top-ranked Valley Christian to allow just six points over its next three wins. Quarterback Caden Cantrell continues to pass his Lobos to a rock steady eighth in the conference, at over 1,200 yards. Fellow upperclassman Jacob Wagner has split 12 sacks evenly along the defensive line with junior Jordan Mowers. Solomon can also rely on one of the state's best combination kicker-punters in senior Samuel Crockett, who has only missed two field goals this fall and whose longest make is from 47 yards out...
11. Winslow [3-1, 0-1]: Heading into their final Freedom test Thursday, Sept. 30, at 4A Grand Canyon Region leader Flagstaff, head coach Brandon Guzman's team has won largely on grit. The explosive speed of senior Micah Johnson, a top three 3A returner of kickoffs and punts, has also been directly responsible for at least one Bulldog victory: the Aug. 27 season opener at Monument Valley. If Guzman cannot get more offensive playmakers involved than his three key seniors--Johnson, quarterback Jace Lyons and running back Chris Arellano--were in the region-opening loss at Show Low, grit will have to be responsible for any more wins the remainder of the schedule, the deadly, unpredictable gauntlet that is the final month of East Region play. Besides Arellano, Johnson and Lyons, who added 21 tackles, two interceptions and a fumble recovery, the Winslow offense gained just 83 total yards Sept. 24...
13. Payson [4-1]: The emergence of junior quarterback Dexter Waterman has made the Longhorns yet another threat in 3A's deepest region, the East. But Friday, Oct. 1, let the gauntlet begin against Round Valley. Senior Hunter Stanfield, who leads the team with 44 tackles and five-and-a-half sacks, will be key to the Longhorns' defensive effort, while good field position provided by kickoff returners like top-four junior Wyatt Ashton, will be critical. Although head coach Bryan Burke's defense has allowed just over 10 points per game, a Sept. 3 loss in Mesa at 17th-ranked Eastmark High School hurt the Longhorns' postseason margin of error over the next month--which has been reduced to two more losses, maximum...
14. Mohave [3-2, 0-1]: For the Thunderbirds, this postseason-eligible ranking is a brief taste of what head coach Rudy Olvera looked to build to by moving to 3A in football. Their last game was a 42-0 loss to new region ruler Yuma Catholic, and Oct. 8 they host River Valley. But for this moment in the sun, let Mohave's building blocks for better days shine. Izaac Robles, for instance. The junior is among the top eight kickoff returners in 3A, among its top four wide receivers with over 500 yards in completions, and is tied for second in the conference with four interceptions at cornerback. Sophomore quarterback Jonathan Williams is raw but already showing great talent, ranking second to Hammett in 3A in both rushing yards (929) and touchdowns (11). Third in the conference in scoring with 66 points, he has 1,662 total yards to also rank third in 3A behind his previous-game counterpart, Shamrocks upperclassman Richard Stallworth, and Chino Valley's senior 2,000-yard passer Jayden Smith...
15. Blue Ridge [3-2, 0-1]: First-year Yellow Jackets head coach Jeremy Hathcock has endured a frustrating return to White Mountain football for the first time in more than 15 years. He lost his opening game, at home, by a point to fifth-ranked Safford. Snowflake shut him out by 41 points in his East Region opener. Yet for these setbacks, Blue Ridge, with a region win Thursday, Oct. 7, at Winslow, remains in the hunt for a postseason berth and can play spoiler down the stretch. While senior quarterback Hunter Martinez and junior running back Elam Antonelli have been serviceable enough, the upperclassmen along the defensive line have been the key reasons for Hathcock's three victories. In his first one at Kingman, Hershall Gregg, Christian Roman and Cody Wallace stepped up. Not only did Roman and Wallace combine for as many offensive yards as Antonelli, but Gregg led the team with 18 tackles--two for losses. Roman had 11 tackles and a sack, and Wallace had two interceptions. Hathcock's gauntlet begins Thursday, Sept. 30, at 4A Grand Canyon Region leader Prescott...
16. Wickenburg [2-3]: With all of his West Region opponents coming and going before him in the next five weeks, Wranglers head coach Mike Mitchell will need to reach deeply into his bag of tricks to hang on to the conference's final playoff seed. He will need the full range of skills on display from senior quarterback Calogero Dicamillo, also a Top 10 punt returner in 3A. He will need at least 400 more yards rushing from senior Korbyn Dowdy, one of the conference's top three punters. He will need sophomore linebacker Trace Buchert to fill more of the stat column than just his three interceptions, which eight other players in the conference have. But, moreover, Mitchell will need a few surprises, especially on the road at teams like Mohave and No. 21 Kingman [3-2, 1-0], an early playoff projection looking for redemption...
Chino Valley's Cup sweep marks Northland Prep's first girls soccer loss in three years
On Sept. 27, 2018, Northland Preparatory Academy lost a regular-season girls soccer game, 1-0 at home to Chino Valley and head coach Allen Foster.
It was to be the Spartans' last--until last weekend's Cougar Cup.
Nearly three years later, Saturday, Sept. 25, Foster's daughter Madison, a senior midfielder who leads the state in overall points, scored a first-half goal to shut out Northland Prep again, 1-0, in the final game of their home tournament.
Combined with Chino's 12-0 shutout Sept. 17 of Central Region rival Page, on top of its four-game sweep through the Show Low Invitational a week earlier, Foster's overall record this fall has improved to 11-0, with three Freedom games remaining. The Cougars return to region play at Northland Prep, for a highly-anticipated rematch that could very well decide top postseason seeding, Tuesday, Oct. 12.
With the exception of Camp Verde, Round Valley and Sedona Red Rock, all still seeking their first region wins, Chino has downed every 2A girls high school soccer opponent at least once this fall. Barring a complete collapse, expect the Cougars to down the Cowboys and Scorpions to fall as well in their final two region games.
Junior goalkeeper Shea Daniels only needed three saves to maintain third in the state in the category Sept. 25 and secure the Cup with the shutout. Junior striker Kaitlyn Roskopf, who leads the state in goals scored, teamed with Foster and fellow senior midfielder Sabrina Lopez, one behind Foster in assists, to stay aggressive and keep the ball in the Spartans' half of the field...
Shadowing their success have been their male counterparts, under head boys soccer coach Todd Carey. Having graduated 2A Offensive Player of the Year Angel Sanchez, Chino spent its first four games figuring out where its goal scoring was going to come from, bottoming out in a 1-1 tie Sept. 21 at Camp Verde.
After that, though, the Cougars opened up on the boys field in their two-day home tournament.
In fact, they scored three more goals in their 9-0 shutout of Ash Fork, their opening game of the Cougar Cup, than in their previous four games combined. Carey's Cougars went on to duplicate that score against Page before shutting out Northland Prep and top-ranked Snowflake the next day by a combined 9-0 score as well.
Senior Gabe Castillo, a second-team all-conference forward, continues to spearhead the Cougars' attack, while 2A Defensive Player of the Year Ravi Holladay has led a back line that, the Sept. 21 tie notwithstanding, has allowed just a single goal--at Show Low in its second game.
However, as the Cougar Cup was a tournament, both boys and girls teams continue to rank No. 2 in the latest AIA power rankings to Snowflake and Northland Prep, respectively. Friday and Saturday, Oct. 1 and 2, Carey's boys will show Top 10-ranked Southern Arizona schools Desert Christian, Willcox and undefeated St. Augustine what they can do at the Old Pueblo Soccer Classic before returning to region play for six of their final eight games...
Next Time
Can any eight-man football team defeat Mogollon? Fourth-ranked region rival Williams' attempt Friday, Oct. 8, will be reviewed, along with the gathering power struggle in the loaded 3A East Region. Remember, your hot takes and feedback are always welcome! Follow me on Facebook and Twitter at @ProfGWerner, or email me at gwerner@azpreps365.com.
---