Pinnacle fires lowest round of the year in potential state title preview
October 1, 2021 by Conor Bonfiglio, Arizona State University
---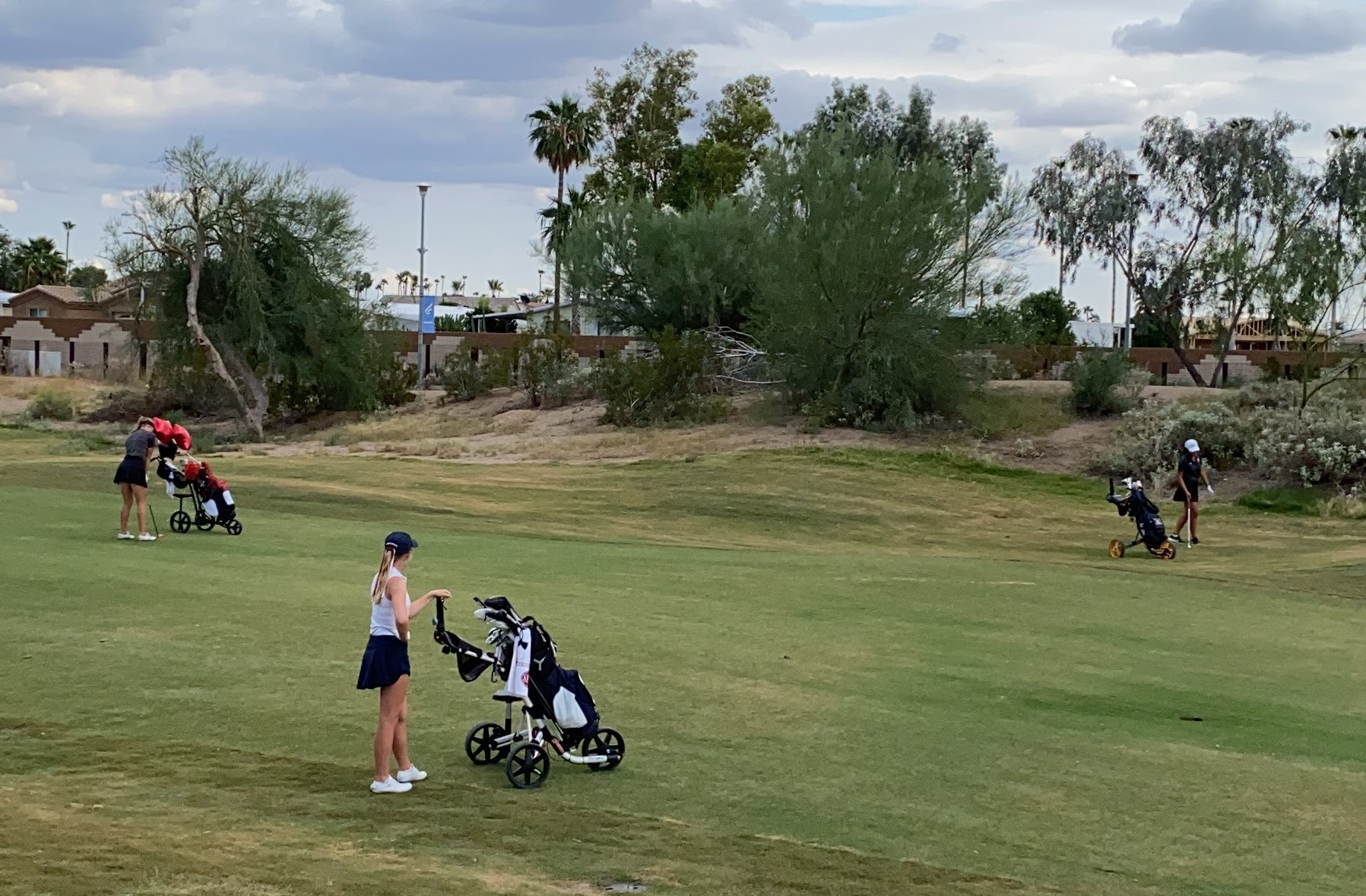 MESA – The Pinnacle girls golf team recorded its lowest team score of the season on Monday as they defeated Hamilton and Red Mountain on a blustery afternoon at Longbow Golf Club.
The Pioneers' top four combined total strokes was 143, besting the Huskies and Mountain Lions by nine and 46 strokes, respectively. Pinnacle's team scoring average was 35.75, the lowest of the year.
"It's a great team win," Pioneers coach Brandon LaRosa said. "One through five really did their job today, and I am proud of them for that."
Carolyn Fuller (CQ) and Samantha Olson (CQ) paced Pinnacle with bogey-free 2-under 33's. Jennifer Seo (CQ) led the way for the Huskies, carding an even-par 35.
Fuller and Seo dueled all afternoon. Both girls were even-par through two, until fireworks ensued on the par-3 third.
Fuller hit a short iron from 129 yards that bounced into the hole then back out and finished inches in front of the cup. Seo proceeded to pull her approach just off the green, 30 feet left of the flagstick.
As Fuller tapped in her birdie putt, Seo decided to join the party. She drained a 30-footer from the fringe to match Fuller and move to 1-under on the day.
"I honestly think it was lucky," Seo said. "I didn't think it would go in. I hit it so hard I thought it was going to go all the way over the green."
Seo encountered some issues on the par-4 sixth hole. She pulled her tee shot into the left rough and the firm conditions funneled her ball into a water hazard. She was forced to take a stroke penalty, and eventually three-putted for a double-bogey six.
"The last time I played here, I played the back tees, not the front tees," Seo said. "I didn't know the water was in play."
On the short par-3 seventh, Fuller pulled her wedge into a sand trap, and the ball plugged into the side of the face.
Fortunately, Longbow's bunkers were undergoing a massive renovation, so all sand hazards were playing as "ground under repair."
Per the GUR rule, Fuller was given free relief outside the trap within one club length no closer to the hole. She got up and down for a comfortable par.
"I got lucky with not having to play in the bunkers," Fuller said. "I adjusted and I know this course pretty well. I went out there on the front nine and played simple golf."
Both players finished strong. Fuller birdied eight and parred nine to complete her clean card. Seo birdied eight and nine to grind her way back to even par.
"I played this course a lot and I'm used to the firm greens and the firm fairways," Fuller said. "I kept it in the fairway off the tee, and I was striking my wedges and short irons really well."
Fuller's not the only one who knows Longbow.
"I played this course a few times with some buds back in my college days, so I know how firm it is around here," LaRosa said. "I told (the team) before the round the greens are going to be firm no matter how much rain the course saw. I let them know beforehand, and they adjusted very well, so I am proud of them for that."
Monday's match was a sneak peek into a potential state title battle. Pinnacle and Hamilton are two of the strongest Division I programs in Arizona.
LaRosa knows the missing piece for his players to break through the playoffs.
"Confidence in ourselves," LaRosa said. "I don't think we think we're there. When we don't think it, it's easy to be able to back off and not be totally confident over every shot. I've been preaching having confidence, even if it's arrogance, honestly. I think it's a little better that way than the other way."
The Pioneers' next match is Oct. 5 vs. Mountain Ridge and Perry, while Hamilton faces Mountain Ridge and Chaparral this Friday.
---