Cactus defeats Peoria 177 strokes to 184 strokes
October 1, 2021 by Harris Hicks, Arizona State University
---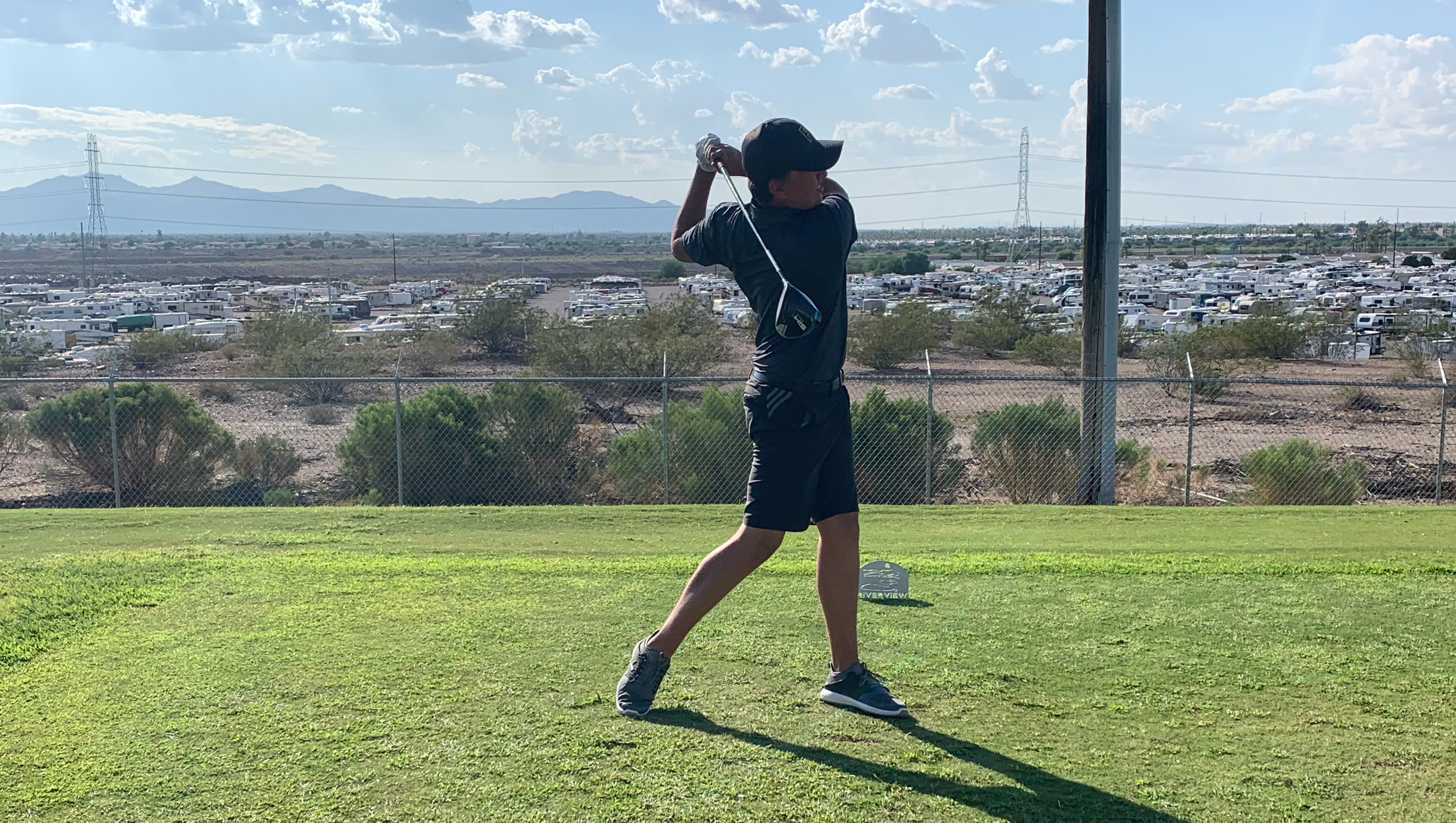 Harris Hicks is an ASU Cronkite School of Journalism student assigned to cover Peoria High School for AZPreps365.com
PEORIA-- Cactus High School won its match against Peoria High by a score of 177 strokes to 184, but the individual standout at Sun City Riverview Golf Course on Thursday was Panther Nick Erickson. The senior sensation shot a one-under-par 35 over nine holes, a six strokes fewer than any golfer on either team.
"It's awesome to see a kid like Nick represent Peoria as he has," said first-year Peoria head coach Kerry Erickson, Nick's father. "The last time someone made state for us was about 30 years ago, and he's on the verge of doing it."
The match was played in modest 82-degree sunshine with a nice breeze, as these longtime nemeses paired off. Erickson may have been playing on the same course as the other Panther and Cobra golfers, but he scorching balls on a different level. The next closest score to his 35 was the 41 shot by Cactus' Travis Myrick.
On the tee, Erickson was electric, averaging 283.2 yards per drive, and he even smoked a three wood 250 yards on the second hole. For context, that is 12 yards more than the average yards per drive of a 30-year-old male golfer, which is 238 yards for all of you math nerds out there.
On the green, Erickson recorded an efficient 1.6 putts per hole. "As a dad, it's unbelievable to watch his work ethic grow," said Kerry Erickson. "He lifts weights five days a week before school, and I remember, his first day of practice as a freshman, they were teaching him how to hold a golf club properly. Now he's going to state, it's remarkable."
Erickson is currently ranked third in his division in state singles.
Nick Erickson is in a tier of his own on the course, but off the course, Nick Erickson is your typical kid. "Before matches, I usually eat Cheerios for breakfast," said Erickson. "But after matches, I love playing video games like War Zone and watching football with my friends."
At that one of Erickson's teammates, Ethan Carlon, randomly interjected, "Hey! I beat Nick by 110 points in fantasy last week!"
Carlon is more than adequate with a club as well. He excels on Sundays with his fantasy team, but on Thursday he shot four-over-par, the second-lowest in the entire match. "Ethan's my solid number two," said coach Erickson. "He has his ups and downs, but he busts his butt every day in practice."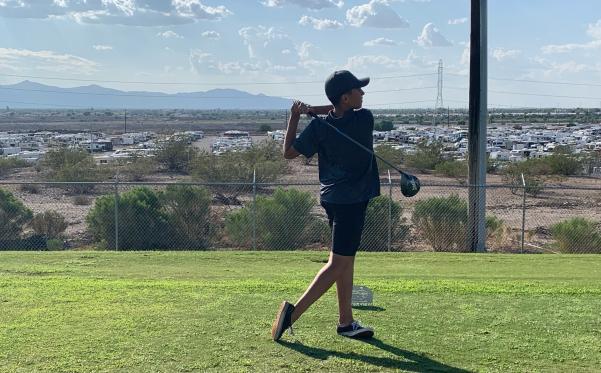 Ethan Carlon tees off at Sun City Riverside Golf Course in Peoria. (Harris Hicks/AZPreps365)
When Carlon was asked how far he hit the ball on drives, he looked at Nick Erickson and asked, "Hey Nick, how far are your drives?"
"About 290," said Erickson. "I hit about 310 then, 250 with a nice roll."
Despite scoring two straight bogies on holes five and six, Carlon redeemed himself down the stretch, sinking a nice birdie putt on hole seven. "It's all about winning for me," said Carlon. "I'm an ultra-competitive person."
Peoria's opponent, Cactus High School, was led by the dynamic duo of Travis Myrick and Noah Druecker, who combined to score an 84.
Despite these two schools being separated by just five miles having a history of a bitter rivalry that goes back to the early 1990s, there was a humble display of sportsmanship between the two at Sun City Riverside . "Nick, Travis, and Ethan go way back," said coach Erickson. "They have known each other for seven years, so there's a bond there. It's always great to see both sides succeed."
Although Peoria received dexterous performances from Carlon and Erickson, the Panthers lacked the depth to keep up with the Cactus Cobras. Too, the Panthers were missing their third-highest scoring player, Blayden Sullivan, due to Covid safety protocols.
The Panthers will look to avenge Thursday's defeat previous in their next match against Buckeye Youngker High School and Glendale Kellis High School in an October 14th invitational.
---