22-year-old coach searches for state title in his first season
October 5, 2021 by Conor Bonfiglio, Arizona State University
---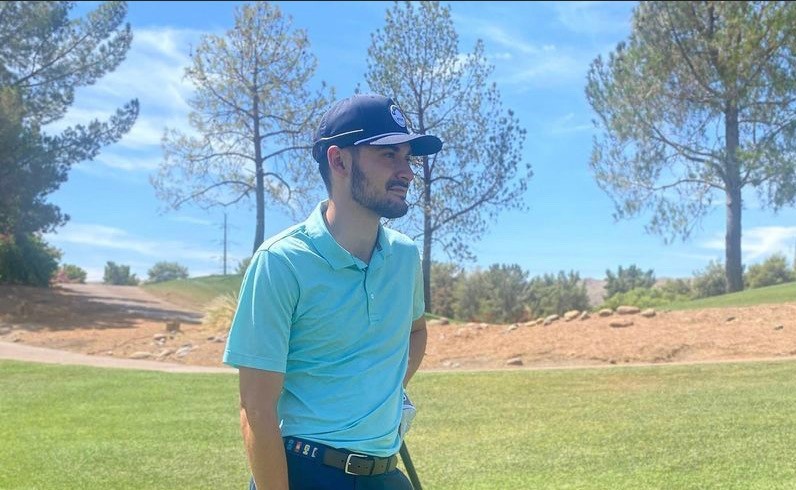 It's a sweltering Wednesday afternoon at Tatum Ranch Golf Club. A group of high school golfers is shot-shaping on the driving range, some cheering and others groaning.
Behind them is a young man wearing a confident smirk on his face. He's keeping score for each player based on ball flight and landing zone of their shots.
This man is Brandon LaRosa, head coach of the Pinnacle Pioneers girls golf team. At age 22, LaRosa is the youngest head golf coach in the state.
He took over the position less than four months ago. Under his leadership, the Pioneers are fourth in the state with a handful of tournaments to play before the state tournament. If LaRosa and the Pioneers are able to win state, he would be the youngest head coach to win a state championship in Arizona history.
"(A state title) is realistic as long as we keep putting in the work," LaRosa said. "There's some good schools out there and we had a wake-up call when we faced them, but that doesn't mean we can't take them."
After steamrolling opponents in their first four events, the Pioneers hit a wall in the Roar Classic 2021 as they placed sixth out of 13 teams. Hamilton and Liberty placed third and fifth respectively, two teams Pinnacle will face in the state tournament in late October.
In just a couple months, LaRosa has already earned the respect of the established players and sparked a love for the game of golf in the new players.
"He really wants us to grow as golfers, and he wants the best for us," junior Carolyn Fuller said. "Every single time we walk off the course improving, and he's always really proud of us."
Fuller is an upperclassman and holds the first-bag position on the team. She also holds the lowest scoring average on the Pioneers with a 1-under 35 for nine holes.
Receiving praise from a standout like Fuller is one thing, but getting it from Alex Faraci and Genavieve Larson, two underclassmen fighting for the top five, is another.
"He cares about us," freshman Larson said. "He wants what's best for us no matter how we play."
"He's really encouraging," sophomore Faraci said. "If we make a good putt on the course he'll sit there and clap for us and he'll be proud."
LaRosa, a former top-five golfer at Arizona Christian University, battled his way onto the top five. Only a few months removed from his college career, he battles for his players and relishes in their development as women.
"(The most fulfilling part of the job) is watching the kids grow every day," LaRosa said. "I remember watching Alex (Faraci) in tryouts. She was a great example of not even getting the ball off the tee at times, so it's really cool to see them grow every day and reach goals they never even thought they could."
LaRosa's leadership and tactics have given the girls all the tools they need to succeed in the state tournament and in their future endeavors in life.
"I enjoy working with these girls and having them grow wherever they want to be, whether it's going to college or getting a job or playing college golf," LaRosa said. "Whatever they want to do, I'm here for them."
In addition to coaching, LaRosa works as an associate for Trackman Golf. Trackman is an analytics-based company that helps golfers unleash their potential through statistics and launch-monitor data.
LaRosa's time at Trackman helped him understand the importance of short game, specifically strokes gained putting. According to LaRosa, one statistic will lead the Pioneers to a state title victory.
"If we are the best team putting within nine feet, we will win state. Plain and simple," LaRosa said. "If we can be 66% or above nine feet and in, we'll win state. I firmly believe that."
Above all else, LaRosa's greatest achievement is teaching young girls life lessons that will propel them on and off the golf course.
"Golf's biggest thing is teaching you patience," LaRosa said. "You can make anything in life a golf analogy. If you try to force things, it never works out, but if you never try to take things, it doesn't work out either. You have to find that middle ground of being patient, yet still wanting something really bad and I think golf teaches us that."
---