Chaparral volleyball fires on all cylinders against Boulder Creek
October 8, 2021 by Tyler Konrad, Arizona State University
---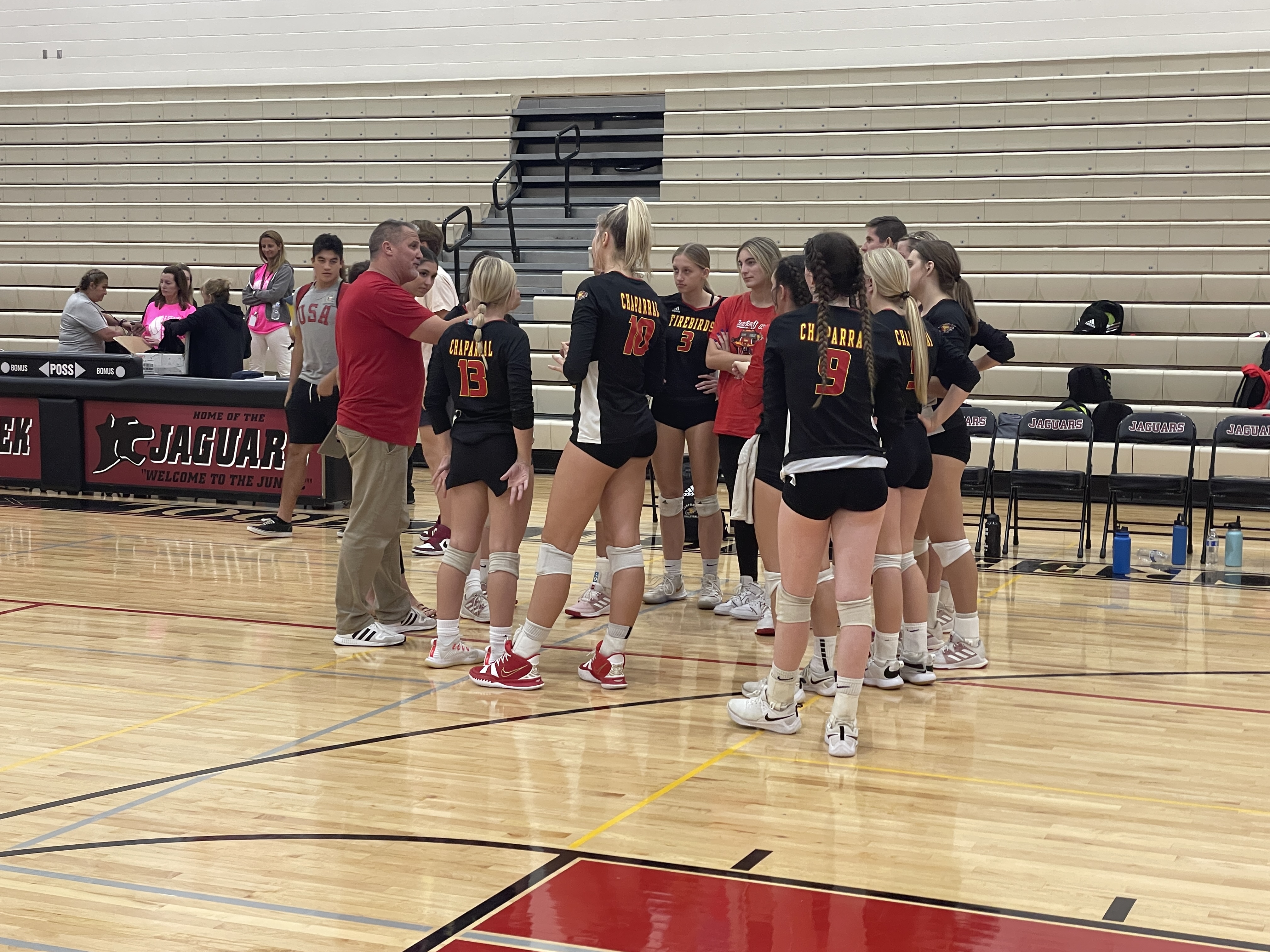 Tyler Konrad is a student at Arizona State University's Walter Cronkite School of Journalism assigned to cover Chaparral High School for AZPreps365.com.
On Thursday, the Chaparral Firebirds girls volleyball team went into Boulder Creek and won 3-0, ending their two-match losing streak and improving to 16-9 on the season, 4-3 in 6A Desert Valley region play.
The Boulder Creek Jaguars started the first set on fire as they took an early 4-0 lead with the crowd on their side. The Firebirds and Jaguars traded points, but after another 4-0 run from Boulder Creek, the Firebirds' head coach Chad Speer called the team's first timeout down 12-6.
Junior setter Kaycee Atkinson said the timeout was crucial and a much-needed wake-up call for Chaparral.
"He wanted us to have grit, want to fight, and want to win. Not only that, but to focus on serve receive and start it off with a good pass so we could change momentum and put some balls away early. He reminded us that it is a mental game and if we do not get over this hump, we would go down 1-0 and that is not how we planned on starting this set," Atkinson said.
After the timeout call, things turned around for the Firebirds. They went on a 17-2 run to make it a 21-14 set in favor of the Firebirds. The Jaguars followed that with a timeout call of their own, but it was not enough as Chaparral won the first set 25-17.
The second set started, and the Firebirds were firing on all cylinders. They started the game up 9-4, including a 5-0 run and a 3-0 run, which forced the Jaguars to call their first timeout of the set.
After the timeout, it did not get any better for Boulder Creek. Chaparral went on a 13-5 run, putting the score at 22-9, which forced the Jaguars to call their final timeout of the set. Boulder Creek came out of the timeout looking for a way back into the game, and they went on a 5-3 run, but it was too late as the Firebirds took the second set 25-14. Firebirds' junior middle blocker Brenna Rowland credited the win to the team's elite blocking.
"Blocking slows down the whole game and it helps the back row immensely. It also makes the other team second-guess everything, because when you keep getting blocked you start to question where to hit so you do not get blocked. That makes it much easier for us and I think that is why the second set was so dominant," Rowland said.
Rowland put on a blocking clinic in the second game, recording a match-high three blocks for the Firebirds. The Firebirds also had six hitters record at least two kills in the second set. Atkinson also had a great game, recording a set-high nine assists along with three kills.
Chaparral looked to put the match away in the third set and took an early lead. Excellent serving from freshman Lexi King led the Firebirds to an electric 7-1 start. King takes pride in serving and thinks it is an essential aspect of the game.
"I think serving is the easiest point you can get in volleyball if you perfect it. Honestly, in my opinion that is how you win games, great serving. Coach usually tells us where to serve which is another reason why it was working tonight," King said.
After the quick start, the Jaguars traded points with the Firebirds until they went on a 5-0 run, putting Boulder Creek back into the game and down by two, 15-13. Speer called his first timeout as the crowd roared, and the Jaguars looked to get back into the match.
Both teams tried to put the game away, but neither could, so Speer called his second timeout up 19-18 in hopes of winning the game late.
That timeout call propelled the Firebirds, and they went on to win 25-20 after a 6-2 run following the timeout. King loved the way her team played, but she said their job is not done yet.
"We beat a good team today, but we have practice tomorrow and all next week. I think we really need to prepare for this upcoming tournament. There are a lot of tough teams in it, but if we work hard and give it all we got, I think we have enough to win it," said King.
The Firebirds resume action at home, where they will host the Birdcage Classic on Oct. 15.
---