Parker cruises to control of region, 2A with 36-16 rout at Camp Verde
October 9, 2021 by George Werner, AZPreps365
---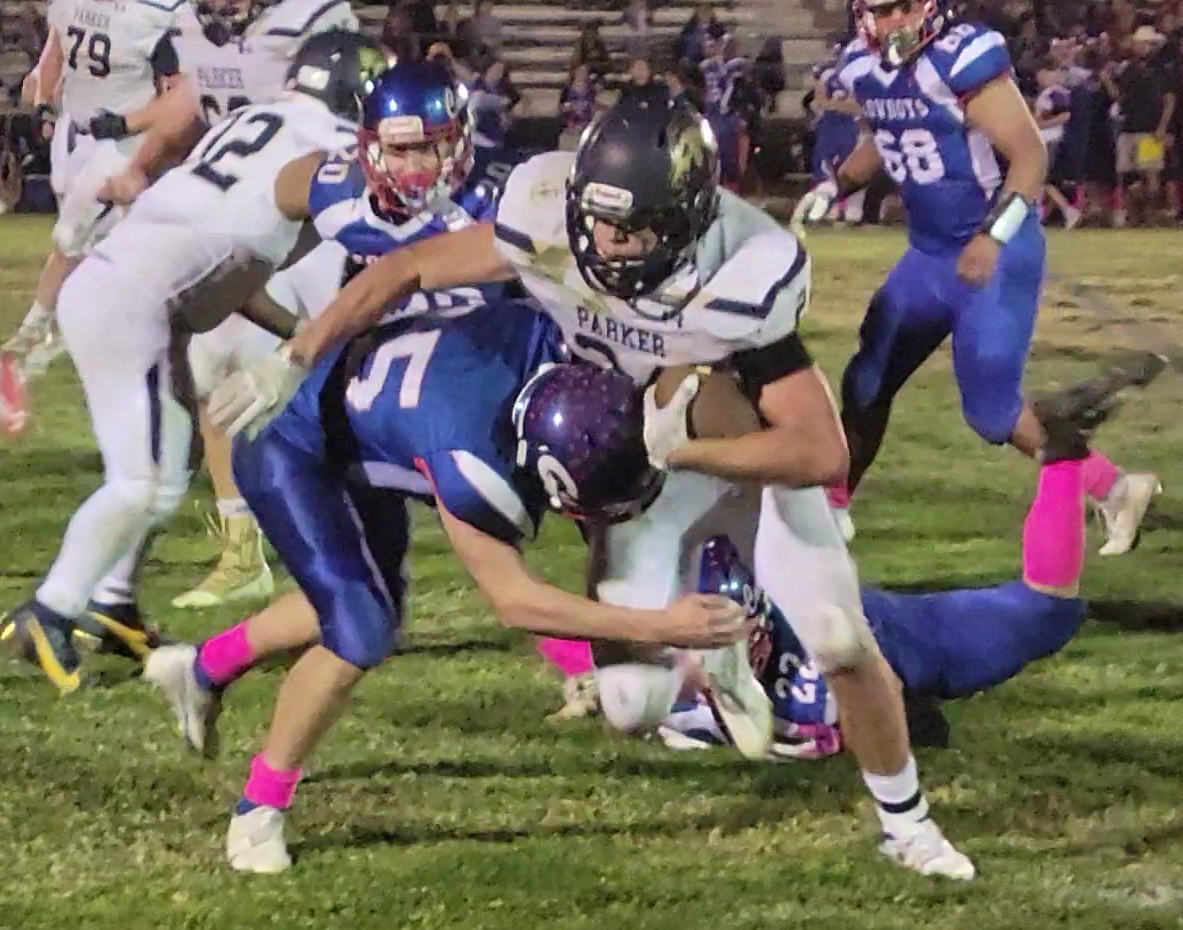 For the first time in half a century, the state football title is Parker High School's to lose.
Running back Cameron Poole demonstrated why in his Agua Fria Region opener Friday, Oct. 8, rushing for the opening score less than four minutes into the game, then catching the next touchdown less than two minutes later to leave 11th-ranked Camp Verde in the dust, 36-16.
"We're winning the next three, too," a confident Poole said after he combined with another trio of Parker running backs to score their first 30 points and rush for well over 300 yards on the ground. "We're going to State, and we're winning."
Head coach Jeston Lotts isn't one to disagree publicly, knowing that, ever since they were winning Colorado River Kids junior high championships and even Pop Warner leagues at younger than 10 years old, his group of seniors could at last be the successors to the back-to-back 3A state champions in 1970 and 1971.
"Last year, we had a really good team, too--our juniors just weren't experienced enough," Lotts said. "We just keep them grounded. All summer, we've talked about winning a state championship."
That talk ended two months ago, when preparation for their opening win over Gilbert Christian High School began. Then, after a 36-point win at Tonopah Valley, winning at 3A Conference rival Wickenburg was the focus. It paid off with a walk-off touchdown in overtime, Parker's closest game of the season.
"Now, in region play, we want to win the region title. That's the only thing on our minds right now," Lotts said. "This group's mentality is 'next game'. Just winning every week."
It's a mentality that may prove permanent with the Broncs, at least this fall, after the Colorado River Indian Tribes rejected Parker's COVID-19 mitigation proposal Sept. 29 for home games in their stadium.
Coming on the heels of the Broncs' 22-point win to open October at second-ranked Arizona Lutheran Academy, the decision complicates the rest of Lotts' Agua Fria Region schedule, even though those final three opponents are ranked no higher than 30th in 2A--well outside playoff contention.
The primary challenge before Parker may no longer be any one conference opponent that can slow its roll to its first state football championship in 50 years. The challenge becomes beating all the rest of those scheduled opponents on the road.
"We want to go out and prove we're the best team in the state every night," Lotts said. "There's a lot of good football teams out there; we're just humbled and honored to be part of that group."
So Lotts is still looking for his Broncs to close out opponents better and tackle lower.
"Pad level, power up," he said. "We're playing a little too high; we've got to play lower."
Camp Verde came the closest of any 2A team thus far--although the Cowboys were shut out until less than 2:30 to play in the game and came back against Parker's defensive reserves off the bench.
Before that comeback, Poole's performance paced a dominant display on both sides of the line of scrimmage by the top-ranked team in the conference, which scored within the first seven offensive plays after scooping up Camp Verde's opening onside kick attempt at the 50-yard-line.
Gaining ground in 10- to 20-yard chunks provided by another senior running back, Anthony Taylor, Poole punched in the opening score from a yard out.
Although Taylor would fumble the two-point conversion handoff after Poole's first score with eight minutes to play in the first quarter, Parker would recover its subsequent attempt at an onside kick. Sophomore Bryan Bojorquez squibbed a hard kick off a Camp Verde upman into a Bronc's hands at the Cowboy 47.
The next 35 yards, sophomore fullback Thaddeus Nopah supported Taylor on pull, trap and counter plays as part of a Wing-T formation unearthed by offensive coordinator Kyle Carlson from University of Delaware coaching textbooks nearly a century old.
It's also an offensive philosophy in the Parker program that has yielded nearly 380 yards rushing per game this fall.
"We always tell people, 'We're taking football back to the 1930s,'" Lotts joked. "Coach Carlson, our Wing-T guru, does a great job with our formations. All credit goes to him."
Just when Camp Verde head coach Rick Walsworth braced for another such call, 6-foot, 3-inch sophomore quarterback Zach Bennett rolled left and found Poole in space, on a curl pattern. He managed to stay on his feet and extend the ball past the goal-line pylon with 6:25 still to play in the first quarter, and Taylor powered the two-point conversion in this time for the two-touchdown lead.
"We only run about eight plays, and we run them out of different formations," Lotts said. "We wait until we see what the defense is going to do, and then...Bam!"
For the next 15 minutes, behind the two-way leadership of senior Jacob Oothoudt, Camp Verde settled down and stayed in the game. At least until less than four minutes to halftime, when junior reserve running back Gage Honomichl's number was called at the Cowboy 9-yard-line.
"We've got a good backfield, with backups that'll run just as hard as the starters," Poole said. "We're No. 1, so we're keeping our foot on the pedal, and we're going through everyone. We're not going to stop; we're going to just keep rolling and rolling."
Oothoudt would get the offense untracked on the final drive of the half, connecting with senior wide receiver Wyatt Parker for the Cowboys' initial first down and even having a shot at the Parker end zone from its 5. But his fourth-down incompletion meant that Nopah's two-point conversion was the last scoring in the half--and that Camp Verde was going into its home locker room skunked, 22-0 at halftime.
Despite failing on another two-point conversion with 2:20 to play in the third quarter, Parker appeared to have finished off Camp Verde, especially following Ezra Martinez's mid-air fumble recovery of a botched handoff between Oothoudt and Kayden Boggess, a Top 10 rusher in 3A.
Cornerback Damien Najera later intercepted Oothoudt, leading to Taylor's four-yard stroll into the end zone that positioned him just a touchdown short of the top five 2A scorers.
"We're going to do it this year. This is our year," Poole said. "Ever since we started lifting weights this summer, that was our goal: State champs."
Toppling into the end zone with less than three minutes in the game, though, was senior 220-pound offensive lineman Abraham Silva on a guard-eligible, goal-to-go rush--what Poole called a "statement" of sorts.
"Abraham's been a starter for us since he was a sophomore," Lotts said. "He's just a humble, humble guy. He does everything we ask of him. He deserves something like that."
Silva, together with an escort of fellow upperclassmen Poole and 240-pound tackle Collin Stanton, moved the Parker pile into the end zone from eight yards out with 2:40 to play. Junior Gage Honomichl's rush added the two-point conversion to empty head coach Jeston Lotts' bench, up 36-0.
"We've been waiting to run that play," Poole said. "It was awesome."
But Oothoudt had other ideas. Avoiding the shutout, for starters--which he took less than 30 seconds to accomplish. He connected with senior slotback Matt Loza 23 yards just short of the goal line, then took the next snap in himself.
He similarly capitalized after Camp Verde recovered its final onside kick, tossing a cross-body, 13-yard touchdown pass to senior Bryce Seekins--who paid a high physical price for the catch.
"So they played a great game, they get to enjoy it for 24 hours, but we've still got things to improve when we get back after it on Monday," Lotts said.
---