#3 Gilbert VB continues mastery over #6 Casteel
October 12, 2021 by Les Willsey, AZPreps365
---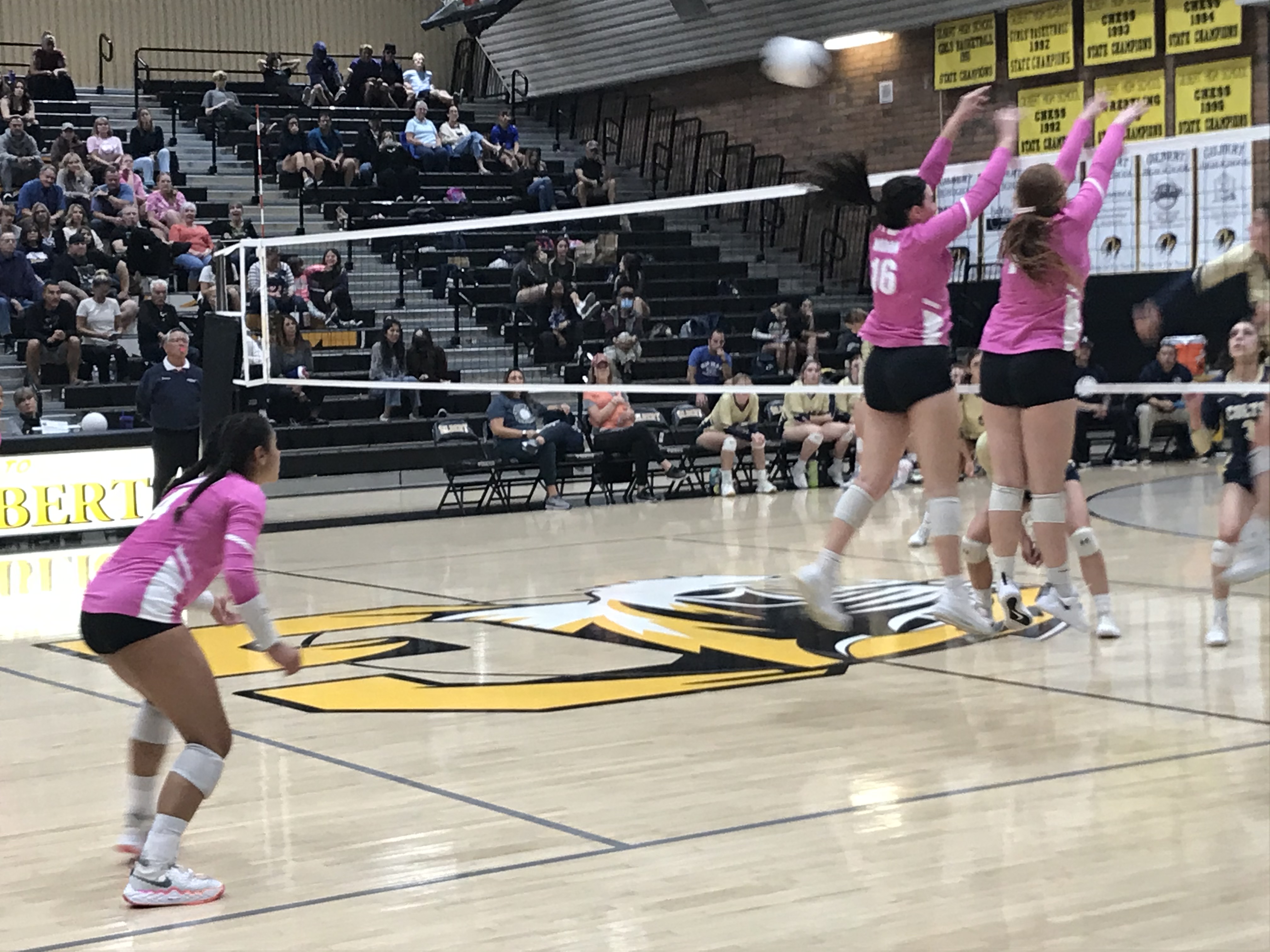 First place alone in the 5A San Tan Region was on the line Tuesday night as region unbeatens Casteel and Gilbert collided at The Jungle.
Gilbert pulled away late in a tight opening set and had its way the rest of the evening in dispatching Casteel via sweep. Scores were 25-18, 25-15, 25-16. Gilbert, owning a #3 ranking in 5A in the latest power rankings, improved to 11-1 overall in power-ranking matches and 4-0 in region. No. 6 Casteel dropped to 9-4, 3-1.
The win marked the seventh time in a row Gilbert has defeated Casteel in volleyball. Six of the seven have been sweeps. Casteel won its only meeting in the series in 2018.
"I hadn't seen film on them and didn't know what to expect," Gilbert coach Joe Hesse said. "Everyone was getting back from a week off. We practiced yesterday and it wasn't a very good one. Just had to wait and see what we got."
Hesse ended up getting a solid performance, all things considered.
The first set was mostly a one- to two-point affair. Gilbert held a brief four-point edge (19-15), but Casteel closed to within 19-18. The Tigers kicked into gear using a 6-0 run to finish the set. Casteel was serving seeking a tie at 19-18 , but a service error, three Gilbert blocks and a kill ended the Colts bid to take the first set.
Gilbert's Sydney Mahon contributed two blocks and assisted on a third in the last opening-set run and Becca King had the kill. Gilbert endured one brief stumble the rest of the evening. The Tigers spotted Casteel a 5-1 lead in the second set, but gained the advantage for good at 9-8 and led 13-8 at the halfway mark. The lead grew to a 10-point margin at the finish with Naia Stewart (three kills) and King (two) leading the attack.
The third set was all Gilbert. Mahon and King were the forces guiding a 14-7 lead with Mahon supplying three kills and two aces, and King three kills. Casteel tried to rally pulling within 16-12, but two kills each from Stewart, King and off the bench from Ellie Schmidt highlighted a 9-4 finish.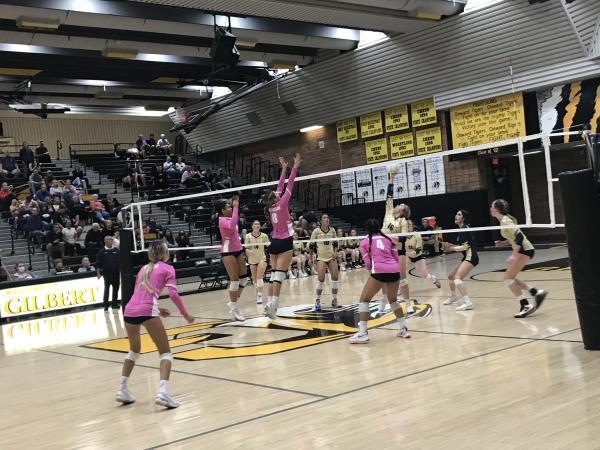 Casteel's Mya Haen (16) tries to attack over the block of Gilbert's Raegan Richardson (8). Azpreps365 photo.Gilbert's attack was led by Mahon with 13 kills, Stewart (10), King (8) and Richardson (7). McKenzie Schoenhardt led defensively with 20 digs and Stewart (15). Mahon had four blocks and Elli Walker three. Setter Alex Johnson had 34 assists.
---