Colton Allen, Johnny Bellino, Mack Molander, Richard Stallworth and Porter Sweet earn Week 8 Ed Doherty Nominations
October 13, 2021 by Andy Morales, AZPreps365
---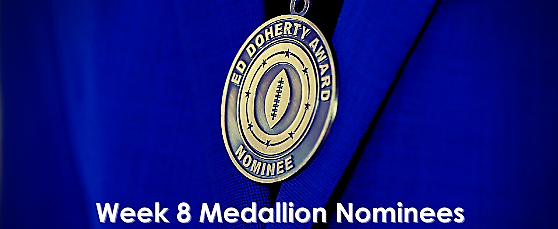 The Grand Canyon State Gridiron Club (GCSGC) announced the recipients of the Week 8 Ed Doherty Award Nomination Medallions™. Five players were recognized for outstanding play during their respective games on Friday, Oct. 8:
Colton Allen: Sr. RB, Higley
In the Knights' 44-29 win over Desert Ridge, Allen rushed for 245 yards on 29 carries and 3 TDs.
Johnny Bellino: Sr. WR, ALA-Gilbert North
Bellino hauled in 6 receptions for 263 yards and 5 TDs in the Eagles 55-9 victory over Arizona College Prep.
Mack Molander: Jr. QB, Eastmark
In leading the Firebirds to a 38-18 win over Coolidge, Molander was 21 for 29 passing with 277 yards and 5 TDs. He added another 105 yards on 8 carries.
Richard Stallworth: Jr. QB, Yuma Catholic
Stallworth, the leading passer in Arizona and 8th in the nation, connected on 21 of 34 passes for 535 yards and 8 TDs in the Shamrocks 63-0 win over Chino Valley.
Porter Sweet: Sr. DL, Desert Mountain
Sweet was a nightmare for the Goldwater offense in the Wolves' 37-7 victory over the Bulldogs. He recorded 7 tackles, 3.5 tackles for loss, 2 sacks and 3 QB hurries.
These five will attend the end of season Ed Doherty Award Luncheon on Dec. 18 where one athlete of all the nominees will become the recipient of the 2021 Ed Doherty Award.
The Grand Canyon State Gridiron Club is the steward of the Ed Doherty Award. For 35 years, the Ed Doherty Award has been the State of Arizona's highest individual high school football honor and is awarded annually to the state's most outstanding high school football player by the Grand Canyon State Gridiron Club. The Ed Doherty Award recognizes the player whose performance best exhibits the pursuit of excellence with integrity. The winner of the award epitomizes great ability combined with diligence, perseverance, and hard work. In addition to on-field performance, the Ed Doherty Award recognizes the well-rounded accomplishments of community involvement, school pride, and academics.
From release.
---