ALA-Gilbert North volleyball sweeps Gilbert Christian
October 13, 2021 by Les Willsey, AZPreps365
---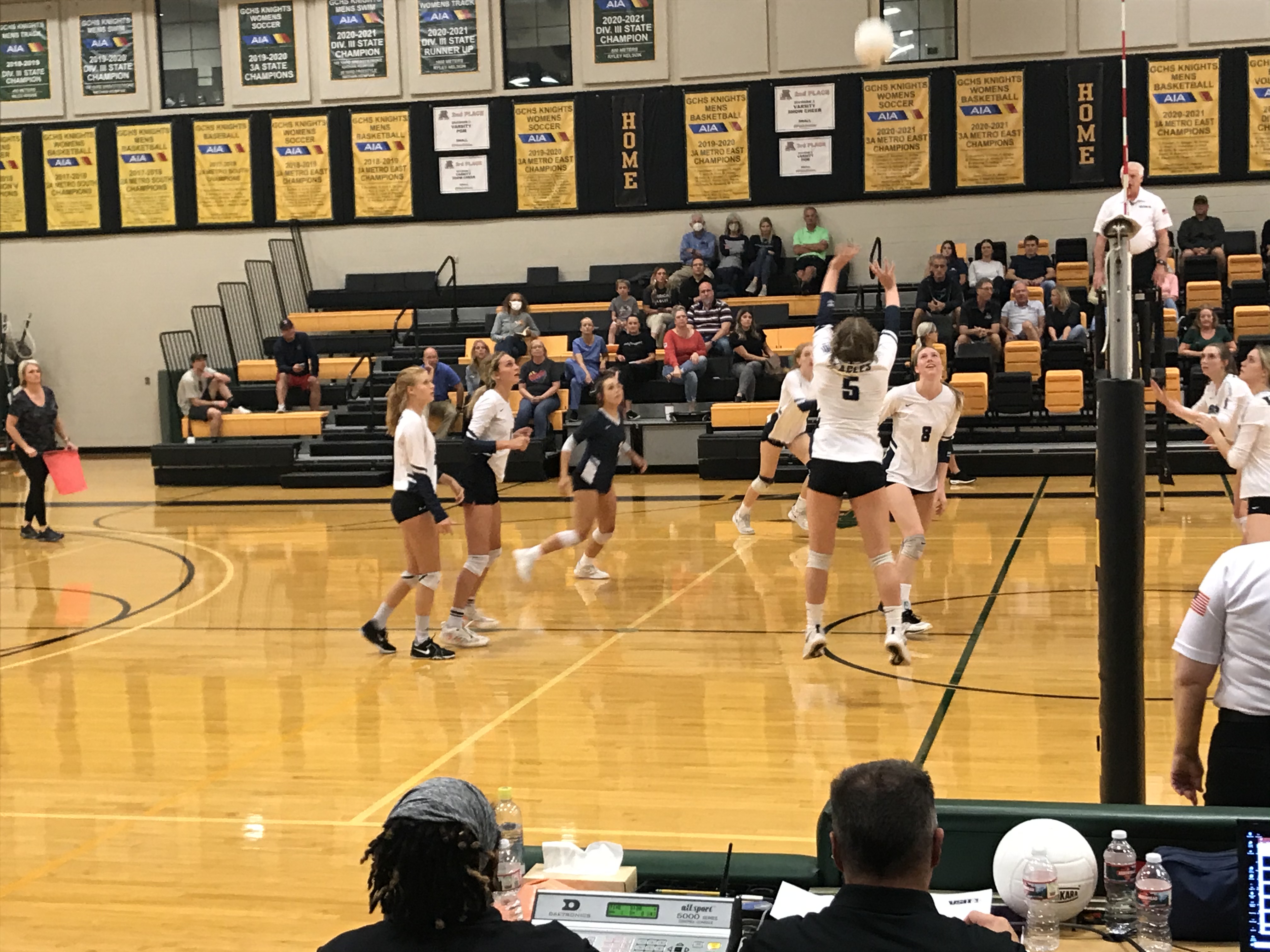 The 3A Metro Region has quite a battle going for the first place. What was needed Wednesday night to tighten up the race was for American Leadership Academy Gilbert North to defeat region-leader Gilbert Christian.
ALA Gilbert North obliged. It wasn't easy, however, as the Eagles managed a tight sweep of the host Knights. Scores were 27-25, 27-25 and 25-21. The top three teams in the region after Wednesday's play are ALA Gilbert North 8-3 in power-ranking matches and 4-1 in region. Gilbert Christian lost its first region match to slip to 10-2 prm, 4-1 region. Valley Christian is 11-1 prm, 3-1 region. Valley Christian, Gilbert Christian and ALA Gilbert North comprise three of the top-10 teams in the 3A power rankings as of Wednesday's matches - #2 is VC, #4 Gilbert Christian and #7 ALA Gilbert North. Some juggling may occur when the rankings are updated Thursday morning.
"I thought it was a must win for us to stay in the hunt for the region," ALA Gilbert North coach Steve Crook said. "I didn't mention it to the team. They went out and played well."
ALA Gilbert North showed plenty of moxy in coming away victorious. The Eagles trailed by nine points (16-7) in the first set and by seven (14-7) in the third and still managed to prevail. They led only twice before the finish of the first set - 25-24 and 26-25. They led most of the second set, but trailed as late as 22-20 and 23-22. Their first lead of the third set occurred at 20-19.
Crook said his team's play was mostly solid, but he especially liked one area.
"Our blocking was outstanding," Crook said. "We came through at the net. Our hitters did well whether it was middle, right or left. I wish we wouldn't have dug some holes like we did at times, but through that I was confident we could come back and win."
Leading a varied attack unofficially for ALA Gilbert North was middle Paige Howard with 10 kills. Howard was followed by Brooklin Bogle with 8 kills and Addisyn Brinkerhoff and Tana Howard with six kills each. Leaders in kills unofficially for Gilbert Christian - Kali Nielsen (10), Hailey Vaught (8) and Elli Wolthuis (6).
---