Central girls volleyball falls to Camelback in four sets
October 14, 2021 by Gabriella Malamed, Arizona State University
---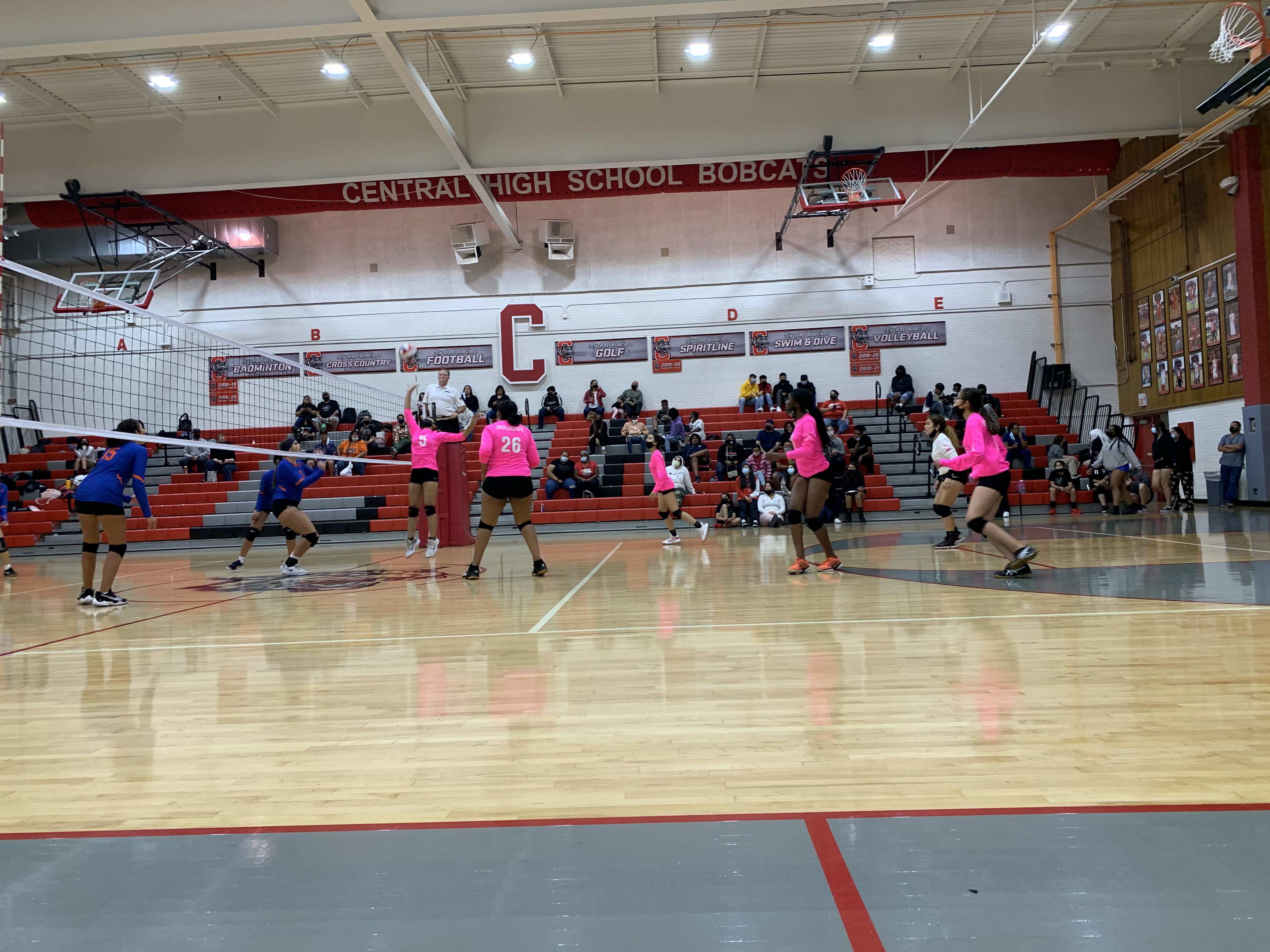 Gabriella Malamed is an ASU Cronkite School of Journalism student assigned to cover Central High School for AZPreps365.com.
PHOENIX— The Central High School girls volleyball team lost to Camelback High School in four sets on Wednesday night. With just seven girls eligible in their lineup, the Bobcats failed to keep their three-game win streak alive after fall break.
"It was a multitude of mistakes on our part," first-year coach Laura Phillips said. "I don't think we were outskilled, I think we were beat in the mental game."
Central lost the first set 25-16. The game started out very back-and-forth until Camelback was up 15-13 and went on a six-point run to make it 21-13. The Bobcats were unable to recover. "The energy was really down," right-side hitter Priscilla Monjolo said. "We were in our heads a lot."
The second set showed improvement for the Bobcats, though, as they won 25-22. At game point, junior Janiah Gary sealed the win with a game-ending block to even the match at one-all. Gary would finish the night with four blocks.
Central fell again in the third set 26-24, the closest score of the night. Down 23-21, the Bobcats came back to take the lead at 24-23 but defensive errors such as passing and service receiving ultimately led to the Bobcats' downfall.
"We had a lack of communication," Abigail Hernandez-Valenzuela said. The sophomore stepped into the setter's spot for this game and finished with five assists. "I have to work more with the back row and try to create more of a bond with them and talk to them more."
The fourth and final set was won by Camelback 25-19. Though Central fought hard until the end, the team's offensive numbers were much lower in this set than in the others. Monjolo only had one hit in this set versus her game-high of eight in the third set. Hernandez-Valenzuela had no assists in this set.
Coach Phillips had said before fall break that she hoped the team wouldn't fall into a slump. "There is definitely a difference in the players who worked out and practiced over fall break versus the players who did not," Phillips said. "The players who sat declined their skill level."
Though not all players, whether or not they practiced during fall break, were even available Wednesday night. Among others, all four of Central's seniors have been benched since October 1st due to the school's "no pass, no play" rule regarding academics in sports. Included in this group are the usual starting setter, Kayla Bedonie, and middle blocker, Paola Fonseca.
"They're our main leaders, they get our energy up so we really tried to play for them," Monjolo said.
Players could return as soon as the next game, as late as the next month, or even return only to become ineligible again."That just influences our whole team culture, it has a big impact on our performance," Phillips said.
Phillips' team has struggled with ineligible players all season, but the loss against the Spartans could severely jeopardize Central's region ranking. In the 5A Metro region, the Bobcats are now third. They were first before fall break. Though Camelback and Central have the same record (3-2), the head-to-head tiebreaker puts Camelback in second, with Central in third. Metro Tech High School (4-1) sits on top.
Wednesday's game also signified the first round of region play, meaning each team will play the others only one more time each before the season ends. "Our region is very similar in our (teams') playing styles and ability levels," said Phillips, "so that leads to a lot of close and competitive games,"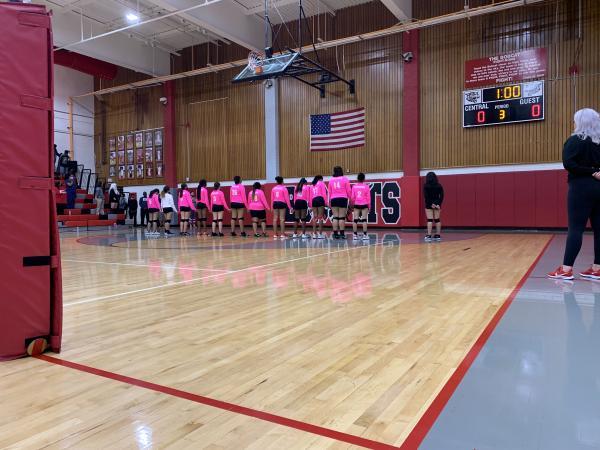 The Bobcats wearing their Breast Cancer Awareness Jerseys for the month of October (Gabriella Malamed / AZpreps365)
Central's freshman team won its match 2-0 while JV won 3-2.
The Bobcats' next game is against the Carl Hayden Falcons on Thursday, October 14, 2021.
"We have to prepare ourselves and humble ourselves," Monjolo said. "We can't get big-headed and we can't play to anyone else's standards."
---