Apollo soars past Alhambra
October 16, 2021 by Connor Manning, Arizona State University
---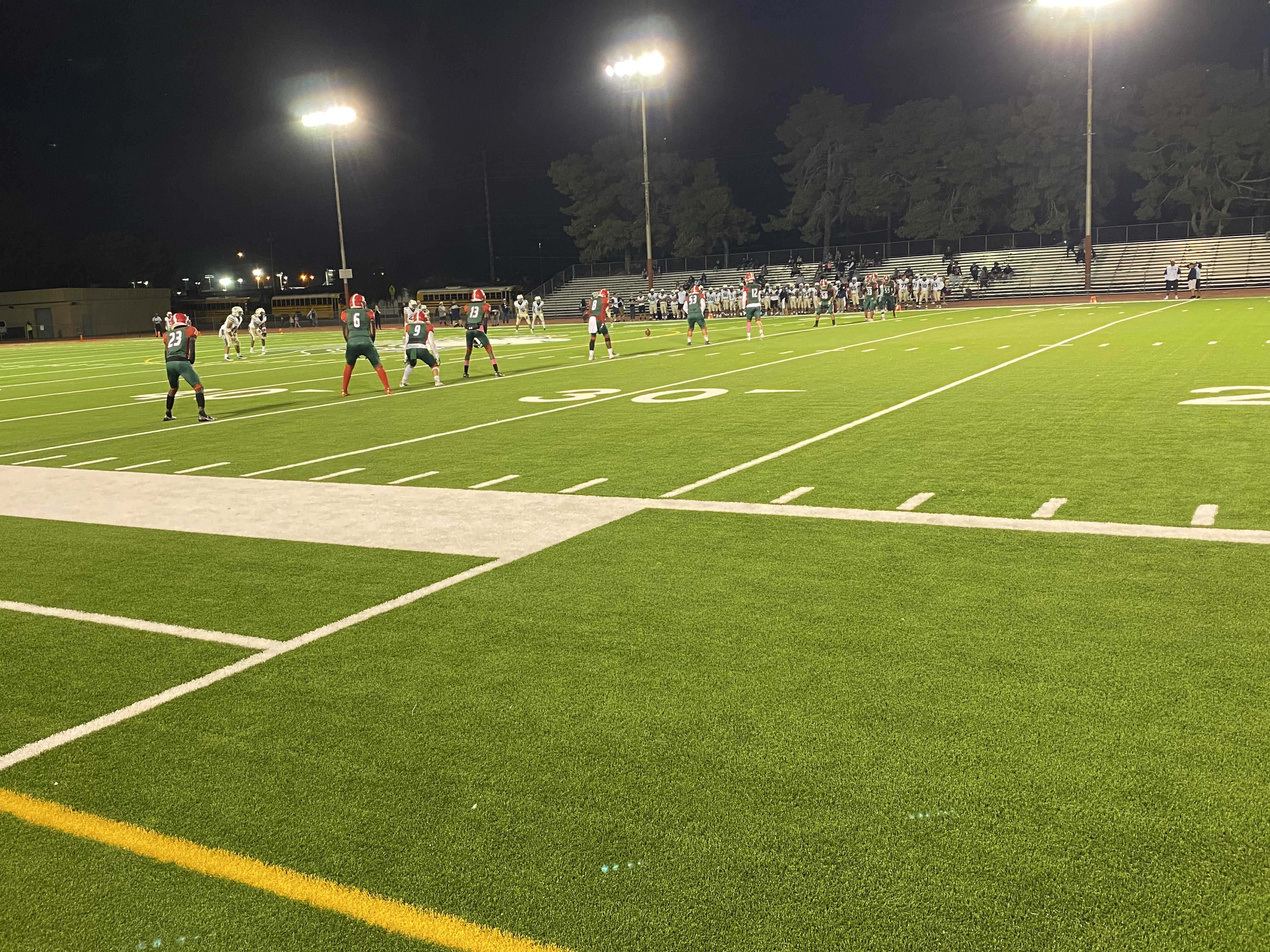 Connor Manning is an ASU Cronkite School of Journalism student assigned to cover Alhambra High School for AZpreps365.com
PHOENIX - The Alhambra Lions struggled to contain Apollo High School on the ground Friday night, giving up 282 yards and all eight touchdowns to the Hawks run game.
Sophomore running back Adam Mohammed led the way for the Hawks, registering 124 yards and five touchdowns on 10 carries, all in only one dominant half of football. Junior receiver Scott Simmons, senior running back Gabriel Matanane and junior backup quarterback Silas Chicharello, who played the entire second half of the game, each scored rushing touchdowns as well. Apollo's starting quarterback Aiden Estill finished the night completing three of seven passes for 38 yards.
Estill also threw an interception about three minutes into the second quarter, which led to Alhambra's first touchdown.
The Lion defense created three other turnovers in the game, including fumble recoveries on Apollo's first plays from scrimmage in each half. The latter occurred after a wayward snap sailed over the head of Apollo's Chicharello. Lion free safety Tyler Brunston swooped in for the recovery.
The Lion offense had by far their most successful showing of the season, tripling their season points total in this game alone. Junior quarterback Matthew Green completed seven of 24 passes for 147 yards, two touchdowns and an interception.

Trailing 30-0 in the second quarter, Green tossed a back shoulder fade to wide receiver James Gaie, who barely managed to remain in bounds while hauling in the catch and scampering into the endzone. It was Gaie's second catch in as many plays, as his interception of an Apollo pass one play earlier had given the Lions the ball.
Gaie's reception was also the Lions' first touchdown in more than one month, since a September 10 game versu Dobson High. The touchdown was met with much jubilation from the Alhambra sideline. "I just see my boys fighting out there," Gaie said. "Before we started (the season) we only had 19 players, but we never backed out and never forfeit. We kept going."
Gaie finished with four catches for 122 yards and two touchdowns. He later found his way into the endzone on a 23-yard strike from Green to cap off a 77-yard scoring drive to open the second half.
Reciprocating Gaie's leadership is junior receiver Roman Moreno. Moreno plays just about every position on the field, from receiver to corner to punter to even place kicker. Moreno finished the night with two catches for six yards and five carries for 89 yards and a touchdown.
That touchdown came on a really bizarre play. Moreno was set to punt the ball away but due to a low snap he picked it up, broke through five tackles and slithered his way up the middle of the field for a very unlikely 59-yard touchdown run to make the score 50-20 in the fourth quarter.
"We actually came into the game with our backup snapper in," Moreno said. "He tried to do his thing but unfortunately it was a bad snap, but I had to finish the job even if it was a sack or a punt or a touchdown."
The Alhambra Lions next football game is on the road Oct. 22 against regional rival Central High.
---