Former Corona del Sol coach receives Hall of Fame honors
October 22, 2021 by Olivia Eisenhauer, Arizona State University
---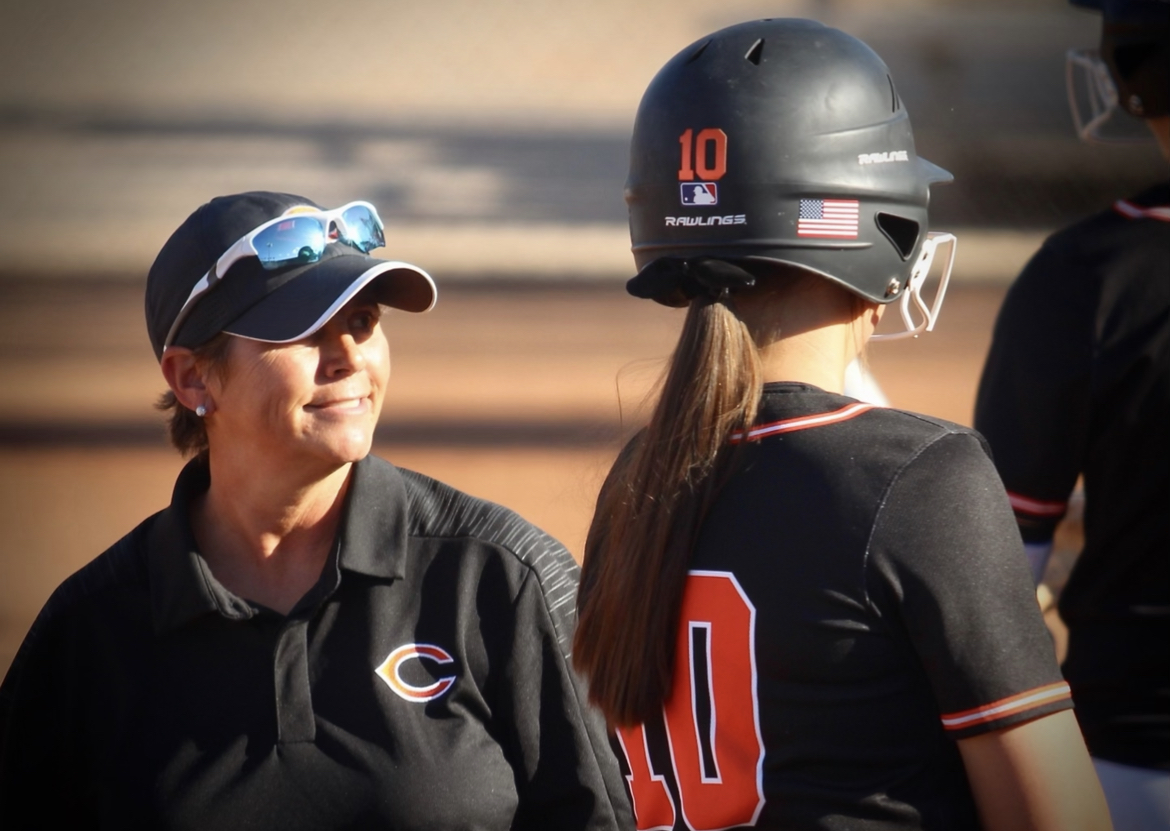 Olivia Eisenhauer is an ASU Cronkite School of Journalism student assigned to cover Corona del Sol High School for AZPreps365.com.
Alongside S. Rural Road in Tempe, Ariz., the softball diamonds of Corona del Sol High School wasn't a place you could find a Hall of Famer.
But now you can.
Coach Jeep Ray, who spent 22 years at the helm and two years prior as the assistant coach of the program, can now add an Arizona High School Athletic Coaches Hall of Fame inductee title to her trophy case. She was inducted in-person, at a ceremony as a part of the 2020 class at the 37th annual induction banquet in Phoenix on Sunday.
"It's kind of surreal, I had no idea my coaching would take me here," Ray said. "It's just an overwhelming feeling of amazement, I am just so happy to do what I did."
Ray knew she wanted to be a teacher in eighth grade and coaching was something she took a chance on, crediting her family support and the coaches surrounding her when she was an Aztec, herself.
"The family, the staff and the coaches are amazing," she added. "Everyone is so supportive, the students are amazing."
Corona del Sol previously had inductees in 1996, 1999, 2000, 2001 and two 2011, but Ray is the first female coach to do so since the school opened in 1977.
On the individual level, she was named State Coach of the Year twice by the Arizona High School Softball Coaches' Association, Central Region Coach of the year and the 2019 All Star game was dedicated in her honor.
The inductee led her teams to a 2003 state title, 2006 and 2007 runner-up titles and 10 regional titles.
"I just want them to become good people, it's not about wins and losses," Ray said. "I want to win, but it's about making them well-rounded people. I want to be their role model, teach them about life and right from wrong and that the right decision isn't always the easy decision"
Past players, such as current Lake Erie College outfielder Arianna Tammaro, echoed the sentiment of the stern, but caring coaching style of Ray.
"I felt like I could go to her about anything and she made me feel really comfortable," Tammaro said. "I wasn't afraid to make a mistake because she always made it clear that she believed in me and she thought of me as a leader."
Emmalyn Brinka, a 2022 graduate who pitched for Ray added, "She is vocal. She will tell you when you mess up and when you do something wrong, she doesn't sugar coat anything, but also lets us know she cares about us. She was always there for us, but she wanted us to work hard and win games."
The intentions, the coach explained, were always out of a place of love.
"They are like my kids," Ray said. "I spent so much time with them and I wanted them to know I cared about them."
https://twitter.com/cds_badminton/status/1449863587954974720?s=20
She and her husband Terry — or who she calls "her rock" — would host team meals at their residence weekly as most teams do, but soon the families started to come as well.
Ray retired in 2020, but like so many other things last spring, her final season was cut short by the start of the COVID-19 pandemic. She would send the team yoga workouts to do on their own time while trying to complete her final semester of teaching before retiring completely.
As for the sudden ending to her last dance, she said it felt right because the timing matched her philosophy that her "mind and heart matched."
Wearing multiple hats, Ray has also coached the girls and boys golf teams, basketball, volleyball and badminton. The reasoning behind the dedication to her students and players was simply, "I love to see them do what they love."
From softball player at Corona del Sol, to teacher, to thinking "coaching could be fun," to State Champion and now hall-of-famer, Coach Ray has come full circle.
---